Rev. Mark H. Creech
Jonah: an angry prophet without compassion

By
Rev. Mark H. Creech
September 21, 2015
The story of Jonah is one of the most meaningful texts in the Bible for me. It tells not only of the great miracle of a man being swallowed by a great fish and living to tell about it, but it also serves to remind us of the attitudes we should possess when representing the Lord to those who reject Him and His ways.
Jonah was called by God to preach to the people of Nineveh. He didn't want to obey God at first. The reluctant prophet rebelled against God and got as far away from His will as he could get on a ship. His resistance would only prove to be futile. God sent a great storm to intercept the ship, which resulted in Jonah being thrown overboard by the crew. Jonah would have been lost at sea, except that God sent a great fish to swallow him up, actually saving his life and providing him passage in the right direction toward Nineveh.
Having been provided with another chance, Jonah obeyed God. He preached to Nineveh and the Bible says the whole city repented and was spared. You would think that would have made Jonah rejoice. Instead, he was angry and upset because Nineveh had been the oppressors of his own beloved people. He must have preached with incredible hubris and enthusiasm as he pronounced judgment, glorying in the hope that the Ninevites would get what's coming to them.
I suggest many Christians today are afflicted with anger. Decade by decade, year by year, day by day, we've seen politicians, celebrities, a liberal and biased press, destroy the blessed country they love from within. More than 56 million babies have been aborted and their body parts horrifically harvested and sold. The courts tyrannically overrule the will of the people on marriage, imposing their own will on the Constitution and writing law from the bench. Christian people are heavily fined and even jailed in this country now for living out their faith. It's infuriating!
Anger seems to be much of the appeal for Donald Trump's presidential campaign. Hundreds of thousands of evangelicals have gotten on board with him, perhaps much in part, because he vents their deepest frustrations. He's the bulldog many say in their hearts, if not with their mouths, "Sick'em Donald, sick'em."
Still, the Scriptures warn us, "For the wrath of man worketh not the righteousness of God" (James 1:20).
Aristotle said, "It is easy to fly into passion – anybody can do that – but to be angry with the right person to the right extent and at the right time and with the right object and in the right way – that is not easy, and it's not everyone who can do it."
Most of us can't do it most of the time. However, Jesus did. He got angry, driving the buyers and sellers in the Temple out with a whip, overturning their money tables and calling them "a den of thieves." So there is a place for righteous indignation, except holy anger is never self-serving. It's always uniquely based in a zeal and love for God's honor.
William Barclay has written, "The world would be a poorer place without those who blazed against the abuses and the tyrannies of sin. But too often this is made an excuse for petulant and self-centered irritation."
The Gospel of Mark says that when Jesus was harshly criticized by the religious leaders for healing a man on the Sabbath, Jesus looked "on them with anger, being grieved for the hardness of their hearts" (Mark 3:5). In other words, he looked on them with anger, not a spiteful or revengeful anger, but that of indignation coupled with compassion for the offenders.
God wanted Jonah to preach judgment to the Ninevites. He wanted him to take a bold stand, but he also wanted that stand to be possessed of compassion. God prepared to show Jonah this lesson.
One day while Jonah waited outside of the city, he sat under the shadow of his badly constructed booth to find relief from the heat of the beating sun. Then the Bible says, "The Lord God prepared a gourd, and made it to come up over Jonah, that it might be a shadow over his head, to deliver him from his grief. So Jonah was exceedingly glad of the gourd" (Jonah 4:6).
But by morning a worm came and destroyed the plant and a sultry hot east wind would follow, while the sun was so relentless upon the prophet that he wished he was dead.
"Then said the Lord, Thou hast had pity on the gourd, for the which thou hast not labored, neither madest it grow; which came up in a night, and perished in a night. And should not I spare Ninevah, that great city, wherein are more than sixscore thousand persons that cannot discern between their right hand and their left hand; and also much cattle? (Jonah 4:10, 11).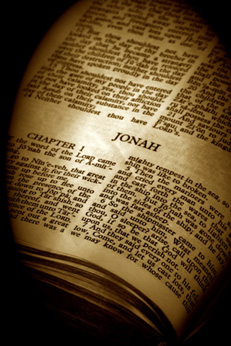 Some Christians seem to care more for their house plants and their pets than they do for the souls of men.
Implied in the text, I believe, is a principle we would do well to remember just as God wanted Jonah to remember. The late Dr. M.R. DeHaan in his commentary on the book of Jonah succinctly states that God spoke to Jonah something like this:
"Remember, therefore, Jonah, how patiently I have borne with you, in your disobedience, in your rebellion...Suppose I should deal with you in justice. You would be consigned to hell today, but in my mercy and grace and longsuffering, in spite of all your unworthiness and rebellion, I have made you an object of my love and salvation and care; and do you now object to my doing the same for others? Shame on you, Jonah; double shame on you for your attitude. How can you, who are just as unworthy as these heathen, be so indifferent? You are an even greater sinner than they for you know the Lord and His will and His Word, and you are acting worse than these poor heathen who have never had the chance that you obtained of the Lord."
These are painful days for Christians who observe their values, as well as their persons, more often than not, wrongly maligned or marginalized in the new and ever-changing culture. The temptation is to be owned and motivated by the wrong kind of anger – a spiteful one – one that whether we would admit it or not wishes to see those on the wrong side of life's issues get what's coming to them. We may even throw up our hands, saying, "To hell with them." But we must never give in to this spirit in either word or deed; we must always be driven by our fervor for the Lord and not some self-centered exasperation. We must be compassionate and loving toward others, caring for their souls, even as the Lord has also cared for us.
This way, alone, is God's way. This way, alone, is worthy of the title, "Christian."
© Rev. Mark H. Creech
---
The views expressed by RenewAmerica columnists are their own and do not necessarily reflect the position of RenewAmerica or its affiliates.
---