Wes Vernon
A giant has left us: Let America be worthy of his imprint

By
Wes Vernon
February 15, 2016
Antonin ("Nino") Scalia was one of the most brilliant justices ever to sit on the United States Supreme Court. His deserved 30-year presence in that lofty position gifted America with opinions and rulings that were scholarly in their content, beyond prescience in their historical value, superior in their understanding of the Constitution, and above all, reflective of an appreciation for the responsibility he felt to the America he loved.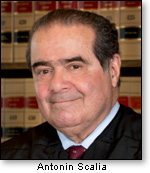 Oh, incidentally...
You've probably heard that Justice Scalia had a sharp sense of humor both on and off the court, that he was well-liked by his colleagues, including those justices who disagreed with him, and that was an entertaining storyteller and a good family man.
Of immediate importance...
The death of this great jurist is likely to be the springboard for some high political drama involving at least two crucial issues, both of which have the potential of giving us a strong indication of what kind of America our children will inherit in the years to come – while possibly according the side effect of engendering a wider understanding of the impact of what some of our public officials try do when we're not looking.
Future Battle No. 1
President Obama has indicated he will "in due time" nominate a replacement for Justice Scalia. Many believe there are good reasons for leaving the seat vacant until the next president takes office.
Basically, the reasoning comes down to a belief that it would set a bad precedent for a lame duck like Obama to fill a vacancy on the court with less than a year to go before he leaves office, rather than letting the people decide on election day who they want to make such a historic appointment, one that would likely alter the court's fundamental character and greatly define America's future.
But as of now, that appears to be a moot point to Obama. The president, possibly the most partisan since Woodrow Wilson, obviously wants to appoint a liberal to replace the conservative Scalia.
For precisely that reason, the Republicans (who control Congress) hopefully will do what they can to block the appointment of a liberal who would try to undo Antonin Scalia's legacy.
One way or the other, the Supreme Court – never in the past known to figure in the political battles for the presidency – will be a hot issue in 2016. It will be an issue whether Obama's appointee is (unlikely) confirmed, or (more likely) not.
Two views on that:
Dragging the High Court through the bruises of politics will likely further diminish its stature.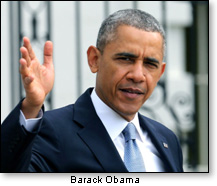 On the other hand, since impatient or partisan-minded judges have been tossing the court into the "radioactive" cauldron of politics for the past five decades anyway, maybe it's time to tear the judicial branch away from the thin sheen that separates it from the mud wrestling.
President Obama does not shy away from making a political football out of the weather – see "climate change" – or maybe someday the proverbial ham sandwich. In some quarters, he is believed to have no small role in the "politics is everything" atmosphere of Washington. It's not commonly known in DC, but there used to be
some
limits. Really, there were.
(BTW – Some people who are dubious about the existence of the tooth fairy still can't imagine Chief Justice John Roberts just waking up one morning a few years back, yawning, and saying, "Guess what? I've changed my mind on Obamacare, even though
I've already drafted a decision striking it down
. I just got out of the side of the bed that tells me I feel like changing that thing." Hmmmm. What got into him? And what circumstance might have raised what issue? Recall, the president publicly issued some veiled threats from the White House prior to release of the final/revised/flipped decision.)
The other issue re court minus Scalia
A strict constructionist – such as Justice Scalia – would make it clear, as he did, that the Constitution itself provides a process for anyone or any group that wants to amend our Founding document. Yes, it takes time, but it is doable. Justice Scalia's writings and judgments are valuable references when we see activist groups trying to change America by an end-run around the Constitution every time they find a personal gripe about our culture. We have recently written about a leftist Soros-funded group waiting in the wings to do a full overhaul of the Constitution. (See recent editions of this column). Antonin Scalia has left a paper trail that, even as he lies in his grave, can serve as reminders of the tools at our disposal to head off attempts to deprive us of our unique system of liberty.
Scalia dissented – for America's benefit
We cannot exit this essay without quoting from the Scalia repertoire of opinions. The justice is gone, but much of his wisdom will live on: Below, some examples:
On judicially-imposed same-sex marriage:
"I write separately to call attention to this Court's threat to democracy," Scalia wrote in his dissent to the 2015 Obergefell decision that "legalized" same-sex marriage.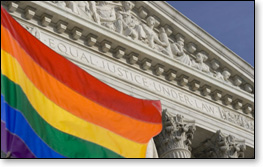 "It is not of special importance to me [in this controversy] what the law says about same-sex marriage. It is of overwhelming importance to me, however, who it is that rules me. Today's decree (June 26. 2015) says that My Ruler, and the Ruler of 302 million Americans Coast-to-Coast, is a majority of nine lawyers on the Supreme Court. The opinion in these cases is the furthest extension in fact – and the furthest extension one can even imagine – of the court's power to create 'liberties' that the Constitution and its Amendments neglect to mention. This practice of constitutional revision by an unelected committee of nine, always accompanied (as it is today) by extravagant praise of liberty, robs the people of the most important liberty they asserted in the Declaration of Independence and won in the Revolution of 1776: the freedom to govern themselves."
Nine lawyers against America?
Justice Scalia asserted that the five justices in the majority "think they know it all." His point was that at least 37 states had decided to outlaw same-sex marriages, yet the justices "know" that the people who wrote the Fourteenth Amendment in the Civil War era meant to hand them in the 21st century the power to pull a contentious issue away from the democratic process: "They 'know' that an institution 'as old as government itself' and accepted by every nation in history [that is, natural marriage] cannot possibly be supported by anything other than ignorance or bigotry. And they are willing to say that anyone who does not agree with that, who adheres to what was, until 15 years ago, the unanimous judgment of all generations and all societies, stands against the Constitution." The now late justice argued that those assertions are "presumptuous" and "egotistic."
In the 20th and 21st centuries, it was Justice Scalia who argued against quickie "solutions" that ram through "change" by way of insults and name-calling, instead of the orderly process bequeathed us by our Founders.
In conclusion
Justice Scalia's wisdom will be needed in the upcoming twin battles for 1 – The soon to be announced debate over a Scalia's replacement; and 2 – The post-election effort (regardless of the voters' verdict in the presidential race) to take from us the freedoms and rights in the Constitution.
© Wes Vernon
---
The views expressed by RenewAmerica columnists are their own and do not necessarily reflect the position of RenewAmerica or its affiliates.
---