Wes Vernon
Don't you get it? We're surrounded

By
Wes Vernon
May 4, 2015
It doesn't seem to matter anymore.
No matter which way you turn, no matter which exit you try to make a mad dash for (figuratively speaking), you barely miss getting beyond the giant gate that slams shut in your face.
We are witnessing the slow (and not so slow) takeover of America. The researcher on issues related to that incursion into our daily living need not do a lot of digging. All that is necessary is a perusal of the daily newspapers (or TV-radio), preferably over 2 or 3 days.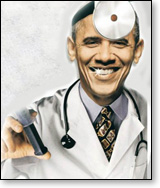 Health
Take, for example, Obamacare: The power-addicted understood that immediate takeover of healthcare –
the
most pivotal part of your life – in one fell swoop would be met with massive political resistance. Instead, one step at a time, that method of sneak-up causes ripples of protest, but not enough to cause a focused popular backlash.
Let's say you need a prescription to deal with an ailment that used to be dealt with quickly and effectively. But under Obamacare, don't be surprised if you have to travel an inconvenient distance to get the prescription in person (tough beans if your physical condition makes that painful). The government – not your doctor, whose profession demands that he knows what he's doing (as opposed to those politicians whose goal is political power over your life) – may have decided you don't really need the pain pills, so the all-powerful know-it-alls in the one-size-fits-all bureaucracy have decided they'll make it as inconvenient as possible to get your needed medication.
That sort of thing has happened... And they'll make their power moves when they think you're not looking.
Sneaky
Even some of the most innocent-looking projects mask the "government takeover of just about everything," as
Forbes
magazine recently put it.
"In many areas of society," the mag tells us, "government is crowding out, invading and undermining the private sector. These actions blur the lines [between] government and private enterprise."
Openthebooks.com,
a worthy website and private enterprise blog (about which this column wrote a few weeks ago), reports that the U.S. Postal Service is moving into grocery delivery.
Huh? Uncle Sam is now going to deliver mail and eggs? Get outta town, that can't be! Ah! But it is, and if it's not in your neighborhood yet, watch for it. We can agree the USPS needs to erase its debt, but getting the feds into the grocery business is not exactly what most of us had in mind. But then most of us don't have designs on controlling the lives of more and more of our fellow Americans.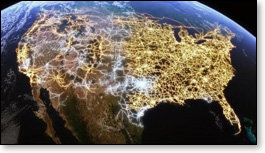 The threat to the grid (again)
The grab for power over our lives takes many forms, and different levels of severity.
So with that in mind, let's go from pain pills, eggs, and mail to other traps laid for us such as "lights out" – and also dead automobile and truck ignitions, non-operating refrigerators, escalators, stoves, elevators, trains, planes –
everything
that depends on the grid. Expert analysts have estimated that if such a calamity were to happen, that if the grid were to be disabled, the overwhelming majority of us in America would be dead within a year. The blackout actually could last even longer.
Obviously, this is huge – absolutely devastatingly huge. In a frightening article appearing in Friday's
Wall Street Journal,
Admiral Henry Cooper, who directed the Strategic Defense initiative and Vincent Pry who served on the EMP Commission, warn that this nation is in danger of being hit by a nuclear electromagnetic pulse (EMP) attack from "the bad actors of the world," i.e., North Korea or Iran.
These particular "bad actors" have been developing weapons capable of utilizing intercontinental missiles to inflict an EMP attack leading at a
minimum
a year-long national blackout wherein millions would perish from starvation. Precious little has been done to prepare the U.S. for this. (See our previous columns.) Adding urgency to the need for preparation are intelligence reports that both the North Koreans and Iranians have missiles reaching altitudes capable of a surprise EMP attack on the U.S.
Texas State Senator Bob Hall is pushing legislation that would either eliminate the threat of an EMP attack or enable the power sources to survive the attack. Senator Hall says power industry opposition to such improvements is "unfortunate."
Street violence: Widely coordinated?
Fox News came up with an interesting exclusive that got precious little mention in many other places: FNC's Chief Intelligence correspondent Katherine Herridge produced a social media analysis that unearthed striking connections between the violence of Baltimore in recent days to the violence in Ferguson, Mo., last summer.
Herridge found that "a data mining firm" (which asked to be anonymous because of its government work), found between 20 and 50 social media accounts in Baltimore that were also tied to the peak period of violence in Ferguson.
The
Washington Times
at about the same time reported that someone sent a text urging people to "kill all white people" in reaction to the death of a black man that set off the Baltimore riots. Similar unlovely notes urged the killing of American citizens in America.
The discovery that some social media accounts were tied to cities 825 miles apart was described by Fox News as "surprising." The threat is similar to that included in the movie "The Purge.
"
Of course, it fuels the kind of imaginations that are capable of running wild, but also feeds into suspicions in many quarters, including this column, that apparent coordinated urban violence is one more manifestation of what many fear is an attempted precursor to a second civil war in the United States.
Talkshow host Michael Savage, for example, is among those expressing doubts that the riots such as those in Ferguson and Baltimore just materialize "out of thin air."
Bottom line: Is this yet one more indication that violence in America is organized by our enemies, perhaps using the old Cloward & Piven strategy for violent unrest? "Bottom up, top down." It has worked in some communist countries.
Targeting America: Internationally coordinated
This next gate that may be slammed in the face of Americans who want only to live in peace in their own country is organized in the darkest corners of the earth – by U.S. rivals, including some of the most hate-filled or envious.
Red China (yes, the name still fits) and Russia (run by former Soviet KGB agent Vladimir Putin) have discussed making the Chinese "the man partner" in a Russian program to establish "a scientific station on the moon by 2024."
Some Western sources see this attempt to displace the West in space a not-insignificant challenge to U.S. influence in the future. Putin has been seething ever since President Reagan brought down the Soviet empire without firing a shot. The old anti-American angry man would like to get another chance to bring back the Old Russian glory days, either under the Soviet banner or some other coalition dominated by the Russian bear.
Just to advance this story a little further: Chairman Ed Royce (R-Calif.) of the House Foreign Affairs Committee and Ranking Member Eliot Engel (D-N.Y.) hope to use his power to impose sanctions as a means to deter Russia's planned delivery of S-300 missile systems to Iran.
Fortuitous it is that this missile gang-up by Russia and Iran against the U.S. happens just at the time this column and others raise the issue of those two nations and other rivals to U.S. power are pushing the larger gang-up with the aim of weakening the U.S. ability to defend itself in a dangerous world.
And again speaking of Putin
Putin, by the way, provided (unwittingly, perhaps) the inspiration for the highly successful U.S. TV drama "The Americans."

As was the real life case of Putin's Russia in a 2010 expose, "The Americans" (having just finished its third season) presents a case of KGB agents sneaking into the U.S. and assuming the undercover role of the typical American family (with no detectable accents) living the life of suburban America by day, and venturing out into the darkest and often murderous corners of Soviet espionage by night. Obviously the TV producers got the idea from real life post-Soviet Russia and applied it to the Cold War days. Experts in the Soviet underground say this kind of activity was not unusual among Soviet spies operating on these shores.
Author Diana West in her book
American Betrayal
posits that when the Soviet internal threat was downplayed for about thirty years in America, the public square silence on the Soviet threat here might very well been caused by such undercover "Americans" occupying influential posts throughout U.S. society, public and private.
Life imitates fiction? Or the other way around?
Free speech
Are you kidding? Free speech? From this White House?
The recent vote by the Obama administration's FCC to regulate the internet is further proof, warns Rep. Marsha Blackburn (R.-Tenn.) that the Obama administration will stop at nothing in the effort to control the internet.
Let's face it: The control Mrs. Blackburn fears actually translates into an attempted permanent "takeover." That means the administration will ultimately decide which internet providers' content "goes first, second, third or
NOT AT ALL
(bold type in the lawmaker's original statement)."
Given widespread disregard in this White House for constitutional restraints on just about everything else, then why are we not justified in asking: If they did not want to have a dictator's power to manage what we see and don't see on the internet, then why don't they change policy, lay off our "right to choose" (yes, the term is applied to instances other than abortion), and butt out of our right to decide where we get information and entertainment. The old American vernacular would be to say something on the order of "Hit the road, Buster. Not now! Not here! Not in my America!"
Only a whisper?
The signs of fear are all around us. Why don't more of us say that out loud? Are the scared rabbits in the political opposition afraid of scaring the horses or unleashing administration enforcers? No wonder Obama thinks he can get away with creating a one-party state.
We could go on all night. The list is endless:
The IRS is still targeting the Tea Party.


Judicial Watch; a first-rate citizen investigative operation, reports that ISIS, an Islamist terrorist threat that – by reliable reports – dwarfs all others, is operating a camp just a few miles from El Paso, Texas, one report says that the location is about 8 miles from the border not far from Ciudad Juarez, Mexico, one of the most dangerous cities in the Western Hemisphere.


Coyotes have engaged in human smuggling to help move ISIS terrorists through the desert and across the Mexico/U.S. border between Santa Teresa and Sunland, New Mexico in the U.S.

Similar sightings were reported by Judicial Watch last October, and confirmed by Andrew McCarthy, prosecutor in the first Trade Center bombing.


FBI Director Jim Comey says investigations into ISIS sympathizers are underway in all 50 states.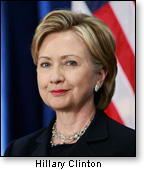 Now the ultimate
After Hillary Clinton has been elected President next year, thanks to increasing control of the media (including the Internet, see above) and thanks to an emerging young adult voting-age population brainwashed with communist/socialist propaganda in the schools, thanks to the likes of communists and pro-communists such as Howard Zinn and Curtis McDougal (see our previous columns from 2010 forward), the Hate America Left will consider itself having gained control of our thinking and assumptions, we'll be "ripe for the kill."
That is when George Soros's wrecking crew is planning for a "second constitutional convention." It's all laid out in a plan and book
2020,
when they hope to gather to "revise" (i.e., kill) the Constitution that has protected our liberties down through the years. (See this column, "
Our next crisis: Is anyone intellectually arming for that?
" 12/19/13)
That is when every odious hateful idea will be trotted out for presentation and rammed through in a leftist-stacked "convention." It could be the ultimate tipping point; whether the America that we love retains any semblance of an "exceptional nation."
They are at the gates. We had better prepare to fight back.
© Wes Vernon
---
The views expressed by RenewAmerica columnists are their own and do not necessarily reflect the position of RenewAmerica or its affiliates.
---