Wes Vernon
The war habit: What are we doing in Libya?

By
Wes Vernon
August 15, 2011
So how are things going for us in Libya? What's the latest? Haven't heard? Neither have I. That must mean things are going to hell in a rocket-ship, because with Obama in the White House, the media have accorded the silent treatment to any bad news on that war front. Why? The activist left can't play the "Bush is Hitler" card anymore, so their media allies ignore it.
This intervention in a civil war in a far-off land was supposed to last "days, not weeks." It has now lasted months.
U.S. involvement in Libya is under the NATO umbrella. But NATO — pretenses to the contrary notwithstanding — is the U.S. It was originally formed to enable Western Europe to fend off Soviet intrusion through its slave Eastern European nations in the Warsaw Pact. Like most government bureaucracies (national and international), NATO's existence did not end with the expiration of its raison d'être.
Let's pretend
The Obama White House's game of pretense with Libya is in full force on several fronts.
First of these is the inference that because Col. Moammar Gaddafi, the dictator of that unfortunate country, is a bad man, anyone or any group that ousts him will be better, not worse. There are in fact credible reports that the rebels — not only in Libya, but throughout the "Arab spring" (now the Arab summer, soon to be the Arab fall) — are heavily infiltrated by the Muslim Brotherhood and its allies in violent Islam.
Obama fictions
The second pretense advances a fiction that France is the guiding force in the NATO operation, notwithstanding that the French military in recent decades has become best known for the art of surrender.
The third — and most egregious — goes to the lie that U.S. involvement in Libya is minimal. But as the
London Daily Mail
reported last month, "U.S. forces are still flying hundreds of bombing raids over Libya even though the Obama administration claims that American armed forces are only playing a limited role in the conflict." The report was verified by United States Africa Command (AFRICOM).
Oh, but that's only to provide intelligence, surveillance, and reconnaissance, the White House at first claimed. AFRICOM spokeswoman Nicole Dalrymple insists, "U.S. aircraft continue to fly support missions, as well as sorties under NATO tasking."
Fourth, yet another fiction — that because President Nixon vetoed the War Powers Resolution (WPR) 38 years ago, it is now unconstitutional. Failure to mention in the same breath that Mr. Nixon's veto was overridden by Congress constitutes deceit by omission. It is still on the books. The WPR — which requires that Congress be a partner in the act of going to war — is still on the books. It has never been adjudicated in court because both sides (executive and legislative) fear they might lose in a legal challenge.
However, that is beside the point. It remains the law of the land. Obama doesn't want Congress as a full partner in the act of going to war, so he reacts the way he does to any law that annoys him. He ignores it. That is why the president perpetuates the fiction of "limited" involvement.
In 2007, then-freshman Senator Obama declared, "The President does not have power under the Constitution to unilaterally authorize a military attack in a situation that does not involve stopping an actual or imminent threat to the nation."
In 2007 he could still play to the "Bush is Hitler" galleries. But now, the man in the White House is none other than — well, hello, fancy meeting you here. (Actually, President Bush at least did go to Capitol Hill regarding the wars in Iraq and Afghanistan. He might have been slower than some would have liked, but he did bring Congress in on the action.)
Senator's challenge
Libyan President Moammar Gadhafi is every bit the madman Ronald Reagan once said he was, but are the rebels adherents to Jeffersonian democracy or radical jihad?
Noting that then-Defense Secretary Robert Gates himself has said America has no vital interest in Libya, Senator Rand Paul (R-KY.) says that the men and women in uniform, as "patriotic defenders of our nation," should not be asked to be "nation-builders or the world's policeman."
The
London Daily Telegraph
has reported the Libyan rebel leaders claimed to have members of Al-Qaida within their ranks, and that "we are glad to have them."
"Why do we have American soldiers, our best and bravest, helping people in Libya who may be the very same people we ask our military to fight in Afghanistan and Iraq?", Senator Paul rhetorically asked.
Congressional efforts
In the House, 87 Republicans and 61 Democrats tried (to no avail) to end the war with Libya in 15 days.
But there are other ways Congress can curb the Obama administration's over-adventurous moves in the Middle East, most especially in Libya. With the debt ceiling issue now on the back burner for the time being, Congress would do well to revisit the illegal war in Libya when the lawmakers return from their recess.
At first, President Obama took a hands-off stance on Libya. What changed his mind? As mentioned by this column ("
Obama's ultimate aim in Libya: a world military police force?
" — April 4, 2011)
there may be more to his sudden muscle-flexing than is being reported.
The president's National Security director Samantha Power has long advocated a means to "solidify the principle of responsibility to protect international law." Read behind that euphemism a world army under world authority — and if that in turn leads to world government, so much the better, as far as Ms. Power is concerned. This would satisfy decades of dreams by super-internationalists.
Judicial precedent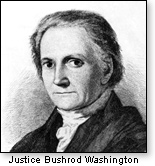 As far back as 1800, in Bas vs. Tingy, Supreme Court Justice Bushrod Washington wrote — for the majority opinion — that "every contention by force between two nations in external matters, under the authority of their respective governments, is not only war, but public war."
President Obama's action in Libya is war — as described by the 1800 court decision, whatever silly disarming label the president chooses to affix to it.
It is long past time for Congress to hold extensive hearings on the Libyan War. The United States has a right to look out for its own interests, and our government officials swear an oath to defend these United States against all enemies foreign and domestic. Please note, however, that the ominous and all-encompassing Wilsonian term "make the world safe for democracy" is conspicuously absent from that mandate. The Constitution does not sanction war as a habit.
© Wes Vernon
---
The views expressed by RenewAmerica columnists are their own and do not necessarily reflect the position of RenewAmerica or its affiliates.
---