Stone Washington
Eye of a tiger; heart of a champion: Clemson's history of greatness

By
Stone Washington
January 31, 2020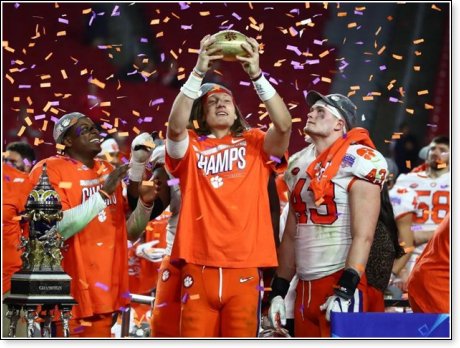 "We always say that champions are made when the stands are empty. Championships are won when no one's watching. And we always say that you have to earn it. You earn it through your effort, you earn it through your accountability, doing what's right, and nourishing the concept of team and family. These guys (Clemson's 2018 football team) were the epitome of that."
"Eye of a Tiger, heart of a champion."
~Clemson Tigers Head Coach Dabo Swinney
Who are the True Tigers? Intro to Clemson Football
Over the past 3 years, my alma mater of Clemson University's
football team
traditionally known as the "Clemson University Fighting Tigers," has metamorphosized into the greatest college football program in modern American history. The Clemson Tigers are consistently ranked among the greatest, most elite college teams in the nation. Clemson is renowned for its original symbol of the orange tiger paw, classic orange, white and purple combination of colors, and infamous football fight song:
The Tiger Rag
. Clemson is also host to a series of uniquely special traditions and timeless distinctions. This includes the faithful commitment by all players to touch Howard's Rock for a pre-game blessing, situated at the top of a hill leading to the Clemson Football Memorial Stadium, aka "Death Valley," to which the entire team then dashes onto the field ("Running Down the Hill") amidst the roaring cheers from Clemson fans – sportscaster Brent Musburger referred to it as "The Most Exciting 25 seconds in College Football." Another tradition is for all of the players, students and fans alike to join arms and subsequently wave their right hand when the Clemson national anthem is being performed by the Tiger Band prior to the beginning of every home game, while doing the same after rushing onto the field in the "Gathering at the Paw" after a game is won. This so as to demonstrate a sign of solidarity and unified school spirit.
In the entirety of its history, Clemson has won a total of three national championships as a Division 1 sports team, in 1986, 2016, and 2018, in addition to having five national finalist appearances in 1981, 2015, 2016, 2018, and most recently 2019. Clemson's 2018 season was particularly remarkable, as the Tigers defeated the Alabama Crimson Tide 44-16, the largest margin of victory out of any championship game (28 points) in modern history and the first time that a college football team completed an entire undefeated season since 1897. Clemson is distinguished for having 8 division titles, 6 undefeated regular seasons, 25 conference titles, and 5 consecutive College Football Playoff appearances, while the legacy of our alumni is unmatched: producing 100 All-Americans, 17 Academic All-Americans and over 250 NFL players. Since Clemson football's official formation in 1896, our program has achieved a remarkable 750 wins, holds 19 ACC titles – the most of any member, holds the most combined conference football victories of any Atlantic Coast Conference school – having recently won five ACC championships in a row from 2015-2019, and currently maintains the longest winning streak in college football history with 29 consecutive victories shared between the 2018-2019 seasons.
Truly, Clemson University is one of the greatest, if not the greatest, college football team in American history. From its humble beginnings, to its unique traditions, boundless school spirit, gifted players and coaches alike, Clemson is an exceptional school beyond schools. In this article, I will provide a brief insight into Clemson's cherished and unique history as a top-25 Public University and Public Ivy League school, shedding light on its founder, Thomas Green Clemson and controversial father-in-law, the legendary South Carolina Senator John C. Calhoun. I will primarily emphasize the long path to success that the underdog Clemson has achieved over the 2019 season, maintaining the longest undefeated streak in college football history with 29 colossal consecutive victories, with ambitions to surpass even this record for the 2020 season.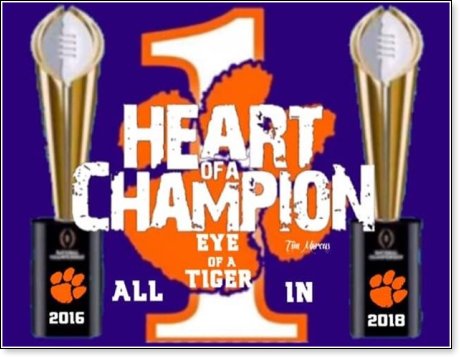 History of Clemson: The men who made the University possible
Clemson University
was officially established by South Carolina Governor John Peter Richardson III in November 1889 in honor of its late founder, Thomas Green Clemson IV (1807-1888), who included in his
last will and testament
the establishment of an agricultural and mechanical arts college in South Carolina. Thomas Clemson is distinguished for his Renaissance mentality, 80-year service as a prominent diplomat (Chargé d'affaires) to Belgium, Superintendent of Agriculture under President James Buchanan, Confederate soldier, mining engineer, and agriculturalist. But despite each of these prominent distinctions, he is most remembered for being the founder of Clemson University, the highest ranked school in South Carolina and a prominent land-grant institution. Originating from Philadelphia Pennsylvania, Thomas Clemson first arrived in South Carolina after purchasing a 1000-acre plot of land in the Edgefield district in 1834. Thomas Clemson is distinguished for marrying Anna Maria Calhoun, daughter of John C. Calhoun and Floride Calhoun, on November 13th, 1838.
The marriage between Clemson and Calhoun brought forth Clemson University's eventual location in the historic Fort Hill estate owned by John C. Calhoun (1782-1850), which now sits in the center of Clemson's campus. Clemson would occupy the Forth Hill home from 1872 until his death in 1888, leaving behind four children. On April 6, 1888, Clemson died from pneumonia at the age of 80. He was buried next to his beloved wife Anna, who had passed away in 1875, in the St. Paul Episcopal churchyard in Pendleton South Carolina. In the last years prior to his passing, Clemson established his will, bequeathing the entirety of his 814 acres of land and more than $80,000 in other assets to the state of South Carolina. It is through his final will and testament that the establishment of a land-grant institution originally called "The Clemson Agricultural College of South Carolina" was officially born on the property of the Fort Hill estate, existing today as a public land grant institution.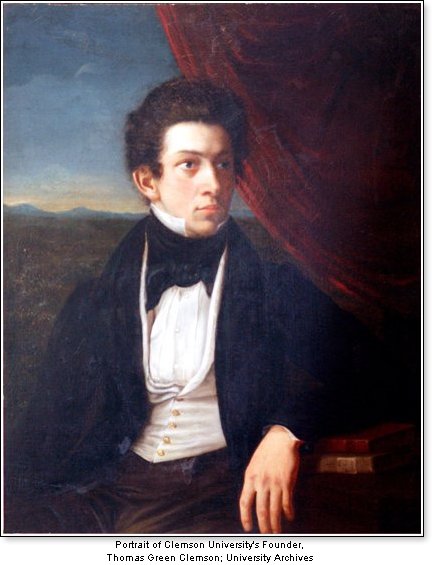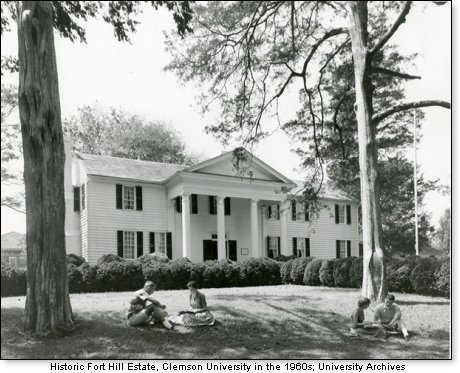 Perhaps almost as important to the founding of the school as Clemson's vision was John C. Calhoun's bequeathing his prominent Fort Hill estate to his daughter and son-in-law. This property would form the core of Clemson's physical foundation and inspire further development into the 1,400-acre campus and the vast amount of land (17,500 acres known as the "Clemson Experimental forest") surrounding the estate for decades to come. John C. Calhoun, like Clemson, is distinguished for his multi-faceted talents and various roles in the highest levels of government, including: the seventh Vice-President to Presidents John Quincy Adams and Andrew Jackson, U.S. Senator from South Carolina, the 16th U.S. Secretary of State under Presidents John Tyler and James K. Polk, the 10th U.S. Secretary of War under President James Monroe, and a member of the U.S. House of Representatives for South Carolina's 6th district.
Calhoun is notable for being one of the "Great Triumvirate," aka the "Immortal Trio," of Congressional leaders alongside the legendary political figures like Senators Henry Clay (the Great Compromiser) and Daniel Webster – who both also served as U.S. Secretaries of State. In 1957, a Senate Committee headed by then Senator John F. Kennedy, selected Calhoun to be remembered as one of the "
Famous Five
," honoring the five greatest United States Senators of all time.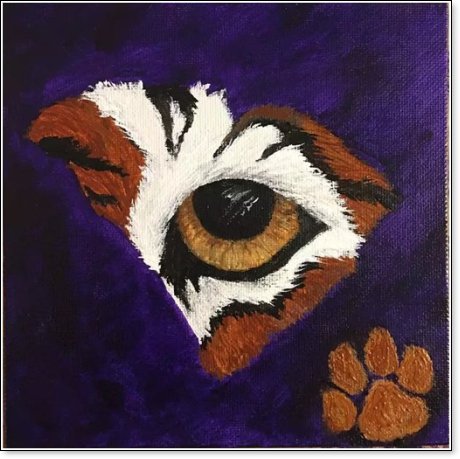 Clemson Football's Historic 29-game Winning Streak
Contrary to mainstream expectations, the Clemson Tigers have maintained the longest series of victories for the 2018 and 2019 seasons. Upon defeating the Alabama Crimson Tide, viewed at the time as the #1 team in the nation, 44-16 by the greatest margin of victory of any College Football Championship game, Clemson defied expectations even more in winning against every single team in the following season, only to lose to LSU in the most recent Championship game. Never has a modern college football team ever achieved a 15-0 undefeated season and subsequently win 14 games in a row as Clemson has done; truly a legendary feat for the ages. The level of focus and intensity exerted by Clemson's greatest team of players, a roster that includes Quarterback Trevor Lawrence (inarguably the greatest QB in college history) and a "once in a generation player," according to multiple recruitment experts;
Running-back Travis Etienne, who holds the distinction as Clemson's greatest RB with the highest amount of rushing yards in Clemson history and the ACC player of the year (2019); Wide Receiver Tee Higgins, one of Clemson's greatest WR and First Team All ACC (2019); Offensive Lineman John Simmons, who started as a true freshman in Clemson's 2016 championship team and finished this year as the country's top lineman with distinctions as first team All-ACC and First Team All-American; Linebacker Isiah Simmons, regarded as the top linebacker in college football upon receiving the Butkus Award. Below is a brief look at every remarkable victory Clemson secured in the 2019 season, each maintaining our team's powerful undefeated drive all the way to the national championship game against LSU.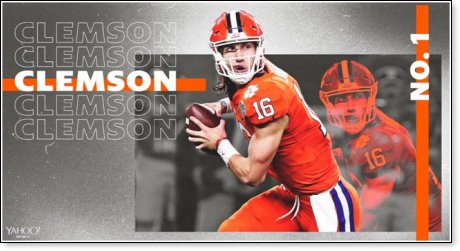 In chronological order, Clemson defeated rival Georgia Tech 52–14, Texas A&M 24-10, Syracuse 41-6, Charlotte 49ers 52-10, UNC Chapel Hill 21-20 (a razor-close victory), classic rival Florida State 45-14, Louisville 45-10, Boston College 59-7, Wofford 59-14, North Carolina State 55-10 in the Textile Bowl, Wake Forest 52-3, University of South Carolina (home-state rival) 38-3 in the Palmetto Bowl, University of Virginia 62-17 in the ACC Championship game, #2 Ohio State 29-23 in the Fiesta Bowl CFP semifinals, and lost to #1 LSU 25-42 in the CFP National Championship. Clemson's victory against Ohio State in particular was the
Most-Watched
Non-New Year's Day College Football Playoff Semifinal in history, garnering a massive 21.2 million views, even greater than the 17.2 million who watched the National Championship game against LSU.
Many sports analysts viewed the Tigers vs. Buckeyes semi-finals as the most action-packed and riveting game of the entire 2019 college season, while coach Dabo Swinney emphasized that Clemson showed the
"heart of a Champion"
after winning the heated game in a spectacular fashion. Despite Clemson's loss to LSU, Clemson still holds the greatest number of victories following nearly two perfect seasons in a row. And with star players like Trevor Lawrence,
Travis Etienne
, Justyn Ross, all refusing to declare for the draft and remain in college for their 2020 season, Clemson is expected to be stronger than ever before, upon returning for next year's season and aims to become the first college team to win two 15-0 championship seasons. I have every confidence in my Clemson Tigers football team, who began as humble underdogs, now reign supreme as humble champions, standing on top of the greatest record in college football history. Go Clemson Tigers 2020!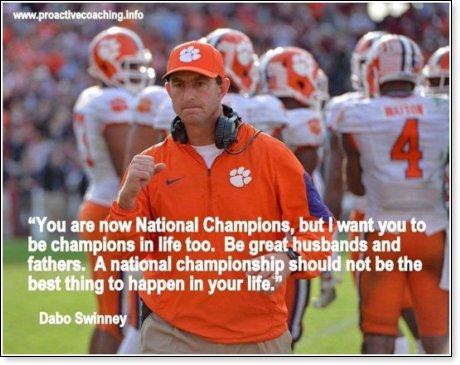 © Stone Washington
---
The views expressed by RenewAmerica columnists are their own and do not necessarily reflect the position of RenewAmerica or its affiliates.
---