Stone Washington
The case against Roger Stone – aftermath of the Mueller witch-hunt

By
Stone Washington
December 8, 2019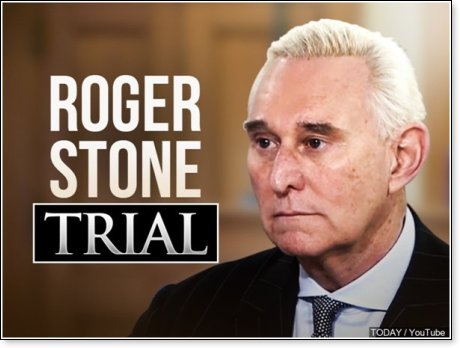 "He's guilty before the trial even started."
~Tucker Carlson (on the Trial of Roger Stone)
"As someone whose political activism was born from the anti-communism of Senator Barry Goldwater and President Ronald Reagan; and whose freedom seeking family members were mowed-down by Russian tanks on the streets of Budapest in 1956, I deeply resent any allegation that I would collude with the oppressive Russian state to affect the outcome of the 2016 presidential election."
~Roger Stone
Introducing the Stone-Cold Truth
Roger Jason Stone is a prominent Republican political strategist, lobbyist and consultant, who has worked on 11 Republican presidential campaigns over the past 40 years yet is distinguished for his close affiliation with Republican Presidents – Richard Nixon, Ronald Reagan and Donald Trump. Stone is a veteran political tactician, famous for his explosive opposition research often unveiling disparaging information and veiled truths about those running against the candidates he consults with. Stone's op-research has been cutting-edge, always credited with revelatory new information and keen methods on properly dismantling the political façade of his candidate's adversaries. In addition to working as an adviser for the campaigns of notable politicians like Bob Dole and Jack Kemp, Roger Stone has been immensely effective in propelling the primary and general election victories of the Nixon, Reagan and Trump campaigns.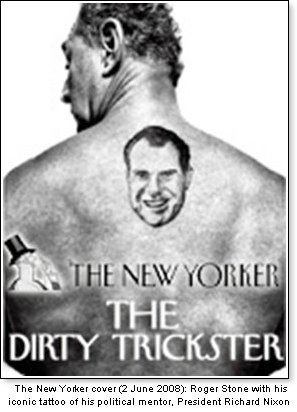 In addition to this, Stone was a trailblazing political lobbyist, having co-founded a prominent Washington D.C lobbying firm with former Trump campaign manager, Paul Manafort and Charles R. Black Jr in 1980 called
Black, Manafort & Stone
(later changed to
Black, Manafort, Stone & Kelly
in 1984 to include Peter G. Kelly). The firm became a national and international success, garnering big money clients from top U.S companies, trade organizations, and various international agencies. By 1990, the group had created one of the greatest lobbying firms in America with growing world-wide acclaim.
Stone is a New York Times bestselling author, distinguished for writing a host of politically impactful and historically revealing books that transcend the norm. Stone was most notably featured in the Netflix documentary "
Get me Roger Stone
," a must-see gateway into the life and accomplishments of one of America's greatest political minds. As a fearlessly outspoken libertarian, Stone has exposed many unspoken political scandals by previous Administrations in his work, including, "The Man Who Killed Kennedy: The Case Against LBJ," exposing the plotted assassination of JFK by LBJ, George H.W. Bush, the mafia and the CIA; and "The Clinton's War on Women," revealing details about the many women abused by Bill Clinton and subsequently brutalized into silence by Hillary Clinton. Stone has also written on cronyism in Republican Presidencies like "The Bush Crime Family," documenting the many political scandals and criminal connections within the Bush dynasty, and his more recent book, "The Making of the President 2016-How Donald Trump Orchestrated a Revolution," documenting the legendary election victory and monumental ascension of Donald J. Trump to the White House despite forces from both sides of the aisle unleashing everything in their arsenal to prevent this miraculous triumph.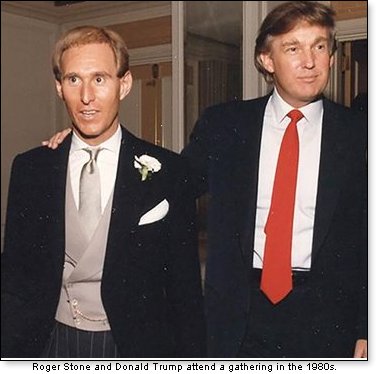 Despite the meteoric influence of Roger Stone in the Washington D.C. swamp, Stone, like so many other close Trump confidants, has become a casualty to the politically driven Trump-Russia collusion and Mueller witch hunts.
Men like Paul Manafort have been confined to prison
on overblown crimes that have no inclination to the Russia probe and would not have been pressed had the Mueller investigation not occurred. This, while men like Jerome Corsi and Michael Flynn have had their lives ruined by the financial strain of crippling legal fees, media assault and character assassination tactics employed by Mueller's angry gang of Democrat lawyers. Most recently, Stone has become the center of these politized assaults and broken legal system, despite the Mueller investigation being over and the obvious conclusion that Trump absolutely did not collude with Russia. Now, as of November 15, Stone faces the challenge of his life,
convicted by a biased pro-Obama judge and pro-Hillary jurors for charges of obstructing an official proceeding, witness tampering, and five counts of making false statements
. Charges that Stone wholeheartedly denied and more so are disconnected to the failed Mueller probe entirely.
This essay endeavors to prove Roger Stone's undeniable innocence in the matter, breaking down the inaccurate assumptions of his connections with Julian Assange and Wikileaks during the 2016 Presidential election. I will also more closely document important facts regarding Stone's friendship with President Trump and what their connection speaks to regarding the untrue charges brought against him by a Left-leaning jury and politically motivated/Obama appointed federal judge.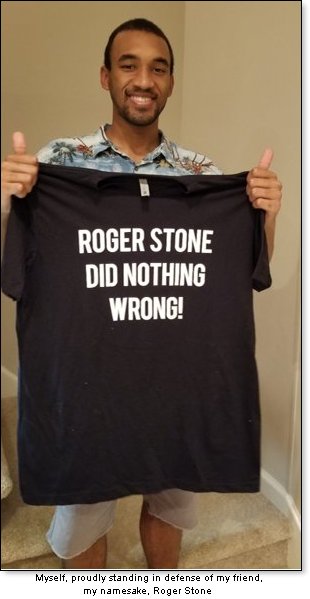 The Trump – Stone connection
Roger Stone has been a longtime friend of President Trump for decades, first serving as his reliable lobbyist in Washington D.C. Stone was notable for being one of the
first to encourage
Trump to run for President as early as 1998, and more specifically leading up to the 2000 election. But like so many other times, Trump refused to run, citing that he wasn't interested at the time. Trump would later change his tune and plot a run for President under the Reform Party platform that year, having Stone served as Chairman of Trump's Presidential Exploratory Committee. But Trump would later withdraw from the race during the early stages of the primary. In between working for Trump, Roger Stone also aligned himself with Democratic campaigns for President including serving as an adviser for Al Sharpton's 2004 election bid. As a veteran of ten national presidential campaigns, Roger Stone would later serve as Trump's Strategic Consultant in 2012, once again being a key figure in Trump's interested run for President that year. His greatest capacity as political adviser came in 2015 when Stone served as a campaign adviser to Trump's legendary 2016 bid for and subsequent ascension to the Presidency.
Roger Stone later would leave the Trump campaign on August 8, 2015, amid growing controversy. Despite this, Stone continued to fully support Trump's campaign after leaving, remaining as an informal adviser to and media surrogate for Trump throughout the election. Stone also had no misgivings regarding his proud work for Trump. This, while President Trump would relay this reciprocal understanding on his first major
interview with Alex Jones
on Info Wars in December 2015, emphasizing his great admiration and praise for Stone's tireless work on the campaign trail. Trump said of Stone, "Well Roger is a good guy and he is a patriot and believe strongly in that strong nation. A lot of the things that I believe in and you know I see him all over television. People like Roger. He is a tough cookie, I will tell you that. But people like him."
Roger Stone Did Nothing Wrong! – Surviving a Politically Weaponized Trial
Today, Roger Stone's connection to President Trump faces its first and greatest legal dilemma, as Stone was placed on trial earlier this year for his supposed connection with Wikileaks founder Julian Assange during the 2016 election. This despite Stone making clear that there was absolutely no collusion or meeting between him and Assange during the 2016 election. The mythical prospect of Stone and Assange conspiring behind the scenes to sabotage the Democrats in 2016 began with an accusation by former Hillary Clinton campaign chairman John Podesta that Stone had preceding knowledge of a hacker leaking Podesta's emails to Wikileaks.
Accusers cite Stone's August 21 2016 tweet, "Trust me, it will soon Podesta's time in the barrel, #CrookedHillary," which was in reference to John and his brother Robert Podesta (Stone had misplaced the apostrophe) to expose their crony dealings through the Podesta Group and Russia. Stone was referring to significant opposition research he received from his fellow associate Jerome Corsi. Like Stone, Corsi has been erroneously accused of conspiring with Julian Assange to take down Hillary Clinton, despite him repeatedly emphasizing that he did not once meet with Assange. Stone did admit to having a "meaningless" conversation with the hacker, "Gucifer 2.0," but believed that the initial hack of DNC emails was originally an inside job. Stone provided the proper context for the tweet, made during a time when his close friend since childhood and fellow lobbyist, Paul Manafort stepped down as Trump's campaign chairman over accusations of his business dealings in Ukraine. Stone was incensed that such a major opposition against Manafort was mounted when lawmakers were ignoring that Podesta and his brother's group had criminal dealings with Russia and should have been examined, making this clear in a
statement
before the House Intelligence Committee in September 2017. Stone states,
"I thought it manifestly unfair that John Podesta is not held to the same standard. Note, that my Tweet of August 21, 2016, makes no mention, whatsoever, of Mr. Podesta's email, but does accurately predict that the Podesta brothers' business activities in Russia ... would come under public scrutiny."
Stone has received the information through a mutual friend of
Julian Assange
, who had received the information from the intermediary to educate the American public about the inward corruption and collapse of the DNC in the final months leading to the 2016 election. As with the erroneous charges pending against him now following the politicized November trial against him, Stone was right to expose the one-sided nature of the "political proceeding" he subjected himself to participate in before the House Intelligence Committee,
"I view this as a political proceeding because a number of members of this Committee have made irresponsible, indisputably, and provably false statements in order to create the impression of collusion with the Russian state without any evidence that would hold up in a US court of law or the court of public opinion," Stone explains. "I recognize that those who believe that there was collusion between the Trump camp and the Russian state, now say Stone, 'MUST HAVE' been involved, but that is not based on one shred of evidence. This is nothing more than conjecture, supposition, projection, allegation, and coincidence, none of it proven by evidence or fact."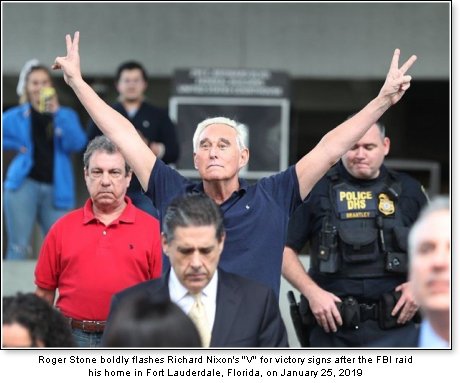 But much to Roger Stone's prediction, while the untrue accusations of him colluding with Russia and Assange were not held against him by Mueller's lawyers, they would charge him with a series of unrelated process crimes to convict him of something entirely unrelated to the scope of the closed Trump-Russia collusion narrative. The charges include: one count of obstruction of an official proceeding, five counts of false statements, and one count of witness tampering, all of which Stone expressly denied. Prior to these charges, Stone and his wife were assaulted by a team of FBI agents in what was deemed as a totally uncalled for breach of his privacy, swarming his home in Fort Lauderdale Florida in a predawn raid on January 25th, 2019. This, while CNN "somehow" happened to be the only station in attendance, clearly having been tipped off by Mueller's team about the details of the raid. Stone was not a flight risk and did not even have a valid passport at the time – and made clear that he would have showed up to court if his lawyers were simply contacted.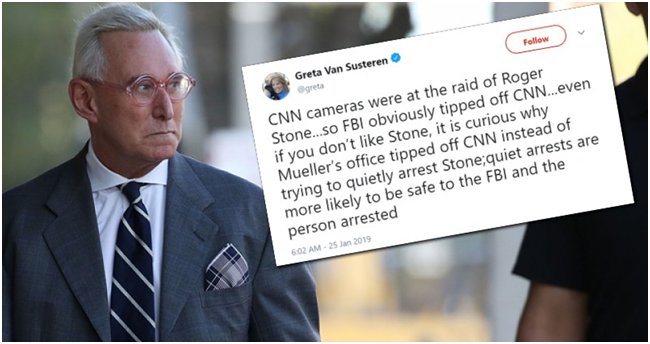 Alex Jones
rightfully predicted during the ongoing trial that Stone would be convicted on all counts because the trial was a politicized hit-job and set-up from the start. It was reported that the jury was overwhelmingly
filled with liberal Obama and Hillary supporters
, including a former press secretary who worked in the Obama Administration. Reportedly out of 82 prospective jurors, only a mere two people indicated that they were Republican and were immediately taken out of consideration. In addition to this hostile environment, the Obama-appointed Judge Amy Berman Jackson dismissed all media reporters from the court room, subsequently cutting the live feed to the room. Her mannerisms of snorting and rolling her eyes during the trial, while aggressively siding against Stone's verdict also went hand-in-hand with
Tucker Carlson's statement
that "he's (Roger Stone) guilty before the trial even started." Tucker excellently portrays the one-sided corruption of the trial and undue threat posed by Judge Jackson against Stone,
"Months ago, Jackson prohibited Roger Stone from publicly defending himself in the case. CNN and MSNBC were free to continue to slander Stone and of course, they relentlessly did that. But if Stone said a single word in his own defense [opposing the gag order against him], Jackson vowed to put him behind bars. How can Jackson do that in a country with a First Amendment? She couldn't. It is blatantly unconstitutional. But Donald trump is hated here in Washington, so nobody stopped her. Jackson just did it, anyway, just like in the third world."
Therefore, I stand wholeheartedly with Roger Stone, who has been a friend and mentor to my father, Professor Ellis Washington, for many years. Stone has committed no crime other than having been a close confidant and political adviser to President Trump and should face no charges related to a failed investigation by Special Counsel Mueller, after absolutely no collusion or obstruction charges were found against Trump in April. I urge you to call President Trump, requesting to immediately
Pardon Roger Stone
and put an end to this politicized assault before injustice in a court of law becomes acceptable, used as tool of political revenge to consume those innocent of any wrongdoing relating to zero Russia – collusion, as was the case against Michael Flynn, Paul Manafort, Jerome Corsi, and now...Roger Stone.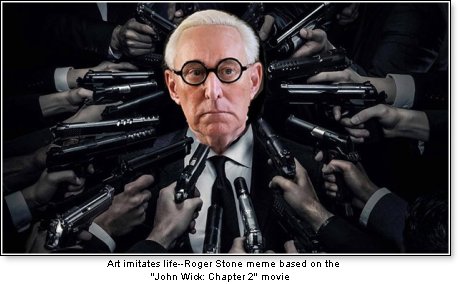 © Stone Washington
---
The views expressed by RenewAmerica columnists are their own and do not necessarily reflect the position of RenewAmerica or its affiliates.
---