Stone Washington
Shattering the political matrix: Kanye's "woke" prophecy for Blacks, Part II

By
Stone Washington
November 14, 2018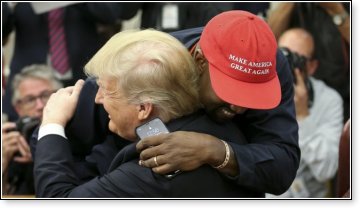 "We just have today. Over and over and over again, the eternal return. The hero's journey. And... Trump is on his hero's journey right now. And he might not have expected to have a crazy mother$#*% like Kanye West run up and support him, but, best believe we are going to make America great."
~Kanye West
Intro to Part II of the Trump-Kanye Summit
This article continues my examination
from Part I
of the legendary summit meeting in the Oval Office between President Donald Trump, rapper Kanye West and former NFL running-back Jim Brown, which occurred Thursday October 11th. Kanye's brief 20-minute soliloquy was a prophetic message channeled from the soul of a Black conservative breaking the constraints of Hollywood entertainment to express a patriotic love for America and President Trump. Never-before has a prominent Black entertainer so powerfully embraced a Republican President before a host of media outlets,
broadcasted inside the Oval Office for the world to behold
.
This bold stance for Trump symbolized a Black man, tortured by the constraints of the Democrat Plantation machine, momentarily freeing himself from its slavish dictates, and advocating for an alternative to Democratic servitude through embracing the Party that, under President Abraham Lincoln, abolished slavery and ended racial segregation. Kanye continues to defy expectations by shattering multiple preconceived beliefs, while further exposing the political Matrix of conformity and subjugation imposed on Blacks who are servile to the Democrat Party.
In this final segment of the summit, West uncovers the heart of his profound meeting with the President, revealing a greater spiritual significance at work in shaping why God has allowed Trump to create such historic successes in the U.S. West highlights key triumphs within the scope of America having the greatest economy, surging number of corporate investment, and most revered respect among international powers, including even Russia and North Korea – powers formerly hostile to the U.S under the Obama Administration. West advocates for a renewed embrace toward the remarkable accomplishments that overflow from Trump Administration, benefitting not just Blacks, but providing for all Americans and calling on the Trump's opposition: the mainstream liberal media, entertainers, etc., to cast aside political animosities and board the Trump Train to glory.
Kanye's Prophecy continues: President Trump on his Hero's Journey
Reporter 1: Can I just ask a quick question of Kanye?
PRESIDENT TRUMP: Really very interesting. Yes, yeah. Please.
Reporter 1: "So you had said, of President Bush, that he doesn't care about Black people. And you've heard some people say that about this President. What do you – how do you respond to that? What do you make of that?"
KANYE WEST: "I think we need to care about all people. And I believe that, when I went on to NBC, I was very emotional and I was programmed to think from a victimized mentality. A welfare mentality.
I think that with Blacks and African Americans, we really get caught up in the idea of racism over the idea of industry. We say, if people don't have land, they settle for brands. We want Polo-sporting Obama again. We want a brand more than we want land. Because we've haven't known how it feels to actually have our own land and have ownership of our own blocks.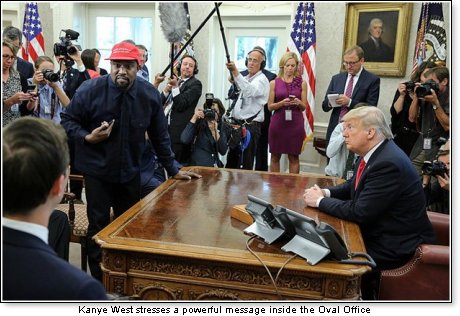 So, when you don't have ownership, then it's all about how something looks. It's about the patina; it's not about the soul, it's not about the core. So, what we focus more on, is somebody wearing something; is someone disrespecting so I gotta shoot them. Or the idea of someone being racist.
You know, we talk about police murders, which we definitely have to discuss, and we have to bring nobility to the police officers and make – the police officers are just like us. But there's this whole hate-building, right? And that's a major thing about racial tension.
And we also, as black people, we have to take a responsibility for what we're doing. We kill each other more than police officers. And that's not saying that the police officer is not is not an issue, because they are in a place – a position of power. But sometimes they're in a place of law enforcement. They need to be law-power. It's force versus power. And when you – you shouldn't have to force people to do that.
So, a lot of times the police officer is sitting there, they're being forced to do this and forced to do that block. And then they force somebody into something and force into something. We have to release the love throughout the entire country and give opportunities. A lot of times it's just the overall lack of reparations that we, at any given point, we say, 'Oh, this is racist. This is racist. This is racist. This is racist.'
So, we don't have reparations, but we have the 13th Amendment. We got to open up the whole conversation. So – and that's a move. One of the moves that I love that liberals try to do – the liberal would try to control a black person through the concept of racism, because they know that we are very proud, emotional people. So, when I said, 'I like Trump' to, like, someone that's liberal, they'll say, 'Oh, but he's racist.' You think racism could control me?! Oh, that don't stop me, that's an invisible wall!"
REPORTER 1: "But you don't think – you reject those who say he's racist?"
KANYE WEST: "On your question – and you had one question; we're going to do it to another question."
REPORTER 1: (Laughs.) Okay.
KANYE WEST: "I answered your question. I don't answer questions in simple soundbites. You are tasting a fine wine; It has multiple notes to it. You better play 4D chess with me like it's
Minority Report
. Because it ain't that simple...It's complex!"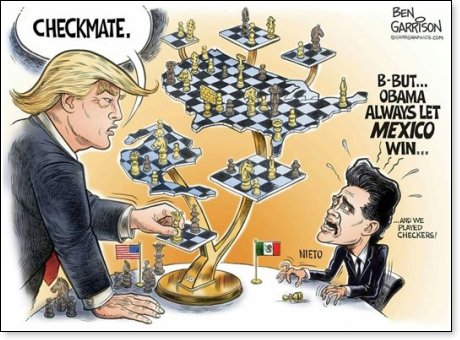 REPORTER 2: "Mr. West, I would like to know what you would like to ask President Trump to do for Chicago? You're here to talk about crime in Chicago."
KANYE WEST: "The thing that the head of the police and Mike Sacks met with me last night at the Soho House about was that, we feel that 'stop and frisk' does not help the relationships in the city. And everyone that knew I was coming here said, 'Ask about stop and frisk.' That's the number-one thing that we're having this conversation about.
Another thing is opening up industries. And we've got to get some tax breaks too. Because we're making – we got a Speedfactory in Atlanta, but the shoes are costing us $300, so it's costing us too much to make things. So, we need some prototypes here so we can get people back working, so China can't just beat us and Vietnam can't beat us. You got Levi's, the greatest jeans company in the world, making their jeans in Vietnam.
So, we're going to need to get a few breaks to be able to have some places in my hometown of Chicago, and 2.7 million to the 9 million surrounding suburbs where we can create some factories.
Now, I think it would be cool for them to be Trump factories, because he's a master of industry. He's a builder. And I think it would be cool to have Yeezy ideation centers, which would be a mix of education that empowers people and gives them modern information like – sometimes people say, 'This kid has ADD. This kid has ADD.' He don't have ADD. School is BORING. It was boring. It's not as exciting as this. We have to make it more exciting, we have to mix curriculums. You play basketball while you're doing math. You learn about music while you meditate in the morning. We have to instate mental health and art programs back into the city.
And also, Larry Hoover is an example of a man that was turning his life around, and as soon as he tried to turn his life around, they hit him with six life sentences. So, I believe he's – you say don't tear down the statues? Larry Hoover is a living statue. He's a beacon for us that needs to see his family; that needs to go out and represent. When you have a block leader on every single block, they can own the block as their own. That's something I learned from Jim Brown, from 'Amer-I-Can.' We need to put curriculums for people who really came from the streets, not people who were just trying to set us up to go into a work system or prison system that applies to what people are really going through, which Jim Brown has created."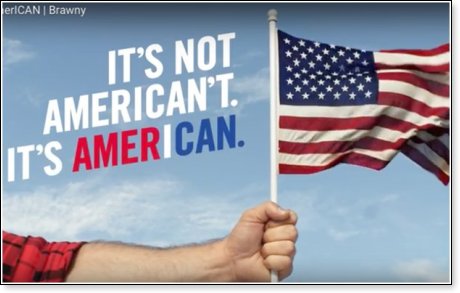 REPORTER 2: "What about gun violence? With all the debate about the Second Amendment going on, how do you fix that?"
KANYE WEST: "The problem is illegal guns. Illegal guns is the problem, not legal guns. We have the right to bear arms."
REPORTER 3: "President Trump has said that he favors 'stop and frisk.' Are guys going to be discussing that? Do you think you can change his mind?
KANYE WEST: "Yeah. We're going to discuss that. I didn't mean to put you on blast like that, bro, but – "
PRESIDENT TRUMP: "No, no. It's okay. (Laughter.) Hey, I'm open-minded. I'm here. I am open-minded."
REPORTER 4: "Mr. President, would you like him to speak at one of your rallies?"
PRESIDENT TRUMP: "He can speak for me anytime he wants. He's been a great guy. He's a smart cookie. Smart. He gets it. These two guys – Jim Brown. He's been doing this for a long time."
JIM BROWN: "Yes, sir."
REPORTER 4: "Is this a future presidential candidate?"
PRESIDENT TRUMP: "Could very well be."
KANYE WEST: "Only after him. It'll be 2024."
PRESIDENT TRUMP: "Could very well be. That's good. I'm glad to hear that."
MR. WEST: "We have a good – and the thing is... let's stop worrying about the future. All we really have is today...We just have today. Over and over and over again, the eternal return. The hero's journey. And... Trump is on his hero's journey right now. And he might not have expected to have a crazy mother$#*% like Kanye West run up and support, but, best believe we are going to make America great. Now, the thing is my – another thing is black people have an issue with the word 'again.' And I believe – my feeling from that is because I'm going to throw – I'm going to go all the way, because time is a myth. All we have is now. All we have is today.
So, the word 'again' – it doesn't hurt us because the idea of racism and slavery, different things; it hurts us because we need to focus on who we are NOW... today, I believe. So, I actually brought some hats in that have a bit of a transition. I'm not trying to put you in the spot a little bit. I made a hat that says 'Make America Great.' Just that.
But I would love to see, at the Super Bowl, Trump wearing the 'Make America Great' hat; Colin [Kaepernick]wearing the 'Make America Great,' and showing that we can bend a bit on this side, we can bend a bit on this side, and we can learn how to be malleable in the infinite universe that we are and the loving beings that we are. That we don't have to stick to our own traditions. And we aren't a side. We are one unit. We are one country. We are one moment in history and time. We might have been here before, but right now we're here together. And our greatest value that people have are other people. And we need to stop working on red and blue. It's like gang again!"
PRESIDENT TRUMP: "Let me ask you this question. You're in the Oval Office – How does it feel to be in the Oval Office?"
KANYE WEST: "Oh, it is good energy in this."
THE PRESIDENT: "Isn't it good energy?
KANYE WEST: "It's good energy."
PRESIDENT TRUMP: "It's a great place. Jim, how do you feel?"
JIM BROWN: "I feel good. I truly feel good. And thank you, too."
PRESIDENT TRUMP: "You are so respected. And what Kanye is doing has been incredible. All over the world they're talking about this. And I have to tell you, I had important meetings today with senators and with everything. Nobody cared. They wanted this meeting. This is the meeting. Is that right? I can say that to Jon."
JIM BROWN: "It's an honor you would be here."
PRESIDENT TRUMP: "Well, it's my honor, Jim. I want to tell you. I've been a fan of yours for a long time."
JIM BROWN: "Well, thank you very much."
PRESIDENT TRUMP: "Long time. Nobody like you. Nobody like you. No athlete like you."
JIM BROWN: "Well, you know why I'm here? I'm here to serve."
PRESIDENT TRUMP: "Yeah. That's really nice, Jim.
JIM BROWN: "I'm not here to ask of anything."
PRESIDENT TRUMP: "And you know, that's always been the way Jim has been – for a long time. And he just wanted to help. And it's something special. Jennifer, did you have a question?"
JENNIFER: "I guess – just you – what do you feel about stop and frisk? Are you going to, you know – "
PRESIDENT TRUMP: "Well, we're going to look at it. I'm open to everything. Hey, look, I think it's a shame what's happening in Chicago. I'm in Chicago a lot, too. I have nice things in Chicago. You know that, right? And I hate to see what's happening. They're having numbers – the numbers of people being shot and killed and it's – it's not for this country. So, they have to do something. And I am totally open. If we can do it a different way, Kanye, I'm totally open. I mean, we all agree they have to do something, that's for sure."
JENNIFER: "Mr. President, is it a law enforcement issue? A legislation – a legislative issue?"
PRESIDENT TRUMP: "Well, maybe it's a combination of both. Yeah, I guess it is. But I think it's probably a combination of both. And it's also a respect issue. They respect this guy. They respect this guy. That's a big thing. Right now, they're not respecting, let's say, your mayor, or let's say your leadership in Chicago. But certainly it shouldn't be happening. What's going on there should not be happening. Steve? Go ahead."
STEVE: "Sir, what do you want this meeting to lead to in terms of prison reform?"
PRESIDENT TRUMP: "Honestly, from our standpoint, this was just set up to be a lunch...of two people that I like. And I guess they like me. And we're going to have lunch. We're going to talk."
KANYE WEST: "You said I like you – you said. You know I LOVE you."
PRESIDENT TRUMP: "But I don't want to take – I don't want to put you in that spot, but – "
KANYE WEST: "No, I'm standing in that spot! I love this guy right here! Let me give this guy a hug right here. (Laughter.) I love this guy right here."
PRESIDENT TRUMP: "That's really nice. Come here. That's really nice. And that's from the heart. I didn't want to put you in that position. (Laughter.) But that's from the heart. Special guy. These two are special people; whether you like it, whether you don't like it, they're special people. And I appreciate it. Jim, Kanye, I appreciate it. So, let's go have some lunch. Thank you all very much."
Conclusion to Kanye-Trump summit and birth of 'Blexit'
The exceptional meeting between Kanye West and President Trump marked a significant moment in the relationship between politics and entertainment, severing the brainwash of Hollywood Progressivism that dictates the liberal political ideals of virtually 99% of all actors, rappers, singers, and general entertainers. Kanye disengaged from the political Matrix of monolithic entertainers, all expected to not only vote Democrat but embody the same liberal ideals that permeate nearly every facet of the globalist entertainment industry in America. West beautifully exposed the treachery of the Left when invoking how liberals sinisterly seek to control Blacks through the mere concept of racism, without using any historical precedent to accuse Republicans, like President Trump, of being racist. This being especially hypercritical since the very Democrat Party fought to preserve the Confederacy against the Republican north during the American Civil War, a party, which Dinesh D'Souza acclaims, has not changed its
plantation style politics
much in the past 150 years.
West defied expectations in perceiving a spiritual essence to Donald Trump's historic Presidency when declaring that Trump is on "his hero's journey," referencing how, against all odds and foes, Trump perseveres to do everything in his power to make America an exceptional nation. President Trump is the hero for the forgotten and ignored American, compared to the villainy of the Left and mainstream media, existing only as an obstruction to Trump's prosperous America First agenda. West also does great service in advocating for mixed curriculums to assist children with difficulty learning, tax-breaks for American companies, and an immediate end to outsourcing products to Asian countries among many other key points.
West helped spark the emergence of the
Blexit movement
, designed to assist Blacks in becoming independent thinkers while abandoning the Democrat Party. Despite West later
exiting from politics altogether
, his bold stance at the White House will forever be a lesson for Blacks that their political fate is not determined by the Democrat Party, yet we the people are our own arbitrators for political choice. And
many are choosing to become free
of the invisible slave chains of mental servitude in abandoning the Democrat Party. Like Morpheus famously utters in the 1999 movie
The Matrix
, "It is the world that has been pulled over your eyes to blind you from the truth. That you are a slave, Neo. Like everyone else you were born into bondage. Into a prison that you cannot taste or see or touch. A prison for your mind."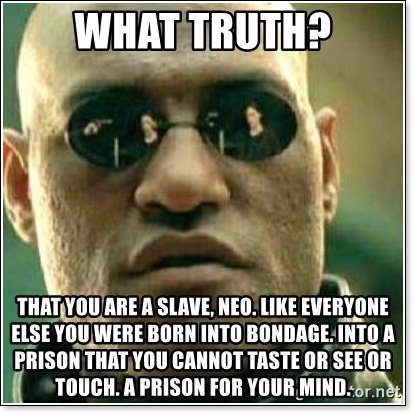 © Stone Washington
---
The views expressed by RenewAmerica columnists are their own and do not necessarily reflect the position of RenewAmerica or its affiliates.
---