Stone Washington
Clemson champions: 35-year long odyssey to victory

By
Stone Washington
January 17, 2017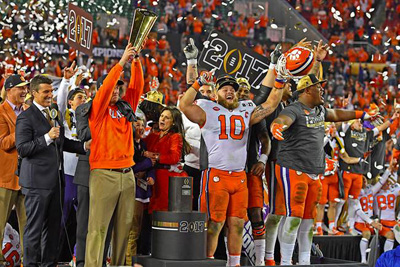 "I'm just telling you, only God can do this. 8 years ago, Terry Don Phillips gave me a chance to lead this program. We set out to put Clemson on top. We came up a little short last year. But tonight... at the top of the mountain, that Clemson flag is flying!"

~
Dabo Swinney, Clemson Tigers Head football coach
This essay will describe the significance of Clemson University's recent historic football championship victory and my profound connection to the school as a recent transfer student (Class of 2019) during the 2016 fall semester.
On Monday January 9th 2017, the highly anticipated 2016 National College Football Championship game kicked off in Tampa Florida at 8:00 pm. Picking up from last year's championship game was the longtime rivals: #1 ranked University of Alabama Crimson Tide VS. #2 Clemson University Tigers. This was already a highly-perceived grudge match for the ages following Clemson's dramatically close defeat at the hands of Alabama on January 11th 2016 with a final score of 45-40.
Lead by skilled Coach Dabo Swinney, who was formerly a wide-receiver for Alabama in his college years and won a national championship for Alabama in 1992, along with #1 ranked Senior Quarter-back Deshaun Watson, the Tigers clenched an amazing win of 35-31, marking the first championship victory for Clemson in 35 years since 1981 and the first time beating Alabama in exactly 112 years since 1905! This victory came as a much-awaited sense of fulfillment for Clemson toward reaping revenge for last year's defeat and a very stunning loss for Alabama, boasted for having one of the nation's best defenses and arguably the best football program in terms of steady success.
1st quarter
The 1st quarter of the game was one filled with sluggishness and difficulty for Clemson. Clemson started off with the ball on offense but failed to take any risks toward providing a touchdown that penetrated the Crimson Tide's solid defense. Because of repeated missed opportunities by quarterback Deshaun Watson, the Heisman Trophy finalist either threw only short 5-10 yard passes, or ran the ball himself on an option offence right into the teeth of Alabama's impregnable defensive center.
This unremarkable (and predictable) offence made Clemson quickly lose possession of the ball causing Alabama to place greater pressure on wearing out Clemson's defense. Clemson's defense stood strong, led by linebacker ('quarterback' for the defense) Ben Boulware, who often sensed one of Alabama's offensive ploys, such as screens, and on several critical occasions stopped Alabama's offense right as the play occurs. The Alabama Freshman quarterback Jalen Hurt mostly moved the ball for his team in the quarter, allowing Alabama running back Bo Scarborough to push for an opening and run the ball toward a 25-yard touchdown. The quarter would end with Deshaun throwing 5-of-7 with 23 yards and Alabama leading 7-0.
Alabama Running-back Bo Scarborough diving for a touch-down
2nd Quarter
By the second quarter Alabama would score yet another 37-yard touchdown run by running-back Bo Scarborough: Alabama-14 Clemson-0. The game looked very grim for Clemson as Alabama's offense was impeding Deshaun Watson's efforts to make a solid touchdown pass. Thus, The Tiger's offense was repeatedly forced to turn over the ball after multiple fourth-downs, placing more pressure on Clemson's solid defensive squad to halt Alabama's momentum. During Clemson's timeouts in the first half, many speculated that Deshaun's skills were marred in the game and perceived that he was still rattled by the Tigers loss to the Crimson Tide last year. Upon Clemson's successful defensive efforts holding strong, the ball was given back to Clemson's offense, who were successful in advancing the ball to the 39-yard line, to where Quarter-back Deshaun Watson capitalizes on this by scoring an 8-yard running touchdown, gaining the Tiger's first points in the game: Alabama-14 Clemson-7. Watson finishes the 1st half of the game 13-23 with 153 yards. After this, the ball goes back and forth between both teams with neither side scoring a touchdown for the remainder of the half.
Clemson Quarter-back Deshaun Watson leaping over Crimson Tide players to the end zone for a touchdown
3rd Quarter
After half-time, Clemson starts with the ball and carries it to the 16-yard line, only for running-back Wayne Gallman to fumble it to Alabama's Ryan Anderson, his second fumble recovery of the night. Alabama hurt itself due to call for a penalty, but despite this, would soon gain three points after Adam Griffith made a field goal on the 27-yard line, bumping the Crimson tide up by 3 points: Alabama-17 Clemson-7. Next, a poor Alabama punt would grant Clemson the ball at the 42-yard line, allowing Deshaun Watson to take advantage of a quick drive to running-back Hunter Renfrow for a 28-yard touch-down, launching Clemson to even footing with their adversary: Alabama-17 Clemson-14. Shortly afterward, a major blow is dealt to the Alabama offense when running back Bo Scarbrough is badly shaken up on a play, forcing Crimson Tide officials to walk him off the field. Despite this big upset, Alabama quarter-back Jalen Hurts would quickly recover the Crimson Tide's struggling offense by throwing the ball to tight-end O.J. Howard, who outran Corner-back Van Smith for a 68-yard touchdown to curtail Clemson's defensive momentum: Alabama-24 Clemson-14.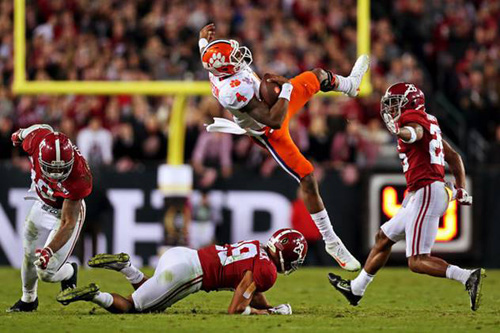 Quarter-back Deshaun Watson is sent into airborne 360 spin by a brutal clash between Alabama players, Reuben Foster and Minkah Fitzpatrick hitting him low and high.
4th Quarter
The final quarter of the game kicks off with an explosive offensive start by Clemson. Deshaun Watson took the initiative with several short passes and carries, gaining the Tigers 72-yards and finishing on a fade route for a 4-yard touchdown by wide-receiver Mike Williams to pull Clemson back within come-back distance – Alabama-24 Clemson-21. After some back and forth, Clemson takes the lead for the first time in the night after running-back Wayne Gallman's 1-yard touchdown run, following quarter-back Deshaun Watson's 15-yard run. It's now: Clemson-28 Alabama-24, with only 4:38 left to play.
The key play in Gallman's drive was the 26-yard pass to running-back Mike Williams, boosted by an unsportsmanlike conduct call against Alabama, allowing the Tigers to advance forward 15 yards. Alabama offense turns up the heat with quarter-back Jalen Hurts throwing several good passes to move the Crimson Tide's position forward, eventually scrambling through Clemson's exposed defense on a play and running 30 yards for the touchdown with only 2:07 left: Alabama-31 Clemson-28. With time running out fast, Clemson takes the ball and Deshaun throws a major pass to running-back Mike Williams at the 30-yard line. Clemson advances to the 9-yard line after Deshaun Watson hits tight-end Jordan Leggett with a big pass. Soon the ball was moved to the two-yard line after call for pass interference, allowing Deshaun Watson to throw a risky running pass to his faithful, fail-safe slot receiver, Hunter Renfrow for the winning touch-down with only 1 second remaining.
Clemson running-back Hunter Renfrow catching the winning touch-down pass
Celebration and Parade
Truly, Clemson's 2016 championship was a historic victory for the ages, as the 2nd National championship won in all of Clemson's football history since 1981. The tens of thousands of Clemson fans packing the stadium were ecstatic and in a jubilant frenzy of emotion upon the Tigers scoring the winning touchdown within a second before the clock ran out. Coach Dabo Swinney and his assistants were breaking down in tears, stumbling to the ground in immense joy and amazement. Everyone in orange from the stands were exploding with excitement, rushing the field to celebrate with players and coaches. News casters and fans alike swarmed around Dabo Swinney and leading players like Deshaun Watson, Ben Boulware, Hunter Renfrow, and Wayne Gallman. Coach Swinney delivered a very touching
speech
after winning the championship game, stating such words as:
"Well It's a blessing. It's surreal. I love my team, I told them tonight that the difference in this game would be the love that they have for each other, I knew they wouldn't quit. And I talked to them about letting the light inside of them always be brighter than the light shining on them, and if they focused on that, then they'd be ok. I'm just telling you, only God can do this. 8 years ago, Terry Don Phillips gave me a chance to lead this program. We set out to put Clemson on top. We came up a little short last year. But tonight... at the top of the mountain, that Clemson flag is flying!"

The city of Clemson would later host a major
parade
on Saturday January 14th to commemorate the school's monumental championship victory, with the band playing music and players, coaches, family members, and everyone connected to the football program driving decorated cars and trucks down the streets of downtown featuring all the people that made Clemson's winning football program possible. The parade winded around the city, finally ending in Death Valley (Tiger Memorial Stadium) where there was a large stage in the center field setup for commemoration addresses to be given by players, coaches, and athletic officials. The event brought forth more than 50,000 joyful Clemson fans to pack the stadium, among them being the 1981 Clemson championship football team who were congratulated. Also in attendance were South Carolina Senators: Lindsey Graham and Tim Scott, along with Governor Nikki Haley.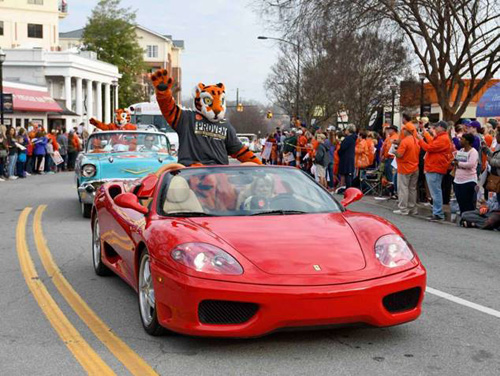 Mascots: The Tiger and the Tiger Cub waving to fans in the parade
Overall, the launch of 2017 has proven to be a momentous time for my school of Clemson, and I could not be more thankful to the Lord for bestowing such a profound blessing upon my school and community following the historic and victorious year of 2016. In one year alone would Clemson accomplish the unthinkable, defeating top-ranked schools including: Ohio State, Louisville, and Alabama among seven previous championship winning teams while seizing the championship title. I'm proud that my first year at Clemson as a Sophomore transfer student was during such an historically blessed year for the university, and hope for many more successful years to come to Clemson in the near future. The football team's winning motto was contained in the Biblically important numbers '4' (for Deshaun Watson) and '13' (Hunter Renfrow) the two players who won the game at the last second –
Philippians 4:13,
"I can do all things through Christ who strengthens me."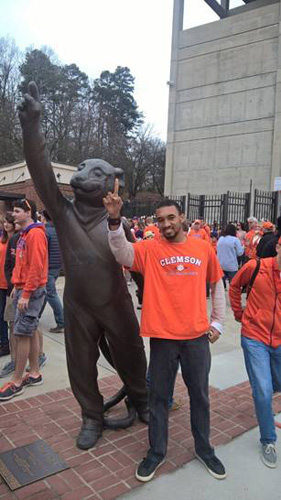 GO TIGERS! – myself posing #1 with statue of the Clemson Tiger mascot
© Stone Washington
---
The views expressed by RenewAmerica columnists are their own and do not necessarily reflect the position of RenewAmerica or its affiliates.
---