Stone Washington
The truth inside the lie; the owl inside the bat, Part 2

By
Stone Washington
September 20, 2014
"It's a story as old as Man, Bruce. Two brothers. Sons of a fabled line. Like Romulus and Remus! Eteocles and Polynices! Bruce and Thomas, sons of Gotham. Meant to share the city!"

~ Owl Man, City of Owls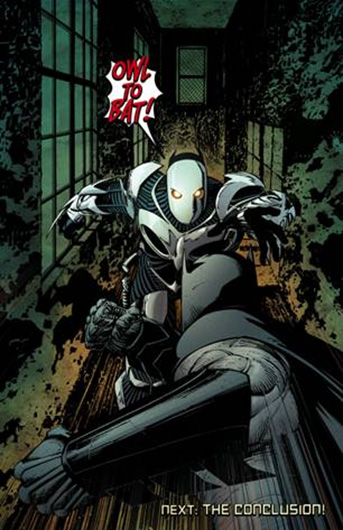 Assault on the Court
This essay is the conclusion to my previous
essay
,
The truth inside the lie; the owl inside the bat, Part 1
. The story continues with a look at the most expensive building in Gotham. Valued at $58 million dollars the humongous complex takes up the top three floors of the famous Powers Hotel owned by the patriarch Joseph Powers, and his wife, Maria. The structure was built during the Great Depression as fortress against the masses. Protected by both Hotel and private guards armed with encrypted wireless security, it has never had any type of visitor by the Powers family... until tonight. A startled Maria Powers exits her private elevator to find her penthouse completely ransacked. The perpetrator is none other than a very furious Batman who locks Mrs. Powers behind her elevator doors as she attempts to escape. As she tells the Dark Knight that he has no right to be in here, he holds up a Court of Owls member mask, to which Maria retaliates by saying that it's not her husband's. Batman knows it's hers and also knows that Joseph Powers is away wearing his (no doubt doing evil deeds); he demands his location. Like a conniving witch Maria Powers tells Batman that he is out of the country mocking him telling Batman that his (along with his allies) previous success against the Court is nothing and that if she were him she would leave this city and never come back. Despite her frantic demeanor, Batman unmoved, leaps out of the building leaving her locked inside the elevator.
As Batman soars through the city Alfred tells him about the location of Park Row in Gotham of where the cellular signal of Mr. Powers is coming from. And right before Alfred tells him which street the signal is Batman calls out the exact address: 77 Irvington. But how did he know? Batman then goes into deep thought upon this Court of Owls mystery:
"Henri Ducard, the great detective, once told me that there's a feeling you get on a case sometimes... a feeling that comes when the pieces suddenly fit into place and the answer you've been looking for all that time begins to appear. The feeling, Ducard said, is like "a remembering." Not so much a discovery of something new, as a remembering of what you knew all along. Something right in front of you. That feeling is the best indicator you have your answer, said Ducard."

Earlier that night when Lincoln March gave Batman a list of possible Court of Owl members, he noticed Joseph Powers name and realized something was wrong with this man. Batman felt apprehensive feeling in his gut remembering Batman returning to an old building he had visited as a boy: the Harbor House, belonging to Joseph Powers. Batman kicks down the door and rushes into the mansion declaring to the Court of the Owls squatters, "Tonight their story ends. Their little song will be forgotten. Their name vanishes from Gotham history." Batman finds the dining room holding all the guests of the night, but the guests aren't right. All the Court of Owl members sitting at the table are dead. Batman uncovers the Owl mask of Joseph Powers and finds him lifeless. Batman curses the Court and exits.
Next Batman journeys into an abandoned children's hospital called the Willowwood Home for Children. When it was deserted 18 years ago due to a sinkhole under the building, authorities discovered the horrible truth where the children of the hospital were abused, starved and neglected. Legend says that the dead children haunt the building and that their sadness caused the sinkhole. Batman enters a dark, vacant hallway and announces his presence. Suddenly a large hunting net captures the hero, bringing forth a shadowy figure into the scene who asks Batman who he is.
Pinned to the ground by the net Batman replies by telling him he doesn't know who he is, but he does know that he's not Lincoln March, because Lincoln March doesn't exist; yet, he's a paper man setup by the Court of Owls. The man affirms this remark and further asks the question of who is he if not Lincoln March. Batman tells him that he is a traitor and a thief who was a member of the Court of Owls but betrayed them, just as everything was crumbling around them. Batman tells him that he took money from the top members, invited them to an emergency council, and poisoned them, making it appear as if they killed themselves. Batman continues by saying that this man moved to write his name on the list of targets for the Court of Owls to send a Talon against and faked his own death. The mystery man corrects him and says, "not faked." Batman agrees and reveals that the man took the regenerative serum (which allows the Talon assassins to come back to life), thereby reviving himself.
Batman tells him that he will pay, but the man moves to another subject on how the Court of Owls planned to train another Talon assassin, one with a modern suit to rival the Batman. The mystery man begins to equip himself with the very suit while asking Batman who he really is. Batman explains how this man was an inmate here and the reason he found out was because men like this mystery criminal like to leave clues behind, not because their sloppy, but because their egotistical and enjoy taunting their pursuers. Batman explains:
"So the sinkhole. The story you told me when I visited you in the hospital, after we were attacked at the Old Wayne Tower. You were daring me to look deeper into you. You knew the records the court of Owls created were too good to penetrate, but even so, you left a clue. A Truth inside the lie."

The man agrees and adds onto Batman's revelation by explaining how during their first meeting in the Old Wayne tower (within my Court of Owls article) when Bruce Wayne began fighting the first Talon assassin, he revealed himself to be the Batman, through his superb fighting abilities: a truth inside the lie. The Talon injured Lincoln despite them secretly being allies. Afterwards the Court explained how it was an accident, "but I saw the truth in that lie too," the man explained.
As Batman tells him he is nothing, that he's sick, the man interrupts him and declares: "your brother, Bruce. I'm Thomas Wayne, Jr. Your brother that never was. From the other side of the mirror." Batman denies this mind-blowing revelation. But Lincoln March now under the alias of "Owl man" reminds him of the tragic story where years ago Batman's would-be brother was miscarried due to a car accident and forced to heal at this hospital of Willowwood, which he explains was a premier hospital until the funding dried up from Batman's parents being shot. He blames the death of their parents on Batman and charges at him beginning the final battle of this epic story.
My Brother's Keeper
Batman delivers the first blow stopping Owl Man in his tracks. Owl Man wonders if that's all he can do and Batman rebuffs his taunts and begins to rapidly strike the villain with multiple attacks. Suddenly Owl Man unleashes his remarkable strength by ramming Batman through two walls, and further removing his cape. He yells at Batman for being the greedy brother of the family and leaving nothing for his fallen kin who was left to rot. He then moves to smash Batman through yet another wall leading outside the building; without a cape to glide on, Batman instead uses his grappling hook by shooting it around Owl Man's neck as he falls, pulling him downward as well. But Owl Man activates his innovative owl suit jet pack, keeping them afloat.
After smashing Batman into a building and a large church bell, Owl Man finishes his twisted tour of Gotham by flying up to a moving Airplane, ascending out of the city. He tells Batman that as a child all he ever heard was planes coming to Gotham but never leaving the city, due to the position of his hospital. He compares this predicament to a city that literally traps you in place, where people enter but never ever leave: Gotham city. He then drops Batman into the propeller of the moving plane. But Batman miraculously catches onto the edge of the plane just feet away from the propeller. Owl Man mocks Batman explaining how while Batman wasted his time prowling the streets of Gotham, watching over his "kingdom," the owls trained Lincoln, allowing him to grow stronger by the day, preparing him to be their king. As he told Batman he should have watched his own back, Batman tells him to take his own advice, and in that instance a miniature bomb on Owl Man's back explodes; Batman has won the battle.
After climbing out of the propeller area Batman losses his grip and falls from the plane with no strength left in himself or his suit. All seems lost as Batman descends from hundreds of feet in the air. All is lost... until he gazes at the beautiful silhouette of Gotham at night; the city calls him, gives him strength telling him there is still work to be done. Batman activates his final trump card: his high velocity Bat-rope which shoots out from his belt, catching onto the scaffolding of his new Wayne Enterprises building. The momentum of the rope pulls Batman into the large building, smashing him through a wall, leaving the Dark Knight unconscious. But as Batman awakes he is picked up by an unknown stranger. The man is none other than Owl Man, battle damaged but alive from the explosion (his suit absorbed much of the impact). As a final effort to kill his enemy Owl Man plants multiple bombs around the room, detonating them within minutes. Batman then injures Owl Man and runs away through the building as it crumbles around them.
Later on in the book it is revealed that Bruce has survived the explosion, subjected to a wheel chair with multiple injuries. Bruce talks to his old apprentice, Night Wing on how he feels stronger about Gotham than ever before despite the Court of Owl incident. He tells him that he is tracking down the remaining members because he knows they are vulnerable. And despite not finding any bodies in the wreckage of the previous explosion of his new Wayne Enterprise building, he does not fear the many revelations brought by Owl Man, about how he is his estranged brother and how he will return to take the city from Bruce. He is not afraid because he declares that, "Gotham isn't Batman, or the owls. Gotham is all of us." And he proclaims that when the Court of Owls emerges again... Batman will be watching.
Modern Day Significance
In this conclusion story to the
Batman City of Owls
book there are many profound character relations to modern day. Mrs. Powers as a Court of Owl member represents the cowardly, despicable ways of her illuminati organization which, when brought out of the shadows by Batman prove to be feeble and defenseless in the face of the hero. She reminds me most of the Democrat Hilary Clinton, whose deceptive nature has led her to many
scandalous deeds, cover-ups, and corruptions
as she hides behind her famous Clinton name and the complicity of the Leftist propaganda media (who share her worldview) and of the Democrat Socialist Party. Hilary and former President Bill Clinton relate to the protagonist Powers' couple. Both the Powers and the Clintons believe like Machiavelli – "The end justifies the means." Joseph Powers, along with the other Court members that died, reveal what ultimately happens when your evil deeds catch up to you, such as the instance when Bill Clinton was impeached as President due to his many incompetent behaviors in office: including his abuse of power and obstruction of justice; thus proving that evil shall never triumph.
Lincoln March (a.k.a Owl Man) and his dark, ominous past correlates to the shocking true past of Barack Obama as seen in the film:
"Dreams of my Real Father"
by filmmaker Joel Gilbert. From this outstanding documentary about the real Barack Obama the viewer will learn that Obama isn't the man he claims to be, neither his family roots or birthplace are legitimate. Everything about his background – from his phony social security number to his real father to his presidential policies are all contrived and based on lies. Just as "Lincoln March" was discovered to be a false alias, despite the man's good standings as a mayoral candidate and ally of the city, March was none other than a cunning Court of Owls member who back-stabbed his own group when he saw how they betrayed him. Similar to how despite the president's charm, Obama's endless lies and falsities have at many times put his own Democrat party at odds with him. March and Obama are dangerously comparable to one another as they're distorted view of America and of Gotham has led them down a continuous path ruination of the city and the country in question. There is a truth inside the lie America, the truth of Progressive Socialism within the façade codenamed the Democrat party. And just as Lincoln March sought to cripple Gotham, Barack Obama and his radical socialists and progressive policies will continually spiral out of control and destroy this one great nation of America from within.
Therefore it is crucial, now more than ever to realize the True America, the beautiful country within the sea of treacherous politics. We must not allow America to be cursed like the Lincoln March paradigm of Gotham: "a city that traps you into place." This is just what progressives and liberals seek through their destructive policies – for Americans to be pushed through a continual cycle of regression, chaos and voluntary slavery. Just as the Court of Owls seeks to conquer Gotham and the liberal socialists seek to conquer America, we must rise as up as true patriotic citizens of the U.S.; expose and marginalize those who hate America. Vote out of office politicians who are duplicitous and refuse to uphold the U.S. Constitution; this disastrous party which stands against everything representing God, liberty, truth and natural law . . . from the other side of the mirror.
© Stone Washington
---
The views expressed by RenewAmerica columnists are their own and do not necessarily reflect the position of RenewAmerica or its affiliates.
---