Stone Washington
Symposium: The damnation of ideas Part 2

By
Stone Washington
February 16, 2014
In this sequel and review of
Symposium: The Damnation of Ideas
created by my father, Professor Ellis Washington, we continue to delve ever deeper into the second half of the 10 books written by 10 controversial thinkers whose collective works historically have had a very negative impact on society and Western civilization; whose damnable ideas continues to affect us in numerous and horrible ways in modern times.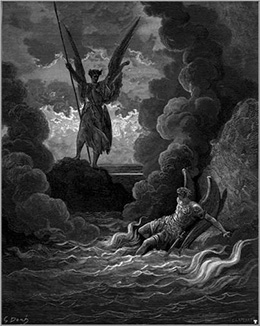 Socrates begins the Symposium by welcoming the writers and reminding the audience that we are in continuation of the final five authors (nos. 1-5) who initiated the battle of ideas over the past 200 years. Socrates asks the dialectical question of
why
these books are so influential to thinkers and what is the difference between books with a positive impact on society versus books that have negative impacts.
Book Five of our list is by John Dewey, also known as "the Father of public education," who was the main progressive leader of the humanism movement in America which had its roots in the Age of Enlightenment (1600-1800), which culminated in the secular humanist, anti-God, anti-clerical, anti-monarchy genocide of the French Revolution (1789-99). Dewey in his book repeatedly and aggressively rebuked God, morality, and universal traditions such as Christianity and the Bible as being modes of outdated thinking based on mythology and legend which needed to be replaced with scientific evolution and modern "progressive" (i.e., socialist) education.
In 1916 he published his major opus denigrating America's Judeo-Christian traditions titled
Democracy and Education
which expressed his corrupted zeal and sought to replace America's foundational Christian traditions with his post-French Revolution brand of education atheism along with his Marxist/socialist paradigm, damning any trace of Christianity from the public school system. Socrates interrupts Dewey's arrogant soliloquy by scolding Dewey's corrupt ideas of isolating and separating mankind from its' Creator, separating science from religion within the history of knowledge and the human organism. Dewey's anti-Christian view of education humanism led to the widely accepted idea of "separation of church and state" (see U.S. Supreme Court holding in,
Everson v. Board of Education
[1947]). Thus Dewey was the main architect who destroyed the biblically balanced school system by replacing America's moral education based on God, morality, the Bible and truth with a tedious governmental scholastic paradigm based on humanism, evolution, pseudo-science, bureaucracy, and lies. This is the birth of the secular, humanist, godless public schools in America and we have John Dewey to thank for this abomination.
Book Four: Alfred Kinsey was a zoologist at Indiana State in 1948 who published a major "scientific" study called,
Sexual Behavior in the Human Male,
modernly known as the Kinsey Report. This psychotic pervert proclaimed through so called scientific studies that 37% of males prefer homosexuality (even though in 1948 homosexuality was less than 1%). He also studied adolescent boys and shamelessly conflated his sexual perverse ideas with Darwinian evolution to formulate a grotesque, unfounded belief that humans are merely sad, untamed animals refigured through science.
Note that both Dewey and Kinsey were fanatical advocates of Darwin's evolution atheism and tried to justify their prejudice against America's Judeo-Christian traditions. This estranged evolutional mindset continues to pervert and plague modern day science while at the same time deconstructs culture, society and Western civilization. When will mankind return to God's transcendent truths? This question pertains to not just Socrates but toward all human beings on earth. Kinsey's 1953 book,
Sexual Behavior in the Human Female,
theorized on such perverse ideas as the sexuality of four-year-old girls and even suggested adult and children sexual intercourse to be beneficial. What a sick scoundrel this man was. Kinsey was thus the founding Father of sexual deviancy and its acceptance in the name of science thus leading to the golden age of pornography, promiscuity, teen pregnancy, the Gay Movement, the Feminist Movement, leading to the spread of AIDS from the 1960s-80s.
Book Three: Mao Zedong was the leader of the Communist Red Army in the fight for control of China against the anti-Communist forces of Chiang Kai-shek before, during and after World War II. In 1949 this Chinese dictator founded the People's Republic of China which enslaved close to the entire world under a merciless communistic rule. In 1966 he published his book
Quotations from Chairman Mao
which forced the Chinese Communist party and society to bow down to his destructive will, which in part ended the lives of millions of Chinese citizens in the process. Socrates criticizes Mao by reminding him of the horrors he caused by the genocide of hundreds of millions of his own people during his tyrannical rule (1949-76) and the horrible pain and suffering his atheistic communism is still causing Chinese citizens now into the twenty first century through policies like his despicable One Child policy, which between 1978 and 2000 has prevented between 250 and 300 million births, and between 1979 and 2011 has murdered over 400 million innocent little babies in China causing a severe imbalance of too many male babies and not enough females for them to marry later in life.
Book Two: Socrates next presents the mad megalomaniac, Adolf Hitler, who while a prisoner for a failed coup attempt against the German government in 1925 wrote his Nazi manifesto,
Mein Kampf
(My Struggle). Hitler unleashed his evil intensions and demonic plots of Ayran supremacy upon the world leading to the dual doomsday crises of World War II (1939-45) and the Holocaust which led to the genocide of 6 million Jews.
Mein Kampf
served as Hitler and the Nazis blueprint toward complete genocide over the Jewish population in Europe including the domination of all of European countries and Russia. Hitler was the devil in human flesh whose evil intent caused the death of dozens of millions of men and women to be slaughtered while initiating world war against the world, engraving in time a historical tragic apocalypse.
Socrates looks to Hitler with disgust and describes his destructive nature which killed Jews, Catholics, Slavs, Poles, Russians, mentally ill, elderly, homosexuals, Blacks, Gypsies, clergy, religious minorities, etc.) and caused violence and racial conflict to continually erupt between various ethnic groups even to this day.
Book One: Scientist Charles Darwin unleashed a revelation of damnation through his popular and accepted theory of evolution atheism which since 1859 (
On the Origin of Species
) has done more harm by turning the hearts of people away from God, even to this day. As if that book wasn't bad enough to deconstruct society, Darwin, in his 1871 book,
The Descent of Man,
through his pseudo-scientific book and corrosive lies he has warped the minds and hearts of men and women through the generations.
Darwin's evolution theory removed God from His creation by establishing a theorized belief of an evolved race of man, vanquishing any trace of past relations toward savage man which he compares to "apes" is unbearably deceptive. His constant source of deception which he titles "evolution or progression'' of humans completely removes any trace of singular genius or exceptional human beings. Socrates concludes his Symposium on the 10 books causing the damnation of ideas by reminding the audience emphasizing the remaining five authors whom ironically were all evolution atheists who all possessed an extreme hatred of the Judeo-Christian traditions that built Western civilization. Socrates asks us all what is the anti-intellectual foundation and primary premise of each of these books? In this dialectical question Socrates is reminding us that all these damnable books replaced Man as the center of all things rather than God... which mankind collectively takes one step away from civilization and one step towards collective damnation.
© Stone Washington
---
The views expressed by RenewAmerica columnists are their own and do not necessarily reflect the position of RenewAmerica or its affiliates.
---