Stone Washington
Crime, punishment, and the sins of the Western man

By
Stone Washington
October 25, 2013
'We have facts,' they say. Facts are not everything – at least half the business lies in how you interpret them.
~ Fyodor Dostoyevsky, Crime and Punishment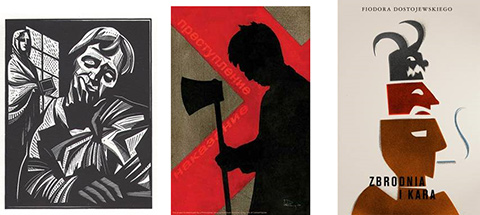 Crime and Punishment (1866) is the classic story about a young man who executes the "perfect crime" (or so he thought) yet is tortured by constant feelings of guilt and suffering from the senseless murders he has committed. Hence, there is a cause and effect, a "crime" and it's inevitable "punishment."
Russian novelist Fyodor Dostoyevsky (1821-81) wrote this great work after 10 years imprisonment in a brutal Siberian prison and it is the first work of his mature period. The impetuous protagonist Raskolnikov is an impoverished ex-student living in St. Petersburg. Although he is very poor and lonely he is not lacking in humility and thinks of himself as an extraordinary human being who due to economic injustice he is temporarily forced to give up his studies. Despite embracing his mother and sister's support his bitterness and envy of the wealthy classes overwhelms him and compels him to obsess on crimes he intends to commit to alleviate his poor economic condition, yet he is unsure of how he will do this.
One day while walking aimlessly through the city, he walks into a dirty, smelly pawnshop; the pawnshop owner, Alyona Ivanovo, is a mean old woman. He leaves the shop having a disgusting, confused feeling within him. Next Raskolnikov meets a drunken man named Semyon Marmeladov in a tavern whom he feels great compassion for after hearing about his current struggles. Raskolnikov is then troubled to find that his sister, Dounia wants to marry a wealthy man name Luzhin, not out of love, but particularly for the purpose of supporting the family. Raskolnikov is outraged, and warns her not to do it. That night Raskolnikov has the "accursed dream" he had in his childhood where the dream character, Mikolka mercilessly beats this horse to death. The next morning Raskolnikov learns that the old pawnbroker will be alone the next evening, causing him to believe that this fate has taken away his "freedom of thought."
Raskolnikov has a diabolical epiphany. He believes that in killing the pawn store clerk and using her money to complete his college studies is for the sake of humanity and therefore is a good deed. This perverted logic is reminiscent of arguments made in Machiavelli's "The Prince" – the end justify the means. The next morning he takes the caretakers hatchet with him to the pawn shop. When the old woman lets him in he immediately axes her to death and with bloody hands steals her most expensive items including her purse. Afterwards her sister Lizaveta enters the store unexpectedly and is axed to death by him as well. Next Raskolnikov rushes back to his house in a feverish, excited state carefully checking his clothes for blood while hiding his stolen objects.
Soon Raskolnikov falls ill for a few days and entrusts his friend Dmitri Prokofite Razumhin to care for him. After he revives Raskolnikov awakens to be invited to this party that Porfiry Petrovitch, the head of the police department and Luzhin are invited to as well. Raskolnikov is not at all impressed by the pompous, ignorant and selfishness of his future in-law and chases him away after the two argue. Raskolnikov is horribly haunted by his recent double murder and is in constant torment with agonizing sensations of guilt for the crimes he committed.
After explaining to Razumhin about wanting to explain himself before the police chief and repurchase the items he has pawned, in his narcissistic delusions and ignorance of the law, he plans to present himself innocently. When the conversation heats up to talk about the crime, Raskolnikov mentions a theoretic philosophy about dividing people into two groups – the extraordinary people who have the rights, and the others who do not count, who can be "eliminated" at will. That night, after awaking from a nightmarish replay of his murder of the pawnbroker, he awakes and alerts Razumhin that he must immediately leave. But after carefully looking his friend in the face, Razumhin realizes that his friend is the murderer. From this he watches over Raskolnikov's Mother and sister, "as a son and a brother."
The next day Petrovitch requests to see Raskolnikov for "some inquiries." After he arrives, Petrovitch creates a hoax of an insane artist who just confessed to the all the crimes (obviously designed to gauge Raskolnikov's reaction). Dostoyevsky leaves this episode open ended in that it is unknown of whether anything happened from this ploy. Later on after Sonia, Raskolnikov's love interest, flees in despair, Raskolnikov comforts her and explains how he is the murderer. Afterwards Sonia demands that he turn himself in to the police, to "suffer and expiate" his sin. Upon meeting with Porfiry, Raskolnikov is warned by him to turn himself in, after the investigator also deduces that he committed the crime. The noose tightens. Porfiry is shrewd, he realizes that he doesn't have enough evidence to arrest Raskolnikov yet, so he uses psychology to sympathize and empathize with Raskolnikov and promises to help lessen his sentence. Raskolnikov, full of anger and pride refuses him and abruptly leaves. Raskolnikov then admits to his sister that he has decided to give himself up. He claims that he has "taken up the cross." Eighteen months later Raskolnikov is serving a "merciless" eight year sentence in Siberia. In the end Sonia visits Raskolnikov and they clutch each other in happiness. Now the past is behind them and they love each other, looking towards "the dawn of a new future, of resurrection into a new life."
What lessons does Dostoyevsky's masterpiece teach us in modern times? There are many lessons. First, this story is demonstrative of the existential fear, depression, isolation and alienation of the individual in the huge, modern industrial age. Raskolnikov feels alienated and affronted that society has ignored his brilliant intellect, thus he isolates himself from the rest of society while placing himself above the law in order to avenge the wealthy of society whom in his delusional mind have betrayed and persecuted him. His crimes bring him no solace but only increases his alienation and depression due to his theory of crime as isolating one's self from society. But this isolation only causes him to fall into a death spiral or what Dostoyevsky calls being "imprisoned within himself."
Ironically Raskolnikov finds himself content to be imprisoned in a physical jail and away from his self-imposed psychological prison which only tormented him ceaselessly. In this novel the genius of Dostoyevsky shines in bright relief creating the protagonist Raskolnikov to represent the "abhorred" beliefs of the Western man that disgusted Dostoyevsky. Raskolnikov is wholly accepting of his superiority but doesn't realize his reckless instability which compels him to think and behave irrationally, thus we see how he murders people capriciously without any logical planning. This is due to a character flaw rooted in his deranged superiority complex that allows him the "right" to murder an evil old woman (the pawnshop keeper) because in his mind she is meaningless due to her poor economic status.
Thus, in a paradoxical sense when Raskolnikov by moral "right" kills the poor; he is emulating the economic principles of Karl Marx, "The Communist Manifesto" (1848) which 18 years before Dostoyevsky's work likewise argued that modern man is alienated, his spirit crushed in the bowels of the industrial revolution, therefore the worker (proletariat) must rise up in righteous indignation and crush the greedy rich people (bourgeoisie) and the evil capitalist economic system. As my father often quoted the original intent of Marx as the father of communism and socialism – "My life's goal is to dethrone God and destroy capitalism." Raskolnikov on a micro level emulated Marxism and communism nihilist principles of killing the innocent for a delusional, self-righteous cause that could never be fulfilled.
Dostoyevsky analyzed how Raskolnikov accepted strange ideas that were "incomplete," which "floated on wind" as he put it, and that strongly reflected socialist tendencies of taking from the rich and giving to the poor. This confusion of conflating human life for some abstract, narcissistic
reason
is a key element in the diabolical nature of today's Democratic Socialist Party. Liberals (led by President Barack Obama) especially fail to discern the true spiritual meaning of human life, nor appreciate the dark depths of human nature specifically when they stand behind socialism, progressivism and postmodern thought which justifies and celebrates for example the summary execution (abortion) of almost 60 million innocent babies on this the 40th anniversary year of the Supreme Court corrupt legalization of infanticide in the case of Roe v. Wade (1973). It makes no difference whether you discuss Dostoyevsky's dark, brooding work of murder and despair, or the modern arguments on the abortion question or Obamacare which forces churches and faith-based healthcare providers to be complicit in the machinery of infanticide. In either case you can hear the delusional psychotic rantings justifying his will over others:
'We have facts,' they say. Facts are not everything – at least half the business lies in how you interpret them,
as Dostoyevsky wrote.
Machiavelli was wrong: The ends
do not
justify the means! This amoral philosophy only creates genocide, political revolution and societal chaos. So remember no matter what day or age you live in, no matter what status you hold in society, there shall always be a punishment that avenges every crime... someday.
© Stone Washington
---
The views expressed by RenewAmerica columnists are their own and do not necessarily reflect the position of RenewAmerica or its affiliates.
---