Anna Githens
Christopher Columbus: genocidal tyrant or God's faithful servant?

By
Anna Githens
October 10, 2013
Just in case you hadn't noticed, the upcoming federal U.S. holiday has undergone some new PC name changes. Many colleges across the country now regard the mid-October holiday as "Fall Weekend"- save for Berkeley's "Indigenous Peoples Day" – in replacement of the day once esteemed in honor of Christopher Columbus. Apparently the progressive fundamental transformation of America involves much more than our health care, foreign policy, immigration, welfare, and economic system. Progressives have also decided we have been wrong all along about America's hero; he was actually a European imperialist, a genocidal tyrant, and an environment destroyer. Any Core Curriculum State Standards textbook will confirm this enlightening data discovered by America's elite intelligentsia.
It's quite apparent that Columbus has been under attack and his day of tribute is headed toward extinction. Unless, of course, we Americans consent to uphold this tradition we've had since 1792 when New York City celebrated the 300th anniversary of his landing in the New World. Why should we be incentivized to preserve it? A few reasons come to mind: duty to uphold the truth, allegiance to American patriotism, and a firm responsibility to continue to pay homage to the man markedly responsible for the foundation of this great country.
Columbus Day in America has a long and rich history. In 1892 President Harrison called on the people of the United States to celebrate Columbus Day on the 400th anniversary of the event. In fact, the Pledge of Allegiance was written that year in patriotic honor of this anniversary. The United States has long admired Christopher Columbus. As one of America's oldest holidays, it celebrates the beginning of cultural exchange between America and Europe. America has more monuments to Columbus than any country in the world. The statue of Columbus, which stands in Providence, Rhode Island, was cast by the creator of the Statue of Liberty, Frederic Auguste Bertholdi. In 1971 Columbus Day became a federal holiday in all 50 states – a mere 42 years ago – after Congress passed a law designating it the second Monday in October.
[1]
So what happened? Why has the tide changed so recently and so suddenly? There seems to be an influential group of people adamantly opposed to this honorary day and will stop at nothing until Columbus Day is forever wiped off our calendars. They have deemed themselves the Enlightened Ones and believe their own personal analysis of history is superior to what has been written and preserved in books spanning a 500-year period. If one examines closely the words chosen in this new wave of textbooks hitting the classrooms, one will see that their problem doesn't necessarily lie with the man himself. Their problem is with what he represents, which is, the spread of Christianity to the west.
Let us consider the mindset of the advocates of multiculturalism currently infiltrating classrooms across the country. Not only are they convinced that Columbus did not discover America, they believe he "invaded and displaced a native population."
[2]
American Indian activist Mike Anderson insists, "There was a culture here and there were people and there were governments here prior to the arrival of Columbus."
[3]
One current high school textbook reads, "Europeans of all nationalities viewed Native Americans as inferiors who could be exploited for economic, political, and religious gain."
[4]
Not mentioned in textbooks is Columbus' portrayal of the "peaceful islanders" he encountered when he arrived in the New World, or that one of the Tainos, Diego Colon, became his adopted son. He described them as "'the handsomest men and the most beautiful women' he had ever encountered." He also praised the "generosity and lack of guile among the Tainos," and contrasted "their virtues with Spanish vices." Additionally, he expressed that "although they were without religion, they were not idolaters and he was confident that their conversion would come through gentle persuasion and not by force."
[5]
Furthermore, while the Indian tribes Columbus first encountered were "hospitable and friendly," other tribes he later encountered were justifiably reputed for their "brutality and inhumanity. On his second voyage Columbus was horrified to discover that a number of the sailors he left behind in the West Indies had been killed and possibly eaten by the cannibalistic Arawaks,"
[6]
a fact rarely mentioned in modern textbooks. Consider an account by Bernal Diaz widely corroborated by modern scholars:
They strike open the wretched Indian's chest with flint knives and hastily tear out the palpitating heart, which with the blood, they present to the idols in whose name they have performed the sacrifice. Then they cut off the arms, thighs, and head, eating the arms and thighs at their ceremonial banquets. The head they hang up on a beam, and the body of the sacrificed man is not eaten but given to the beasts of prey.[7]

Paintings of this type of ritual can be found in The American Museum of Natural History; one depicts an Aztec priest cutting the heart from a living victim and offering it to the sun god Tonatiuh. To the beat of a drum, Aztec priests would lead victims up a pyramid to the temple to be sacrificed. Aztecs believed that unless they appeased the state god Huitzilopochtli with human blood, the sun would fall. Furthermore, not found in CCSS textbooks are the "altars drenched in blood and bones strewn everywhere" that the Spaniards encountered, or the 136,000 human skulls they found at a temple in Mexico City.
[8]
Believe it or not, some enlightened multiculturalists may call this horror show an idiomatic expression of worship distinct to the culture of the indigenous people. They ask rhetorically, what right did the European colonists have to come along and impose their beliefs upon another culture of people?
Yet the more important question to consider is, what exactly is
culture
? And dare we consider one culture superior to another? What do we deem culturally beneficial to society as a whole and what do we consider evil? Culture is defined as the set of shared attitudes, values, goals and practices that characterize an institution, organization or society; and the integrated pattern of human knowledge, belief, and behavior that depends upon the capacity for learning and transmitting knowledge to succeeding generations.
[9]
What exactly is valuable and transmittable about perpetuating a culture that barbarically destroys human life in order to appease a fictitious god? Or is it a violation of the PC code to call Huitzilopochtli and Quetzalcoatl fictitious gods?
It is difficult today to determine exactly what unites us as a culture in these United States. Is it not permissible to call a nation of people who declares itself one nation living under God with certain unalienable rights endowed by their Creator superior to a culture of people that consistently consumed human flesh, including children and, according to the law of the Incas, cruelly punished its parents and others who displayed grief during human sacrifices? Aside from the Aztecs and Incas, cannibalism was predominant among the Guarani, Iroquois, Caribs, and several other tribes.
[10]
Why do secular historians find going to war against the Nazis acceptable but find it unacceptable for the Europeans to have stood up to revolting savagery and the senseless destruction of human life (which is essentially what we fought against with regard to the Nazis) 500 years ago in Native America?
"Christopher Columbus had a mystic belief that God intended him to sail the Atlantic Ocean in order to spread Christianity."
[11]
Could it be possible that God's Divine Plan called for this faithful and valiant Italian explorer to sail unchartered waters in order to spread the Good News to the Native American people? And that maybe God in His Divine foresight chose Columbus, the Spaniards, and the European settlers to inhabit the New World – just as Moses and the Israelites were chosen for the Promised Land – so we could be free to worship Him? For it is written,
"We know that all things work for good for those who love God, who are called according to His purpose"(Romans 8:28).
We know that God holds no religious preference, however, He cherishes the freedom and brotherhood of mankind. He desires to save all – that includes Europeans and Native Americans. Moreover, if we consider what was to come from the effects of the warring that resulted from the Reformation in the 16th century, the timing of Columbus' discovery could not have been more perfectly positioned in world history.
The steps leading up to his expedition to the New World seem to provide certain preconditions to this timing. Was it mere coincidence that Columbus became stranded off the coast of Portugal in 1476 after being attacked while on a convoy from Genoa to England? Was it destiny that brought him among the Portuguese sailors, some of the most expert seamen in the world? And was it fate that his brother Bartholomew had opened a shop that sold charts and nautical instruments? We will never know.
But we do know that Columbus' strong faith, and that of his crew, is reflected in his careful selection of his date of departure, August 2, 1492, to align with the fiesta of Our Lady of Angels. He planned to depart on the morrow of the fiesta in order to give his men the opportunity to join their families in prayer and thanksgiving. Our Lady of Angels was also patroness of the Franciscan monastery of Rabida, whose friars, along with the devout King Ferdinand and Queen Isabella of Spain, fully supported Columbus' journey.
[12]
So Columbus courageously set sail that day into the vast unknown with a mighty spiritual wind beneath his wings.
Multiculturalist Gary Nash claims that Columbus embodied an eccentric "European quality of arrogance."
[13]
These elitists have the tendency to misjudge confidence for arrogance and faithful devotion with stupidity. But this is merely an unconscious projection of their character traits onto Columbus and the European colonists. It is pitifully easy for the elitist intellectuals of the 21st century to sit behind their desks in their warm, spacious homes revising textbooks and conjuring up the way things should have been done. This in itself is a prime example of unmitigated pretension and arrogance.
The motives for this character assassination of Christopher Columbus are quite clear. We can determine our own character assessment by the words he spoke, the company he kept, his devotion to God, and the many extreme and unprecedented challenges he had to face. Christopher Columbus kept a scrupulous diary and recorded many painstaking details of his first impressions of the New World and his encounters with the Native Americans. Regrettably, many of his recordings have been boorishly misinterpreted.
We know that he won the respect of the King and Queen of Spain, the Franciscan monks, and countless others during his time and throughout history. Are we going to let a fleeting popular mindset permanently tarnish the reputation of an honorable man and extinguish an historic and significantly patriotic American holiday?
"Weep for me, whoever has charity, truth and justice! I did not come on this voyage for gain, honor, or wealth – that is certain, for then the hope of all such things was dead. I came to Your Highnesses with honest purpose and sincere zeal; and I do not lie. I humbly beseech Your Highnesses that, if it please God to remove me hence, you will help me to go to Rome and on other pilgrimages."
Christopher Columbus
(1451–1506)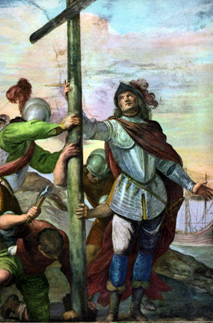 NOTES:
© Anna Githens
---
The views expressed by RenewAmerica columnists are their own and do not necessarily reflect the position of RenewAmerica or its affiliates.
---