Rev. Mark H. Creech
Bowed but not broken under a wintry blast

By
Rev. Mark H. Creech
November 27, 2020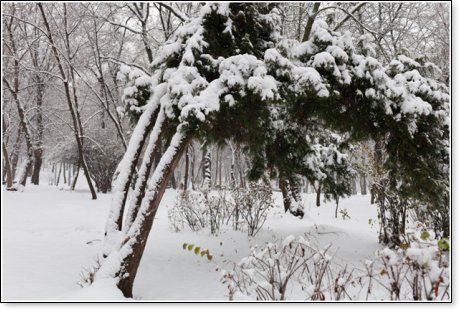 His writing ministry is not well-known, but the late Crate Jones, who was from Durham, N.C., once moved Ruth Bell Graham to say that there were few writers she enjoyed more for simple inspiration and refreshment.
I agree. Jones was a master wordsmith, and I readily confess that for this article, I'm drawing heavily from something he wrote in Dips of Water from the Wells of Life. I believe it can help Christians properly navigate the current troubling political landscape. Jones wrote:
"The little evergreen shrub (with a shape like a chandelier bulb) had grown to about five-and-a-half feet tall. Gracing the corner of the house, it exuded its shrubby beauty every season.

"Now ol' man Winter can be as tricky as a magician and as surprising as unexpected company. He must've been real sad, because he tuned up and cried all over the place. He dropped his temperature down to the freezing zone. Gradually, those cold, sleet-mixed tears made our part of the world look like a winter wonderland. Icy crystals clung to whatever couldn't shake them off.

"Through no fault of its own, the little shrub was forced to don a cold, heavy robe. Being frail, it began to bend beneath the load. By nightfall, its head was resting on the hard pavement. All humped over, it looked like something whipped and defeated, or maybe like it was praying for the cold, dark night to pass.

"Made of sturdier stuff than would appear, no branches were broken — only bent. The suffering shrub, with inbred resiliency, would rise again.

"By the next day, Mr. Winter must've caught a little fever. Ice and warmth can't stand each other, so the ice gave up. Just plain disappeared. Late afternoon saw the dripping shrub almost upright, as if to say, 'In a while, I'll be as straight and tall as ever. Maybe even stronger than before my testing time came'"
Jones added, "It's a parable of life-size proportions. Adversity comes to everyone. Like a winter storm, sometimes it slips up on us. We are caught in the chilling fingers of some uninvited trouble. And we bend beneath its weight."
For many who have believed in the Presidency of Donald J. Trump, the so-called election results and the prospect of the President not returning to the White House for a second term has our heads bowed low, accompanied by a heavy heart. We are witnesses to the onset of a bleak wintery storm and clearly understand what a Biden-Harris administration would mean for the country.
Dr. James Dobson labeled it a "godless administration" and lamented its likely outcomes. He noted it would mean an open season on the unborn. The institution of the family would find no friend in the White House. It would be apt to usher in moral depravities such as irreversible transsexual surgeries for children as young as eight and ten years old. Harris has said she wants to legalize prostitution. It would mean open borders and an end to the wall, which works to protect us from thousands of people who illegally come into this country with ill intent. It would mean trillions of dollars invested in outrageous environmental policies such as the Green New Deal. Taxes would skyrocket for middle-class families. Assaults on religious liberty and constitutional protections for churches would also be expected. As Dobson finishes, "Radical change is about to descend on the nation. America is about to be over-run by the most leftist regime in [our] history."
What Dobson said is not hyperbole nor based on fear but fact. I could add a few more things. I have grave concerns about how a Biden-Harris administration would cultivate the soil for socialism to grow until, like Southern Kudzu, it covers everything and becomes impossible to rend from the land. There is no more significant existential threat to freedom than the prospect of a USSA.
On the surface, the current posture of conservative evangelicals may seem to denote defeat. Not on your life! Indeed, like that shrub, we are bent low but not broken.
Who knows but that God might intervene – a fraudulent voter scheme exposed and the President vindicated. We continue earnestly praying!
Still, what if this is not the case? What if God doesn't answer our prayers? Shall we even then despair? Surely not!
The warmth of God's love for his people melts the icy cloak of despondency. Knowing the Scriptures promise that nothing "can separate us from the love of God, which is in Christ Jesus our Lord" (Rom. 8:39), we shall rise to this occasion.
No wintry blast for the children of God lasts forever. The best is always yet to come. We shall stand straight and strong again, with our roots planted deeper than ever. As Jones concluded:
"If God has made a little shrub strong enough to endure crushing loads and then get up, how much more has he made us. With the apostle Paul, we can say, 'We are cast down, but not destroyed' (2 Cor. 4:9). And like Paul, we find that God's grace is always enough. No matter what."
Yes, no matter what! We are bowed but not broken. We fight on, for the love of country and the glory of God.
© Rev. Mark H. Creech
---
The views expressed by RenewAmerica columnists are their own and do not necessarily reflect the position of RenewAmerica or its affiliates.
---