Rev. Mark H. Creech
Are churches living between Easter and Pentecost?

By
Rev. Mark H. Creech
April 10, 2020
American Methodist missionary to India and global evangelist, E. Stanley Jones, once contended that he thought the church of his day was "living between Easter and Pentecost."
Easter is about the resurrection of Christ. Pentecost was the day the Holy Spirit of God was poured out and filled the church, making it an indomitable force in the world.
"Easter stands for life wrought out, offered; Pentecost stands for life appropriated, lived to its full, unafraid and clearly and powerfully witnessing...." said Jones. He charged the church then stood "hesitant between the two."
Jones said concerning the apostles:
"They had ringing in their ears the most gracious word that ever broke into human life – the gospel; they had seen the most perfect exhibition of living that this planet has known – [Christ's] life; they had witnessed earth's most terrific and decisive moral struggle – His death; they had found their sadness turned into joy over the most transforming and astonishing fact in history – His resurrection; they had seen wounds that would heal wounds, a death that would banish death, a resurrection that would raise a new world to new life; they had looked into that Face, so tender, so triumphant, and had heard him commission them to go share this with the world, and what had they done? With all of this back of them, what had they done? They had shut themselves up behind closed doors for fear [John 20:19 says for 'fear of the Jews']. They had the message the world needed and awaited, the one message that would heal the sin-hurt of the world, and yet that message was shut up behind closed doors.
"The only power that could and did get them out from behind those closed doors and loose them and their message upon the world was Pentecost."
But between Easter and Pentecost, they were paralyzed by fear – shut away. "A church living between Easter and Pentecost is always behind closed doors," said Jones.
For the last two weeks, I've spent most of my time phoning approximately 150 pastors across North Carolina, checking in with them to see how they're faring in the pandemic. I've also used the opportunity to remind them that because the Christian Action League is solely dependent on the generosity of churches, we urge them to continue with us, even in the face of what could prove to be lean times.
The situations I came across while making these phone calls, some of the conversations I had, as well as other pertinent church-related matters, have helped me to understand what E. Stanly Jones was talking about. Today too many churches are suspended between Easter and Pentecost. For whatever reason, perhaps its fear or something else; they have shut up the gospel behind the doors of the church house.
It was amazing to discover the numerous churches that didn't have a telephone, or voicemail to leave a message. A shocking number of church phones were disconnected. I suspect a lot of these churches are small and reason that a phone isn't needed since most members know each other well enough to contact the appropriate persons when there is a need. But where does this leave the troubled, wondering, needy stranger, who seeks a lifeline from the church, but may not know who to contact? What if the individual is standing on the precipice, about to plunge into hell itself, whether literally or figuratively, and there's not even a church phone number to afford them a call for hope?
Say I'm overly dramatic, but this seems to be the gospel hermetically sealed behind closed doors. It's reflective of a lack of concern for those outside a church's own ranks.
I asked one pastor if his church could help the Christian Action League's ministry get through these hard times. His response was unforgettable. He said to me with high-sounding words, "Mark, we aren't helping anyone. We have to determine first who the Body of Christ is in this situation, and then afterward, we can help."
I thought to myself, well, if you don't know who the Body of Christ is already, and you have to wait for a pandemic to end before you can act, then you're useless. The salt has lost its saltiness and rendered good for nothing. This, too, is the gospel, shut-up, closed off, and in limbo between Easter and Pentecost, unprepared and ill-equipped for action.
Written within the context of the coronavirus crisis, Matt Staver penned an article titled,
Are Churches Essential or Not?
In it, Staver asks every church a pointed question, which is followed up with a thought-provoking statement. Staver writes:
"Is the ministry of the church [your church] so essential that the community groans in its absence? If any church is not that essential, then maybe that church needs to ponder what changes should be made in order to be the essential lighthouse and place of refuge that God desires."
I also talked to several pastors who said, because of the health emergency's negative impact on their church contribution levels, they had applied for the small business loans available through the CARES Act, recently passed by Congress. Although I adjure churches to use extreme caution when considering a government loan, I won't offer any judgments as to whether they should or shouldn't. Still, I can't resist asking: What does it say about our faith in Christ, the incomparable Savior, when the church looks to the government for salvation?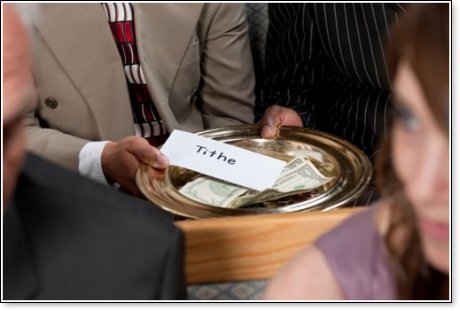 The church should be supplied by the tithes and offerings of God's people, given obediently, freely, and sacrificially. It shouldn't have to depend on church bazaars, bake sales, raffles, and bingo games to furnish its work. Neither should it ever have to look to the government to prop it up. Is this the church militant, empowered by the Spirit and the unsearchable riches of Christ? Generally speaking, such things reveal a lack of commitment to model the One who emptied Himself for the world's sake.
Has it ever occurred to anyone that Christians might presently be shut-up inside their homes, unable to assemble in their churches, because they shut up the power of faith – they shut-up the power of the gospel behind closed doors? They have shut it within their hearts, hoarding it like some folks do toilet paper. They highly value it, but just mostly for themselves.
It only seems to be a mild form of God's discipline: if our churches have largely closed off the world from its blessed internal gifts that, God would temporarily cut us off from its blessed external gifts. Is repentance in order?
The pandemic and its effects challenge us to employ self-reflection and introspection. Do we really believe what we profess? We have seen the resurrected Christ. But is the power of the Holy Spirit of Pentecost operative in and through our lives?
Certainly there are weightier proofs of the churches' dereliction of Christian duty – much weightier. These are my musings about some of the lesser proofs observed lately in my own experience. Nevertheless, if our guilt is determined by lesser evidences, how much greater is the conviction coupled with its surer ones.
"Our churches are filled with spiritual dwarfs... We call it reticence; its real name is barrenness. We need nothing so much as we need a passionate personal evangelism that will take men out from behind closed doors and impel 'each one to reach one,'" concluded Jones. "Nothing is more tragic to the church and to the world than for the church to close itself up, encase its own inner activities, while the great stream of the world's life flows past it and the church is not at its center. Our one problem is to loose our gospel upon the world."
Indeed. Easter has come. Pentecost awaits. We shouldn't be living between the two for any reason.
© Rev. Mark H. Creech
---
The views expressed by RenewAmerica columnists are their own and do not necessarily reflect the position of RenewAmerica or its affiliates.
---