Rev. Mark H. Creech
Jesus the King: Model for exemplary political leadership

Reflections for Palm Sunday

By
Rev. Mark H. Creech
April 3, 2020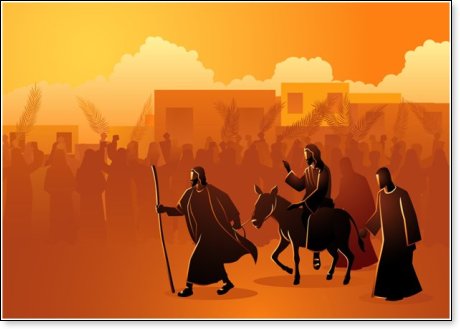 Most have seen the newsreels of the ticker-tape parades of yesteryear, with the president of the United States, a war hero, or an astronaut as its grand marshal. Even if the footage is black and white, you're able to catch something of the incredible exuberance and drama of the event.
It was a considerably more humble procession when Jesus entered Jerusalem for what would be his final visit, but it was the parade of the ages. It opened a series of events that would lead up to Christ's crucifixion.
All four Gospel writers describe this parade, with Jesus at the forefront riding on a donkey. The masses were waving palm branches and following behind Him, cheering and shouting, "Blessed be the King that comes in the name of the Lord: peace in heaven, and glory in the highest" (Luke 19:38).
Churches around the globe celebrate this moment in Christ's life every Sunday before Easter as Palm Sunday.
For that one brief moment, Jesus was recognized for who he was, Israel's promised King. Even though He was the King whom the prophets predicted would reign, the acclaim given Him that day was short-lived. His rule would not be established then because there were other parts of God's plan which still had to be accomplished.
There is the Cross, the Resurrection, and the birth of the Church, through which the Gospel of Christ's redemption is ultimately taken to the whole world, after which Christ's Kingdom shall be established forever.
Jesus is King. He is the King of kings and the Lord of lords.
In his writings, the prophet Jeremiah addressed the failure of the kings of his era by describing them as irresponsible shepherds who had destroyed and scattered the sheep (Jeremiah 23:1-8). Today people think of a "shepherd" as a religious leader, but in Jeremiah's day, "shepherd" was also a term used for political leadership.
Jeremiah speaks of the ideal King, who would rise to power and "reign wisely...and administer justice and righteousness in the land" (Jeremiah 23:5). Although political leadership had failed the people over and again, Jeremiah said that one day a leader would come who would never fail the people. Jeremiah's prophecy was about Jesus Christ.
It's disturbing the way some people try to separate politics from Christianity, as if the twain should never meet. Yet politics is everywhere throughout the Scriptures. In the Old Testament, political figures and situations are mentioned repeatedly. There are oracles about nations. And it's nearly impossible to accurately ascertain the full meaning of many New Testament texts without an understanding of the political and cultural context in which they were written.
Remarkably intriguing is the contrast between Jesus, the King, who humbly rode into Jerusalem that spring day, with the political leaders who would be responsible for his death. Today's political leaders could learn a great deal from the comparisons.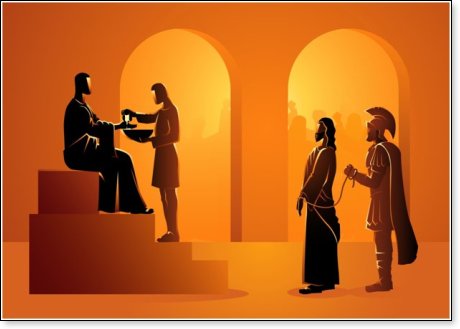 Pilate was a cowardly political leader. He played a major role in Christ's crucifixion. It's difficult to exaggerate his guilt. If anyone could have done something to exonerate Jesus of the false charges against him, it was Pilate.
Pilate had a conscience and a sense of justice. But he lacked the courage of his convictions. Instead, he sought to wash his hands of the matter.
Having served as a registered lobbyist in the North Carolina General Assembly for twenty years, I know first-hand the pressures which lawmakers experience from special interests, political manipulations, and powerful people. Many legislators know what is right. They know they should vote down an initiative, but too often, they don't have enough courage to do it. Sometimes nefarious influences tell them, if you can't vote for the bill, feign sickness, construct an excuse, and just take a walk. Be absent the day the measure is taken up for a vote. Wash your hands of it. And some do.
Pilate did this with his eyes wide open. He did it against his own conscience. He even did it against the pleadings of his wife to set Jesus free. Though he was providentially appointed to his position to deal out justice, he did just the opposite.
Christ, however, the ideal political leader, never flinched and always did what was right, even when he knew it was going to cost him dearly. He left the consequences with God.
Annas, a high priest of the Jews, had both a religious and political role. It was Annas who had Jesus arrested and brought before his kangaroo court where He was first tried. It was his shifty shenanigans and machinations that had Jesus unjustly delivered to Pilate for crucifixion.
Annas was a scoundrel, a schemer, a highly successful political puppet master, who under Roman occupation had come to terms with his conquerors. He would do nothing to upset their powers, because while he cooperated with them, he enjoyed their protection. He could graft and plunder his own people. To Annas, Jesus was a threat to the political status quo, and, therefore, a threat to himself and his personal interests.
The worst kind of politician is the one whose overriding passion is to win office and stay in power. His primary purpose is not to serve his constituents, although he may claim otherwise, it's to serve himself.
One day I heard a lawmaker during debate on the floor of the North Carolina House stand up and say that when he was a young attorney, he was told the best way to further his career was to be elected to state office. It was clear from his tenure that this was his chief objective from start to finish. He cooperated so well with the corrupt House leadership in those days (the same period the Speaker was indicted by federal authorities and sent to jail) that he was given the chair of a powerful committee. He never once showed any moral fortitude. Instead, he was the quintessential collaborator and facilitator of egregiously dirty and immoral proposals.
It's political leadership of this kind, unscrupulous and self-seeking, that crucifies Christ afresh with its undermining of the central values which keep the soul of a nation alive and thriving. It doesn't matter how strong the nation's educational system, its economy, its military, etc., if its citizens are deficient in selfless virtue, it has within it a deadly virus that will kill it.
Christ, the ideal political leader, didn't think of Himself. His thoughts were consumed with our needs. He said that he came not to be served, but to serve (Matthew 20:28).
Every political leader would do well to heed the exhortation of the apostle Paul, who said:
"Make your own attitude that of Christ Jesus, who, existing in the form of God, did not consider equality with God as something to be used for his own advantage. Instead, He emptied Himself by assuming the form of a slave, taking on the likeness of men. And when he had come as a man in His external form, He humbled himself by becoming obedient to the point of death – even to death on a Cross. For this reason God also highly exalted Him and gave Him the name that is above every name, so that at the name of Jesus every knee should bow – of those who are in heaven and on earth and under the earth – and every tongue should confess that Jesus Christ is Lord, to the glory of God the Father" (Philippians 2:5-11).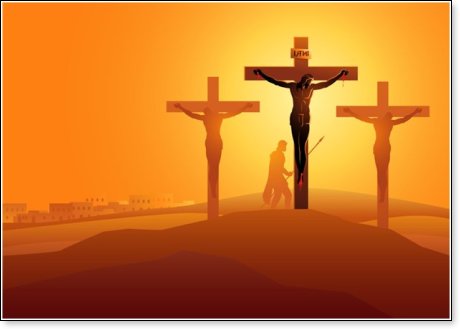 Indeed, Jesus is Lord. He's the King the Church celebrates on Palm Sunday. He's the model for exemplary political leadership.
One day King Jesus is coming back to rule and judge the earth. Jeremiah said that at that time, the Lord will raise up shepherds (political leadership) who will (truly and justly) shepherd the people. And they will no longer be afraid or dismayed. (Jeremiah 23:4).
Even so, come Lord Jesus!
© Rev. Mark H. Creech
---
The views expressed by RenewAmerica columnists are their own and do not necessarily reflect the position of RenewAmerica or its affiliates.
---