Alan Caruba
Israel will attack Iran soon

By
Alan Caruba
April 29, 2015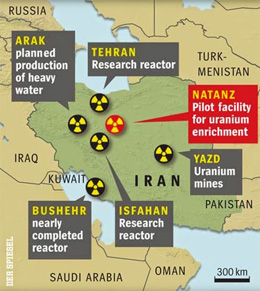 The Israelis will destroy several Iranian nuclear facilities and my educated guess is that they will do so before the end of this year.
Israel has no margin of error when it comes to nuclear reactors in nations that threaten its existence. While President Obama does everything in his power to enable Iran to create its own nuclear weapons, it is a good idea to recall that in June 1981 the Israelis destroyed a reactor in Iraq. It was the first air strike against such a facility. In September 2007, the Israelis destroyed a Syrian reactor. There was no reprisal in either case.
From Wednesday, April 22 to Friday April 24 the Israelis struck Hizbollah and Syrian military targets in the Walamoun Mountains on the Syrian-Lebanese border. The calculations were that the location, a site for long-range missiles, would be safer from the Israelis. They were wrong.
In September 2014, Israeli Prime Minister Benjamin Netanyahu addressed the United Nations General Assembly warning "don't be fooled by Iran's manipulative charm offensive. It's designed for one purpose and for one purpose only. To lift the sanctions and remove the obstacles to Iran's path to the bomb."
"Once Iran produces atomic bombs, all the charm and all the smiles will suddenly disappear. They'll just vanish. It's then that the ayatollahs will show their true face and unleash their aggressive fanaticism on the entire world." He offered a comparable message to a joint meeting of Congress in March of this year.
Is anyone listening? Not President Obama. On April 25, writing in The Wall Street Journal,
Mortimer Zuckerman
, the chairman and editor in chief of the U.S. News and World Report, said "President Obama has been chasing a rainbow in his negotiations with Iran. He has forsaken decades of pledges to the civilized world from presidents of both parties. He has misled the American people in repeatedly affirming that the U.S. would never allow revolutionary Iran to acquire nuclear weapons."
It's bad enough when you can't trust your nation's enemies, but when you cannot trust your own President you have a very big problem because Iran is not just a threat to America and Israel, but to the entire world.
Obama's anti-Semitism is obvious to anyone paying the least attention. He particularly loathes Israel. In early April the White House let its unhappiness be known that Netanyahu had, in its words, failed to tone down "hostile and aggressive language" of the Passover religious service. What were those words? "Next year in Jerusalem."
This is an ancient Jewish prayer that sustained generations of Jews over the course of two millennia, expressing their hope to return to their homeland. To the White House, however, it was "affront to the Palestinians, not to mention a slap in the face to President Obama himself who has worked tirelessly for peace despite Israeli intransigence." The Jews returned to Israel, declared its independence in 1948, and have had the support of every President since...until Obama.
The Israelis know this. Since their independence the Israelis have fought seven recognized wars, two Palestinian intifadas, and a series of armed conflicts in the broader Arab-Israeli conflict. Most recently they put down Hamas in the Gaza once again for its repeated rocketing.
Despite or because of this, the Israelis have sought to demonstrate good will toward their Arab neighbors. There is an untold story of the December 2014 meeting of six Gulf Cooperation Council rulers in the Qatari capital of Doha to discuss steps to respond to challenges that include Iranian aggression and clamping down on the Muslim Brotherhood.
Sources close to event report that Netanyahu has achieved close coordination with the most important Arab leaders that include Egypt, Jordan, Saudi Arabia, and the United Arab Emirates. Other members of the Council include Kuwait, Bahrain, Oman, and the United Arab Emirates.
The Israelis have no choice, nor do I anticipate that Iran will do much, if anything, to respond in the wake of the ashes of those facilities. No other nation will come to their aid.
© Alan Caruba
---
The views expressed by RenewAmerica columnists are their own and do not necessarily reflect the position of RenewAmerica or its affiliates.
---