Alan Caruba
Is Obama anti-Semitic?

By
Alan Caruba
March 24, 2015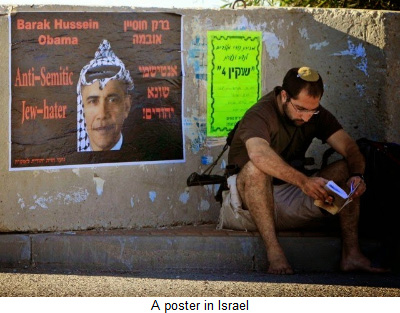 President Obama made no secret of his displeasure that Benjamin Netanyahu was reelected to be Israel's Prime Minister. Only David Ben Gurion, Israel's first Prime Minister and one of the nation's founders, served longer.
Obama lives in some parallel universe apart from the lessons of history and the realities of what is actually occurring. On May 18, 2009, not long after Netanyahu had been in office and was visiting the White House, Obama was demanding that he endorse Palestinian statehood and freeze the settlements on the West Bank.
Considering that the Palestinians had refused statehood from the day the United Nations endorsed Israel's independence that has been a fool's mission no matter who was President or Prime Minister.
As for Obama's demands about settlements, who is Obama to tell the Israelis in 2009 where and if they can build the housing needed for its growing population? And yet Netanyahu, seeking to accommodate Obama, endorsed Palestinian statehood shortly thereafter and then announced a ten-month freeze on settlement development.
What did Netanyahu get in return? Nothing.
In 2014 when the Israelis responded militarily to months of rocket attacks from Gaza, it contacted the Department of State to request Hellfire missiles and Obama reportedly personally blocked the shipments.
The talks with Iran that have been Obama's obsession since he took office have continued despite his promise not to "have talks forever." This has been his pattern of behavior since the day he took office. As Wall Street columnist Brett Stephens observed, "The President collects hard favors from allies and replays them with neglect and derision. This is the mentality of a peevish and callow potentate."
Netanyahu's speech to a joint meeting of Congress left the White House deeply angered and his reelection probably stunned them. The Israelis are accustomed to being underestimated.
At this point, Obama has given plenty of evidence that he is both pro-Islam and anti-Israel. Michael Haltman has written a timeline of events,
"Obama's Israel Hatred,"
that reflect Obama's attitudes in terms of the people with whom he associated before his 2008 run for the presidency and the events that followed thereafter.
Unspoken, but widely suspected, is the question of whether Obama is also anti-Semitic. As Haltman points out "Obama has spent his entire life surrounded by haters of Israel, from the former Palestine Liberation Organization, Rashid Khalid to former Jimmy Carter National Security Advisor, Zbigniew Bazinski. Most famously people became aware of Rev. Jeramiah Wright whose church Obama attended and where he was married. Wright has been quoted saying "Them Jews ain't going to let him talk to me."
The question of anti-Semitism is complicated by the fact that Obama has surrounded himself with Jews in the White House.
The Secretary of the Treasury, Jack Lew, is Jewish. As is Gene Sperling, the Director of the National Economic Council. Janet Yellen, the Chairwoman of the Federal Reserve is Jewish as is a senior advisor, David Plouffe, as well as a dozen others. Rahm Emanuel, Obama's former chief of staff is Jewish as was his former senior advisor, David Axelrod. At least fifteen other Jews formerly held high office in the administration.
For anti-Semites, that would be "proof" that the White House is "run by Jews," but that would not only be absurd, it would ignore the Muslims that Obama has put into positions of power and influence throughout his administration. Obama's Jewish personnel choices all share his very liberal views.
I define anti-Semitism as a serious or general dislike of Jews. It can be either overt or covert. As in most cases in life, you can make your own conclusion based on a person's actions, not words.
There is little doubt, however, that Obama shares an antipathy to Israel that is widespread among world leaders and many others. After two thousand years, the reemergence of Israel as a sovereign state in 1948 has no doubt baffled and irked those who hold Jews in contempt. Up until the election of Obama Israel had been supported by whoever was in the White House and understood to be an ally.
Now that he is in the final years of his presidency, Obama does not have to hide his antipathy to Israel, nor did he make much effort to do so in this first term.
The White House suggestion that they might take the two-state issue to the United Nations Security Council reflects Obama's pique over Netanyahu's speech to Congress opposing the Iran nuclear deal and his reelection. By contrast, his Palestinian counterpart, Mahmoud Abbas, is now in the 11th year of his four-year term. Who needs elections in Palestine? And the Palestinian Authority is now linked with Hamas, the Gaza-based terrorist group.
Seeking United Nations involvement is a last ditch effort to harm Israel, but it hardly matters what the United Nations does or does not do because it is the most obscenely anti-Israel international institution.
What troubles most people, irrespective of any real or assumed anti-Israel or anti-Semitic element, is Obama's pursuit of a deal with the Iranians that would permit them at some point to make their own nuclear weapons. It quite simply makes no sense to anyone except Obama. Iran has made no secret of its wish to "wipe Israel off the map." Netanyahu left no doubt that Israel would use military force to destroy Iran's nuclear weapons facilities. In the past they destroyed such facilities in Iraq and Syria.
As for the Iranians, they don't care how the negotiations turn out. They have gotten a respite from the sanctions and had funds that were frozen returned; securing money and time to continue their nuclear ambitions.
As for the destruction of Israel, Iran has both Hezbollah in Lebanon and Hamas in Gaza as their proxies to threaten Israel, so they can wait for a nuke to finish off the job. And who did the U.S. just remove from its list of terrorist nations and groups? Iran and Hezbollah!
I suspect that once Obama returns to civilian life, we will learn more about his views about race and religion. What we have learned at this point is that he doesn't like an America that is a world power and the leader of the free world. His policy of retreat has caused allies and enemies alike to distrust him.
Anti-Semitic? Anti-Israel? Regrettably his words and actions demonstrate that this can be said of Obama with relative ease.
© Alan Caruba
---
The views expressed by RenewAmerica columnists are their own and do not necessarily reflect the position of RenewAmerica or its affiliates.
---