Alan Caruba
Obama morphs Mandela

By
Alan Caruba
December 10, 2013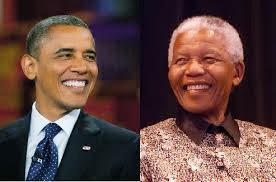 It will be difficult for Obama to be the center of attention when he attends the memorial of Nelson Mandela. Former Presidents Clinton and Bush will be there as well.
They have some things in common. Both were the first black president of their nation. Mandela was a communist and Obama is a communist. Both were sharply critical of the war in Iraq. Both regarded Israel as illegitimate.
Mandela evolved into a man who avoided recriminations against the wrongs perpetrated by his jailers and the system of Apartheid imposed on South Africa's black majority. Obama never forgets or forgives anything he regards as criticism. Neither was, nor is a saint, but sainthood of a sort is being given Mandela in the wake of his death. Obama is more likely to suffer former President Carter's fate.
No doubt we shall see his handlers – if not himself – put on the mantle of Mandela with copious comparisons. On word of Mandela's death, the mainstream media launched itself into an orgy of encomiums, praising him for enduring 27 years in prison, but not mentioning that he was there as an agitator for the violent overthrow of the government; one that had lost any moral authority to remain in power. International opposition to that government eventually led to his release and the transition to his being elected to govern.
Most certainly Mandela suffered much during his long imprisonment. One can find little or no comparable suffering on the part of Obama who seems to have glided through a life whose official version bears little relation to what has since become known. He has kept his paper trail under lock and key, but there are some discrepancies that include his claim of being a "foreign student" at one point.
The effort to benefit from any comparisons with Mandela put in mind his early campaign and election efforts in which a clear line was drawn between Obama and Abraham Lincoln. Both of course came from Illinois political scene. When Obama announced his intention to seek the Democrat nomination on February 10, 2007 he did so on the steps of the capitol in Springfield. On the way to his inauguration, he pointedly took a train to Washington, D.C. imitating Lincoln's trip. He was sworn in on the bible Lincoln used.
Obama's efforts to borrow from Lincoln's greatness have fallen far short of his aspirations.
While Obama, in his official role, meets with leaders of other nations throughout the world, the general consensus seems to be that he is not held in much esteem and, with justification, not trusted by some.
One wonders who he sees when he looks in the mirror. Is it a world class basketball player who, but for fate, did not make it to the Chicago Bulls? Is it a crooner like the many famed singers he has welcomed to the White House? Recently he let it be known he will stay on in Washington, D.C. after his second term ends and revealed that his dream job after that would be as host of ESPN's Sports Center Top 10 list.
We can be confident that he will continue to morph from one identity to another and equally confident that, like any confidence man, he will convince the gullible that he is indeed the recipient of Lincoln's and Mandela's greatness
© Alan Caruba
---
The views expressed by RenewAmerica columnists are their own and do not necessarily reflect the position of RenewAmerica or its affiliates.
---