Alan Caruba
The DNC's orgy of lies and hypocrisy

By
Alan Caruba
September 6, 2012
So far there is little to be believed in the course of the Democratic Party convention. It is a great concoction of half-truths, distortions, and outright lies. The hypocrisy fills the convention all like the musk of a dead, decaying animal corpse.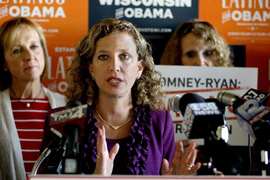 I do not know why anyone is or should be surprised by this, given the party's two designated leaders. President Obama has been telling voters the same lies over and over again since he began campaigning for the job. He is, of course, the titular leader of the Party.
The other is in a class of her own when it comes to lies, the DNC Chairwoman, Debbie Wasserman Schultz. You don't have to have to be a psychiatrist to know that Rep. Schultz is pathologically unable to tell the truth. It says a lot about the Party that she was chosen to be its chairwoman.
One need only Google "Debbie Wasserman Schultz + Lies" to come up with page after page of links to news reports and analysis pointing to lies that are often so blatant that they shocked seasoned news anchors like CNN's Anderson Cooper and Wolf Blitzer, both of whom rebuked her on air.
In the interest of brevity, a quick look at Rep. Shultz's lies includes her claim that she is just "a middle class American." Not that many middle class Americans, however, have a second home. The Florida Representative has one in Newbury, New Hampshire.
Disclosure forms required of members of Congress revealed that in 2010 Rep. Schultz had a 401k retirement fund with investments in Swiss banks, foreign drug companies, and the state bank of India. There's nothing illegal in this, but that does not excuse her efforts to tar Mitt Romney as someone hiding his assets overseas.
Rep. Schultz, however, really excels at telling lies about Republicans. Back in April during an appearance on CNN's 'State of the Union,' she said, "What's really bothersome to me Candy is that it almost seems like my Republican colleagues in Congress and Mitt Romney are rooting for economic failure."
As the convention began, the U.S. national debt hit $16,000,000,000,000! During his first term, Barack Obama added $6,000,000,000,000 and during half of his first term Democrats were in full control of Congress! It took George W. Bush eight years in office to add $4,000,000,000,000. Given another four years, Obama is on track to triple Bush's debt increase.
Around the same time when the subject of voter IDs began to capture public attention, Rep. Schultz said that the Republicans' call for IDs was comparable to the days of Jim Crow laws. When she was questioned by a crew from MRC-TV, she claimed she had never said such a thing. Meanwhile, everyone attending the Democratic Party convention must not only have a photo ID, but be prepared to show it three times in order to get into the venue.
In mid-August Rep. Schultz was asked if a major, liberal super PAC, Priorities USA Action, was sympathetic to the Democratic Party, she said she had "no idea" if that was true, but the next day on Fox News Sunday she was busy putting distance between the party and a particularly offensive television ad produced by the PAC. By Monday, in an interview with CNN's Soledad O'Brien, she said, "Of course I know the Priorities USA super PAC is a Democratic-affiliated super PAC," blah, blah, blah.
Like Obama, Pelosi, and Reid, Rep. Shultz has been lying about Obamacare since it was passed by a straight party line vote against enormous public opposition. Both Romney and running-mate Paul Ryan have repeatedly said they are trying to
save
Medicare and pointing out the Obamacare takes $716 billion from Medicare. Debbie has continue to say that they intend to ruin Medicare for seniors when, in fact, Obamacare already does that. A major Romney campaign promise is that he will repeal it if elected.
The day before the opening of the Democratic Party convention, Schultz, a Jew, told a meeting of Jewish campaign operatives that "As we know, and I've heard it no less than (Israeli) Ambassador Michael Oren say this, that what the Republicans are doing is dangerous to Israel." The next night she told Fox News "I didn't say that." Blah, blah, blah. The Ambassador immediately refuted her latest lie.
The Democratic Party 2012 platform is devoid of any mention of Jerusalem, the capital of Israel, or even of God. Previous platforms did.
On Thursday, President Obama will give his acceptance speech and provide the reasons for his reelection. It will be a fact-checker's bonanza of lies, but there are already
Internet sites
completely devoted to all his previous lies. Whole books will be devoted to them in the years to come.
It is understood that politicians often do not tell the truth, but anyone who votes for Barack Obama is voting for the worst liar to have ever held the office of President and for a party that has imposed more debt on voters in four years than all previous Presidents
combined
.
The scariest part of this is that millions of Americans will vote for Obama and other Democratic Party candidates. If you have the stomach to watch the convention look at the delegate's happy faces. Lenin had a name for such people. He called them useful idiots.
© Alan Caruba
---
The views expressed by RenewAmerica columnists are their own and do not necessarily reflect the position of RenewAmerica or its affiliates.
---