Tom O'Toole
Shembo no prince in Lizzy Seeberg scandal

By
Tom O'Toole
February 25, 2014
An endless Midwest winter seems to be finally winding down, and I hear rumors that the snow is even melting in that Snowbelt named South Bend. Alas, although the thaw has finally revealed the perpetrator of the Lizzy Seeberg scandal, it has not (yet) uncovered the truth. Because about the only people who believe Prince Shembo's "Lizzy the bimbo" version of the story, are those who believe that Barack was honest about Obamacare.
I guess it is good that Prince Shembo finally admitted he was the player involved in the Seeberg saga, if only so his leave-no-journalist-unturned lawyer doesn't threaten us bloggers anymore for using Shembo's name. Still, it boggles the mind that anyone would take the word of a wild, spoiled football player, who once got suspended from high school for throwing a desk at a teacher, over that of a devout Catholic girl who "spoke openly about saving herself for marriage." Indeed, banking on the maxim that dead co-eds tell no tales, along with the judgment of St. Joseph County prosecutor, Michael Dvorak, that Lizzy's statement (since Lizzy committed suicide after the traumatic incident) could not be cross-examined thus rendering her testimony inadmissible in court, both Shembo and Notre Dame figured if they just kept quiet, the story would eventually go away.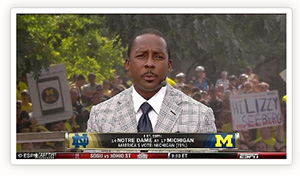 But just as something, be it the unsettling sight of Shembo cluelessly joining in the singing of the post-game "Alma Mater," or the "
Hi Lizzy Seeberg
" sign behind the College Game Day set before the Notre Dame-Michigan game, always brings the haunting memory of Lizzy back to me just as it is about to fade, reality, aka life after college, has made the story come roaring back to Mr. Shembo as well. Maybe a 1st round NFL pick can still get away with murder (literally), but when you're a projected 4th or 5th round selection, as Shembo is, how you handle questions about "small matters" such as allegations of sexual misconduct can make the difference between getting an NFL job or not. So Shembo finally spilled the beans, blaming everyone else but himself.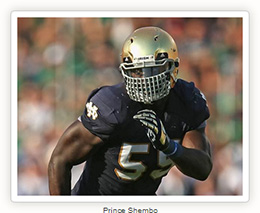 While we can't cross-examine Lizzy Seeberg, we can certainly question Prince's pathetic attempt at innocence. I don't doubt that Shembo was accurate in saying Notre Dame coach Brian Kelly "told me not to talk about it," for Kelly (no doubt taking his orders from the administration) surely reasoned that Shembo would make a fool, if not a criminal, of himself trying to explain away his sexual escapades, and not only would Kelly be forced to suspend him, but the University would be forced to break its silence. Also, I don't doubt that his "name was going to flames," on campus, for despite his lawyer's best effort to keep Prince's name out of print, the world of texting, which once so threatened Lizzy, loomed to doom the hapless Prince to Fighting Irish serfdom as well.
But compare Seeberg's detailed version, "He started sucking my neck and I started crying harder. He pulled down my tank top by the straps. He slipped them down my shoulders and proceeded to suck and lick my right breast while holding me down on his lap by the arms...I felt his hands start to move down towards my shorts as if he was trying to unbutton them or pull them off. I was still crying at this point and felt so scared that I couldn't move," with Shembo's. Whereas Seeberg's is consistent with someone who is a sexually conservative Catholic, Shembo's vague rant sounds like someone trying to imagine what it would be like to
not
be sexually promiscuous. Either you did something or you didn't, you told her to stop or not. "[P]retty much" stopped her is like saying we pretty much had sex, or, conversely, I'm pretty much a gentleman...when there are no women at the party. The only thing they seemed to agree on is that the assault only stopped when another student entered the room, "pretty much" ending the fateful encounter.
So while the NFL combine's inquiry about Lizzy will probably not be as probing as the one he would have faced at Notre Dame had he admitted he was the player with Seeberg back in 2010, there are at least three questions Prince should be prepared to answer, and they will go something like this:
1) If a coach benches you for what he calls lackadaisical play, you should
a) throw a desk (or similar heavy object) at him

b) threaten to reveal his past sexual/drug indiscretions via tweets or press leaks

c) sit on the bench to await another chance to perform

2) When a girl from a Catholic university dances with you, it means
a) she wants to have sex with you NOW

b) she wants to have sex with you later

c) be careful, she might actually BE a Catholic

3) "Notre Dame" means (best answer only)
a) a high paying job after college

b) a chance at a national championship

c) "Our Lady"

Actually the combine will probably only ask a version of the first two questions, and since most Notre Dame administrators would probably answer "a," and coaches (including Kelly) would answer "b" to question 3, it would be expecting a lot for even a kind underclassman, let alone Shembo, to answer letter "c." But if we rephrased the question slightly, and asked simply, "What does the French term 'Notre Dame' mean in English?" and asked it of students
before
they enrolled at the University, making sure they got it right before they entered, perhaps Notre Dame still would be the place of dreams Tom Seeberg thought it was when he sent his daughter to St. Mary's, and not the politically-correct nightmare that it has become. Perhaps the toxic situation of a devout-but-naive girl with clinical depression meeting the handsome-but-worldly knave with clinical aggression could have been avoided...or at least diffused.
As it is, Lizzy's folks, having become weary of Notre Dame's deafening silence, have grown silent themselves – at least to the press. But while I don't have the money to hire or time to become a private investigator (as Tom Seeberg once suggested) into this matter, the prophet in me still agrees with Michelle of Belize, and I must continue to cry out. "Truth is mighty, and it shall prevail" (the meaning of Tom Seeberg's favorite Latin phrase) may not always work in this world (or even on Notre Dame's Latarae Medal), but a prophet has to keep trying. Content with Christ's words in today's Gospel reading, "[s]ometimes this kind [of case] can only come out through prayer" (Mark 9:29), I'll pray to Lizzy and Our Lady that I may still bring about truth to this case in this world, that I, too, may be judged worthy of Our Lord in the next. For although Shembo's "flames" comment
was
correct, unless the rest of the truth comes out soon, the fire could encompass a lot more than just his name in the world to come.
© Tom O'Toole
---
The views expressed by RenewAmerica columnists are their own and do not necessarily reflect the position of RenewAmerica or its affiliates.
---