Tom O'Toole
Pope Francis, and Blessed Aloysius and Blessed Agnellus: how the saints chose Bergoglio for pope

By
Tom O'Toole
March 15, 2013
Let's not be naive, we're not talking about a simple political battle; it is a destructive pretension against the plan of God. We are not talking about a mere bill, but rather a machination of the Father of Lies that seeks to confuse and deceive the children of God. – Cardinal Jorge Mario Bergoglio (now Pope Francis) on the issue of gay marriage

A frightful cataclysm may be about to change the face of the world. Let us trust wholly in God...corruption and evil are indeed rampant, but I still maintain that God will triumph in the end. – Blessed Aloysius Orione, predicting the horrors of WWII shortly before his death in 1940

Francis, rebuild my Church. – Jesus Christ, speaking in a vision to St. Francis of Assisi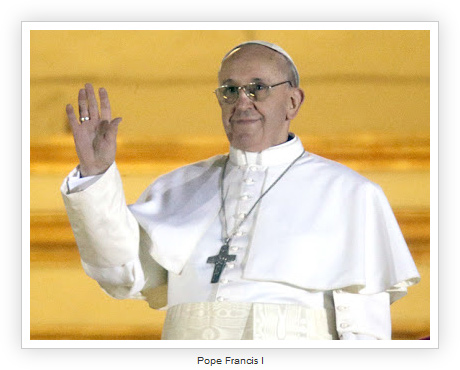 Although the prognosticators were puzzled and the oddsmakers baffled at the elevation of the holy old cardinal, Jorge Mario Bergoglio, to the first Pope Francis, the saints of the day had the selection pegged perfectly. Here's why, based on the blesseds the Church celebrated during the past two days, I believe Bergoglio had to become our next pope.
On Tuesday, the day Bergoglio no doubt started his ascent from "nope" to pope, the Church celebrated the feast of Blessed Aloysius Orione, and the similarities between the humble cardinal and the founder of the Congregation of the Little Work of Divine Providence are so uncanny, it's hard to imagine Aloysius not praying for Jorge Mario, and vice versa. Whereas Orione was born in Piedmont, Italy, and didn't travel to Buenos Aires (when he received offers of land for his congregation) until late in his career after first being turned down for the trip by Pope St. Pius X, who wanted him to stay in Italy, Bergoglio was born in Buenos Aires and didn't return to stay in the land of his kin (who were from Turin) until late in his career, after first coming in second to Pope Benedict.
Although both Bergoglio and Orione were noted scholars, their love for the poor (and insistence to live like them) was legendary. Whereas Bergoglio (who kidded he came from "the end of the earth" to become pope) refused to live in the ornate church mansion in Buenos Aires, preferring a simple bed in a downtown room heated by a small stove, Orione, whose congregation was to concentrate on those "in the most run down quarters of cities...those who can find no one to give them something to eat, a bed, or words of comfort," ate little and, as "a real little donkey of Divine Providence" (his self-deprecating nickname) rarely slept in a bed himself.
Also, their prayer life and fiery opposition to secular government bares comparison as well. Although nothing could keep Bergoglio from his early morning prayer sessions before the Blessed Sacrament (reportedly even rising early this morning to worship the Eucharistic Christ at St. Mary Major Basilica) one could argue that Orione (at least to this point) did him one better: after setting up a congregation of nuns to help his work in the slums, he set up a community of nuns – all blind – to pray perpetually in the midst of the Eucharist.
Finally, although few who saw Pope Francis' quiet humble manner during his first papal speech would compare his personality with that of the "headstrong, impatient, explosive" Orione, who, speaking of Mussolini, blurted, "If I were not wearing a soutane, I would lead an army against that man!", Bergoglio's clashes with Argentine president, Cristina Fernandez de Kirchner (one of which is captured above), over his opposition to gay marriage certainly rival Orione's fire.
Speaking of Francis, the saint of the day of Bergoglio's nomination, Bd. Agnellus of Pisa, had the good fortune of not only meeting the original St. Francis of Assisi, but joining the original group of Franciscans as they made their way through Agnellus' hometown. Yet after travelling with Francis himself for a time, the saint of Assisi, never much for scholarship himself, soon realized his novice's knack for knowledge, and sent Agnellus on to distant lands to fully make use of his dual gifts. After a brief stint in France, Agnellus found his true calling in England, not only founding a friary there but transforming Oxford and later Cambridge into places of holy brilliance.
But if Agnellus was intellectually more like the Jesuit Bergoglio than the simple Francis, they both shared the peaceable saint's love of poverty. Setting up his Oxford friary on a god-forsaken former swamp aptly called "Stinking Lane," the English province (according to the words of
Butler's Lives of the Saints)
"so far absorbed the spirit of Agnellus that, even though its academic standing was of the highest order, its zeal for poverty was equally outstanding." But just as Bergoglio was chosen pope (and thus chose the name Francis instead of Ignatius) more for his humility than his intellectuality, Agnellus was constantly being chosen to settle disputes among kings and bishops not for his brilliance but his gentleness, until his health finally gave way shortly after a final pilgrimage back to Italy.
Blessed Aloysius of Piedmont, Blessed Agnellus of Pisa, and Pope Francis of Argentina; I'm not sure if there's a real ring to those three names, but yesterday the first two sure made the bells ring for the latter.
© Tom O'Toole
---
The views expressed by RenewAmerica columnists are their own and do not necessarily reflect the position of RenewAmerica or its affiliates.
---