Tom O'Toole
Notre Dame vs. Alabama: how the Fighting Irish can win 13 in '13

By
Tom O'Toole
January 10, 2013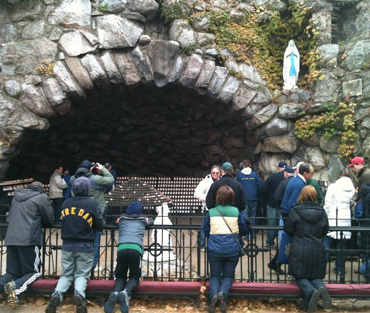 First off, I'd like to congratulate all the fine Irish players and pray-ers (especially the "
Suffering Irish
") for a memorable 12-1, 2012
Notre Dame
football season. And, though I never thought I'd say this after two uninspiring 8-5 campaigns, my special thanks goes out to
Brian Kelly
and his coaching staff too.
Sure, I could nitpick and say that Kelly should have called more
"Johnny Football"
plays for
Everett Golson
against
Alabama
, but not only is Golson not Manziel, but
Manti Te'o
wasn't even Manti Te'o against 'Bama, so the Irish's getting rolled by the Tide had far more to do with what Alabama did than what Notre Dame didn't. But as this otherwise fine Irish season still lacked the one win Notre Dame legends are made of, this writer must once again remind us all how the underdog Irish still cannot only compete with, but defeat, the SCC's secular football giants.
As noted in previous blogs, Notre Dame's return to gridiron glory goes hand in hand with the University giving glory to God, and "
Notre Dame vs. Alabama and Obama
" — not to mention Monday's championship game itself — are good reviews of not only how far Notre Dame has come, both on and off the field, but how far they still need to go. And two points of emphasis need to be repeated if the Fighting Irish are ever going to topple the Crimson Tide dynasty.
For as much as the Notre Dame pray-ers have increased and the Irish players have improved, both areas still need to get better. Of course, whenever I mention praying for Notre Dame football, I get some rolling eyes, but the fact is that we probably wouldn't be putting up with all the "Rolling Tide" jokes right now if more Catholics took Christ's command to pray seriously.
For the devout Catholic or evangelical, prayer — for all things — is as natural (and as crucial) as breathing. At the same time, although few like to admit it, the Irish's through-the-roof ratings this season are proof that the casual fan, but committed Catholic, was tuning in to the Irish games far more than usual, and (as is their habit) were praying for the Irish when things got tough this year...which was quite often! But more modern Catholics have fallen away from attending church (if not watching Notre Dame) than ever before, and if history — and my wife — are correct in their assessments, Notre Dame will need not only the prayers of the faithful remnant, but of the once (and future) committed Catholics, to vanquish their superior secular foes. Which brings us to the players...
Although this season is testimony that Kelly is not only coaching but recruiting more effectively, the 'Bama game also pointed to one specific glaring area of deficiency, and I don't mean special teams (although they could be improved too). Kelly
has
recruited some better skill players than in the recent past, but Notre Dame's lack of athleticism, especially on the offensive and defensive lines, was also quite apparent against the Tide. While it is true that a lot of Alabama and the other SCC's schools' stars couldn't cut it at Notre Dame academically, former Notre Dame coach and star of the recent "
Catholics Come Home
" commercial, Lou Holtz, stated it best when he said that if Notre Dame concentrated on recruiting Catholic kids (by emphasizing Notre Dame's Catholic identity) as heavily as they once did, this would more than make up for the loss of mental midgets that roll the Tide's way.
Ironically, Notre Dame refuses to advertise their Catholic identity as much as they once did because they are now embarrassed by it. For example, they don't talk about giving players each a saint's medal before each game (let alone mentioning the saint's name) because
if the Irish lose,
the stuffy academic priests will have to listen to endless "funny" stuff like "Your Saint Andre Bessette converted a lot of souls, but he sure didn't help the Irish convert any first half third downs."
But my answer to that argument is, "Is that
really
any more embarrassing than losing the title game to the Tide by a score of 42-14?"
If you're gonna throw the "Hail Mary," you might as well first say it. But if you can get more Irish fans to recite it, and recruit more talented but devout kids who aren't afraid of it, you won't have to heave as many desperation passes either.
© Tom O'Toole
---
The views expressed by RenewAmerica columnists are their own and do not necessarily reflect the position of RenewAmerica or its affiliates.
---