Tom O'Toole
George Gipp's no angel...but was he a saint?

By
Tom O'Toole
December 14, 2012
I might steal your diamonds, but I'll bring you back some gold.
— Greg Allman, from his hit "I'm no Angel"
The joy that's always felt on
Notre Dame'
s campus at this time off year — especially
this
year with the "#1" sign again aglow — is always twinged with a touch of sadness. Of course, there's Tom Dooley's dying letter near the Notre Dame grotto, but also the long-ago memory of a fallen Irish hero who died this day 92 years ago. Perhaps sadder still is the fact that, unlike in Dooley (and so many Irish legends), little has been done at Notre Dame to recall his memory, and I fear some have now forgotten. But since he is the first one responsible for making Notre Dame #1, I think it's once again time for Fighting Irish Thomas to recall the greatest Irish player of all, the one and only
George Gipp
.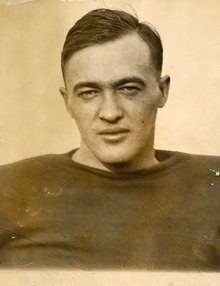 As I've written in other memorials, there is simply no one to compare to George Gipp. Not only does his record of gaining eight yards a carry for a season still stand, but his ability to not only run, but pass and even drop kick field goals from the halfback position was simply unparallelled. But if Gipp was without peer on the playing field, the same could be said for off, where he spent most of his time not with classmates but gamblers, again more than holding his own.
Yet as the Greg Allman song reference suggests, there was more to Gipp's gambling than meets the eye. That
Knute Rockne
, the coach legendary for his discipline, would put up with Gipp's antics, is simply hard to imagine. This is especially true when you consider that his all night sessions of card playing and pool sharking (George also bet heavily on the Irish when he played) frequently not only led Gipp to miss class, but even football practice! But if he was his own man in the pool halls, he was the consummate team player — and leader — on the field, willing to give everything (and, as it turned out, even his life) for the sake of his team. Both his coach and teammates realized this, and because of his great love, his many sins were forgiven. But there was more.
Legend has it that Gipp made upwards of 5,000 dollars a season on cards and pool — an ungodly sum for that era. But even better authority records he spent little on himself, often paying his needy classmate's tuition, or paying a desperate South Bend widow's rent. Playing on George Gipp Appreciation Day (with a broken shoulder, no less!) so as to not disappoint his fans when he should have been home in bed, probably contributed to the pneumonia that cost him his life. But it also contributed to his legend.
They say that all true Notre Dame legends are tragic-heroes, and nowhere is this more true than with Rockne and his most famous charge. Not only did both die young in tragic circumstances; Gipp from pneumonia and Rockne in a plane crash, but their deaths are tied to the most crucial time in the liturgical year, Gipp right before Christmas and Rockne who died on Tuesday of Holy Week. And Gipp's liturgical comparison can even go further; like John of the Cross, the Saint of the Day (Dec. 14), Gipp was a bit of a mystic who loved the poor but was often misunderstood and maligned by the priests and administrators of the day. Unlike John, he was expelled by the University rather than imprisoned by his order, and unlike John (after all, he rarely attended class) he probably deserved it. But like John, upon closer examination, much, if not all, of his reputation is restored.
Still, that's probably not enough to classify Rockne, let alone Gipp, as a saint. After all, Gipp's was a deathbed conversion to Catholicism, and St. Dismas ("the Good Thief") is the only saint I know who made the grade under similar circumstances. But unlike Rockne, who is honored throughout the campus with everything from busts to statues to gymnasiums, there is nary a memorial for his controversial halfback.
So say a prayer that the Gipper's memory on campus be restored, and I'm sure he'll know...and be happy.
And though I'm not a betting man — at least not as much a betting man as Gipp — I'll wager that he'll add to your prayer for a National Championship, and, with the help of Rockne (if not John of the Cross), raise it by two.
© Tom O'Toole
---
The views expressed by RenewAmerica columnists are their own and do not necessarily reflect the position of RenewAmerica or its affiliates.
---