Tom O'Toole
Notre Dame vs. Alabama 'and' Obama: what the Irish need to succeed

By
Tom O'Toole
December 13, 2012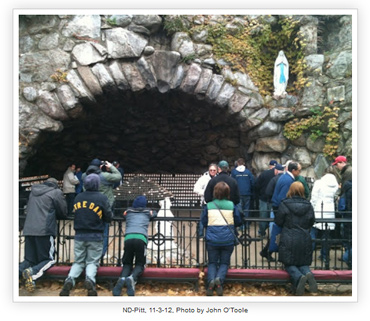 It's Christmastime on Our Lady's campus, and as darkness descends on the
Notre Dame
students preparing for finals and winter break, they are once again comforted not only by the Grotto and the Dome, but the lit-up "#1" sign atop Grace Hall. But for the sign to remain lighted not just through the holidays but throughout 2013, they have one more formidable foe to beat. Or is it two?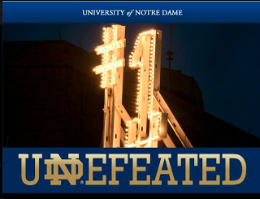 One correctly-stated reason for Notre Dame's climb from 8-5 last season to 12-0 in 2012 with essentially the same talent, is their increased team chemistry. When Coach
Brian Kelly
made comments after last year's
USC
loss that Mark Lazerus in the
Chicago Sun Times
summarized as "essentially saying the guys he recruited were being held back by the leftovers from...Charlie Weis," the Irish became a locker room divided.
Braxton Cave
tweeted he was "disgusted,"
Kapron Lewis Moore
called Kelly's comments "awful," and
Manti Te'o
— the same Te'o now credited as the main force behind the new sense of Irish "brotherhood," defied his coach by saying he was "Playin for my bros, and that's it!!!"
But to his credit, Kelly learned from his mistakes. He not only apologized to the team, but made a real effort to get to know each of his players personally. While it's true that the tragedies suffered by team leader Te'o were the decisive events that got the team together, the pieces of peace were already in place. But if I have often said that the football team symbolized the larger mission of the University, it was University president, Father John Jenkins (in his inaugural speech as president), who decisively quoted Notre Dame founder, Rev. Edward F. Sorin, C.S.C., by saying, "This college will be one of the most powerful means of doing good in this country." The question is...has Jenkins learned from his mistakes also?
The answer is "Yes!!!"...and no. Unlike Kelly, Jenkins never apologized for his gravest mistake, the invitation and honorary degree he decreed to President Obama. But by leading the fight/lawsuit against the HHS mandate, Jenkins proved he can at least learn from his mistakes, as shown by the words he attached to the University's attack against the Obama administration, "We do not seek to impose our religious views on others; we simply ask that Government not impose its values on the University when these values conflict with our religious teachings. This filing...goes beyond any debate about contraceptives. For if we concede that the Government can decide which religious organizations...[deserve] the freedom to follow...their mission, then we have begun to walk down a path that ultimately leads to the undermining of these institutions...and these organizations become the mere tools for the exercise of government power, morally subservient to the state...it will be the end of genuinely religious organizations in all but name." This lawsuit not only put Sorin's 1842 prediction back in play, but made
my
prediction, that Notre Dame will not win another National Championship until it is again Catholic, once again possible.
But just as the Fighting Irish still must defeat their greatest opponent,
Alabama
, in their quest for "#1," Notre Dame's main foe to
remain Catholic
lies ahead also. Jenkins also shows by his addendum to his mandate speech, "Many of our faculty, staff and students, both Catholic and non-Catholic, have made conscientious decisions to use contraceptives. As we assert the right to follow our conscience, we respect their right to follow theirs" (not to mention his recent decision to allow a University-sponsored gay student organization on campus), that he is still far from being a consistent Catholic leader, not unlike Irish quarterback
Everett Golson'
s exciting-but-erratic play at the beginning of the season.
Yes, Golson has overcome his slow start, but team unity notwithstanding, the Fighting Irish will still need a lot of prayers by the
Suffering Irish
fans if they are to overcome the sheer talent, including four first team All-Americans (in Te'o, Notre Dame has one) that Alabama presents. Meanwhile, the University needs the team's prayers times ten, for neither the faculty nor the administration has achieved the unity the team has, and thus its greatest foe remains itself. But if safety
Zeke Motta
says "Our Mother Mary" inspired a despondent Mormon to be the leader of the nation's foremost Catholic team, maybe She can even inspire our often-foolish school president to always lead the University as a Catholic priest.
© Tom O'Toole
---
The views expressed by RenewAmerica columnists are their own and do not necessarily reflect the position of RenewAmerica or its affiliates.
---