Tom O'Toole
Joe "Pa-thetic"? A new statue for the Paterno legend

By
Tom O'Toole
August 5, 2012
They exhibited a striking lack of empathy for Sandusky's victims. — from the investigation by former FBI director, Louis Freeh, involving the cover-up of the Sandusky sex scandal by Coach Joe Paterno and the Penn State staff

We are dismayed, and vehemently disagree with some of the conclusions of [the Freeh report] — statement by Joe Paterno's family following Freeh's report

On his deathbed, wearing a wig, he told the Washington Post, seemingly mystified, "I never heard of...rape and a man." — Chicago Sun-Times columnist Rick Telander, from his story "Joe Paterno a martyr, but for what?"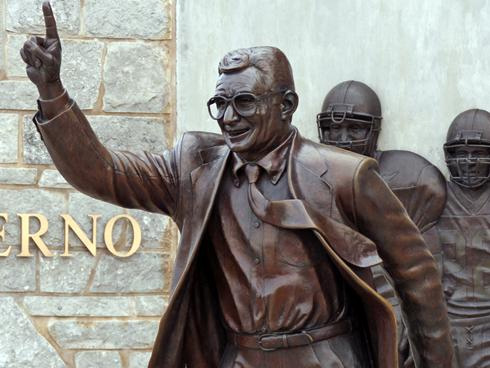 Perhaps, in these End Times of the 24/7 liberal media cycle (could a 24/7 liberal media cycle mean anything other than Armageddon?) there have been quicker dismantlings of life-long legends than that of Joe Paterno, but I'm now at a loss to think of any. Sure, there was O.J. Simpson, and later Tiger Woods, but O.J. was always more of a comic cut-up (pun intended) than Christian role model, whereas Tiger was more mythic as a pitch-man — both off and on the course — than the almost Biblical father figure Paterno became. But if Joe's swift dismissal from State after six decades of coaching accolades (and tearing down his statue like he was the equivalent of Saddam Hussein) wasn't bad enough, here comes the Freeh report that transforms the unable-to-defend-himself dead coach from saint to Satan, not to mention enough NCAA sanctions against Penn State to kill an entire athletic program, let alone the football team. But for the meantime, let us not focus on the question as to whether the punishment against Penn State was fair, if only because we
know
that what happened to Sandusky's victims
wasn't
, and no amount of scholarships or money can make it so. Instead let's examine if Freeh's judgement of Joe Paterno was accurate, and whether or not his reputation (or statue) should ever rise again.
Certainly, on the surface the Freeh report, which puts Paterno in the loop when Sandusky's crimes were first discovered and discussed in 1998, is damning to Paterno — unless Joe's deathbed comments to the
Washington Post
were actually, literally...true. Certainly, that a 72-year-old living his adult life on a college campus in the late 20th century could not have heard of "rape of a man" (or in this case, a child) seems absurd, but Joe was educated as a Catholic in an era when child abuse just wasn't discussed (ironically, the priest sex abuse scandal became public right around the same time Paterno heard about Sandusky) and as an adult Paterno's focus was so narrowly on football that this absurdity was entirely possible.
In fact, it's also extremely possible that those in power, sensing Joe's naivete on sexual matters, continued to prop Joe up as head coach even after his capacity to do such a demanding job had long diminished, figuring no one would suspect any moral scandal could beset State College as long as the man with the great hair, the famous father-figure (at this point, grand-father figure) Joe Paterno was still running the show. In a quite different way than Sandusky, they also
enabled
Paterno, allowing him to pretend he was 48 or 58 instead of 84 or 85, and while Joe's machismo probably prevented him from seeing this reality at the beginning, toward the end his aging mind didn't seem to allow him to grasp the truth that he had been propped up as a puppet head coach for nearly a decade, until it was nearly over...
Now being guilty of vanity is not even in the same ballpark as being an unrepentant child molester (the friendly confines of purgatory versus the cell also known as hell) but it does bring its consequences, especially to the stitched and famous. Starting in 2006, when a Wisconsin Badger ran into the once-fast Paterno and tore Joe's knee, or in 2008 when Joe needed a hip replacement after trying to demonstrate an on-side kick, or last year, when Joe's own player took out Joe's hip and shoulder in yet another sideline collision, one could argue that God was trying to tell the Nittany Lion's head man to step aside while he still can. Instead, Joe allowed himself to be stuffed safely upstairs where he would "coach" from the press box, but despite what the dutiful broadcasters would say, Joe's headset-less figure looked unconnected to the coaching decisions below, and his dazed expression and occasional dozing made him look more like a typical octogenarian on a Saturday afternoon than the winningest "active" head coach in Division One college football. But just like his statue, Joe's greatest "stat" (most all-time wins) came "down" too; for after fining Penn State millions and taking away four years of scholarships and bowl games from the Nittany Lions, the NCAA disturbed the dead coach's grave and robbed him of 111 victories, a high price for dozing indeed.
Of course, the NCAA "taking away" victories is both not without precedent (both Ohio State and USC "lost" victories when it was found players were getting paid for playing as their coaches were covering it up) and is largely symbolic, for unlike Clarence in
It's a Wonderful Life,
in real life you can't just erase events as if a person had never been born — or did not coach the last thirteen years of his life as the case may be. On the other hand, not only is the number of victories stripped from Paterno (111, which moved him from first place on the all-time win list to fifth) unprecedented, but the fact that Joe and his school
retain
the losses of those years (64) on his record gives the punishment an eerie feeling indeed, as if all the good Joe did from 1998 til his death was gone and only his sins from those years remain. Thus, the symbolic punishment itself becomes symbolic of how Paterno's punishment was overblown, and why his legacy must return; humbled but intact.
For if Joe's deathbed admission gives us insight into Paterno's partial innocence (for it's also true that Paterno could have looked up what child sex abuse was on his own and put two and two together) in the Sandusky scandal, his deathbed appearance may give a clue to both Joe's road to repentance and his reputation's revival. Note that, having lost his trademark hair, the dying Paterno is found wearing a wig, mistakenly thinking he must preserve the youthful "statuesque" memory of "the coach" in his visitors' minds. It is precisely for this reason that a new statue of Joe Paterno must now be put up at Penn State; not the fairy-tale monument of an ageless coaching god leading the Nittany Lions onward to countless victories, but a sober statue of the bald, dying penitent Paterno, showing the heavy price he paid for his imperfections (small as they may be) on his way to eternal glory. For in the light of this great tragedy, this true and unabridged Joe Paterno is now the man both his supporters and detractors really need to see.
© Tom O'Toole
---
The views expressed by RenewAmerica columnists are their own and do not necessarily reflect the position of RenewAmerica or its affiliates.
---