Tom O'Toole
Hitler, Stalin...and Obama? The Jenky and Jenkins hi-jinks

By
Tom O'Toole
May 7, 2012
Reprinted on
Spero News
.
Hitler and Stalin, at their better moments, would just barely tolerate some churches remaining open, but would not tolerate any competition with the state in education, social services, and health care. Barack Obama, with his radical pro-abortion and extreme secularist agenda, now seems intent on following a similar path. — Bishop Daniel Jenky, from his homily at the annual "A Call to Men of Faith" Mass

[This] modification is a welcome step toward recognizing the freedoms of religious institutions to abide by their principles. — University of Notre Dame president, Father John Jenkins, after the Obama administration's "revised" Catholic conscience clause to the HHS mandate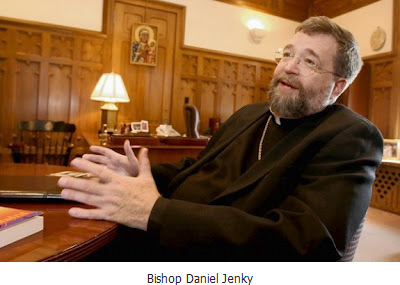 It's now been over three weeks since the Most Reverend Daniel "Dan the Man" Jenky, bishop of Peoria, delivered that bombshell masterpiece of a speech during the homily at a men's group Mass on the Saturday after Easter. Though it was heard live by a relatively small number of dedicated Catholic males, with the help of the Holy Spirit (as well as his diabolical opponent) the homily has spread like wildfire, inflaming the hearts of friends and foes alike. Meanwhile, Jenky himself (although wisely posting a link to the entire text of his homily on the homepage of the Diocesan website) has remained largely silent on the subject since, perhaps preferring, like the apostles, to wait in his own "upper room" until the feast of Pentecost comes. But in these times of instant media cycles, especially when it involves not just about how the story plays in Peoria but how it has been received at Notre Dame, I doubt the bishop has the luxury to wait 'til Memorial Day weekend to preach a worthy follow-up.
To be sure, this homily, which Jenky started with the declaration, "There is only one basic reason why Christianity exists and that is the fact that Jesus Christ truly rose from the grave," and ends with the admonition "We have nothing to fear but a world to win...Christ wins! Christ reigns! Christ commands!" was top-notch through and through, the likes of which I wish was heard more often from the pulpit. Still, it might be important to note that this homily was delivered not on Sunday morning, when the cathedral is filled with both devout and doubting Catholics, but on Saturday morning, to a bunch of already devout Catholic men to whom his rousing redress amounted to little more than a preaching-to-the-choir pep talk. That his semi-private sermon, considering it contained both the "H" and "S" names, was subsequently taken over by the Left (out of context of course) with the intent to defame the Church, is not exactly news in 2012.
Still, I think the unplanned release of his speech to a wider (and not-so-receptive) audience explains not only Jenky's lack of preparation for his denunciation by national groups such as the Anti Defamation League, the Americans United for the Separation of Church and State, not to mention his old nemesis, powerful Illinois senator Dick Durbin, but his initial reluctance to address the ridiculous false charges these groups have leveled against him. While Jenky's homily declared that these times call for "not casual...but heroic Catholics, not Catholics by accident but Catholics by conviction," Jenky currently seems content to let his "accidentally" national speech slip "casually" into the sunset when the next news cycle overshadows it, and he could probably get away with this not-so-heroic strategy if he was
only
the bishop of Peoria, and did not hold that silly side job in South Bend.
Indeed, the Irish irony of this situation is that most of Jenky's troubles stem not from his role as bishop, but from his relatively insignificant spot on the Board of Trustees at his alma mater, Notre Dame. In a classic case of the inmates running the asylum, 131 irate ND professors and professionals (at last count, as this figure seems to increase on the hour) citing his Obama with Hitler and Stalin comparison, have demanded Jenky's ouster as a University fellow. Lest Irish fans lose hope, there is still a small but vocal group of Notre Dame professors, led by the ageless and fearless Charles Rice, who not only support Jenky, but declare that if their liberal colleagues actually had read what Jenky had said, they would have found a homily that (according to Rice) contained a "limited and appropriate" comparison to the evil duo, which "properly drew attention to the impending dangers to religious and personal freedom" Obama's policies threaten to bring about. Despite these leftist threats, I doubt there is any real danger that the gutless Father Jenkins would remove the suddenly controversial Jenky, for he would rather wait out a hurricane than risk losing still more orthodox alumni contributions by the sudden firing of their new hero. Which is all the more reason for Jenky to not only
not
resign, but to go on the offensive and justify the Irish faithful's newfound faith in him.
Certainly, with the addition of his latest heroic if somewhat reluctant homily, Jenky is already a giant in Catholic apologetics compared to Jenkins. Whereas Jenky's opposition to the HHS mandate is clear and unequivocal, Jenkins' initial feeble protest to Obama's mandate capitulated so quickly after Barack issued his revision you have to wonder if Jenkins was in on the ruse from the beginning. I call the revision a ruse because to shift the "payment" for contraception and abortifacients from the Catholic institution to their insurance provider is like shifting the role of the Church to that of the Mafia Don who orders the hit rather than the actual hit man. In either case, both parties are still responsible for the murder, and unlike the hapless Jenkins, every Catholic bishop, including the newly in-the-news Jenky, realizes that complying with this mandate would make the Church an accomplice with the murderous "godfather" Obama. In making this latest stand, Jenky no longer remains the pro-Obama sinner that Jenkins is, but he is not yet the candidate for sainthood fellow Peorian archbishop Fulton Sheen (whose cause for canonization Jenky initiated) is either. But he may not be as far from Sheen as it seems...
In other words, if Jenky were to become a saint, this ominous homily must be followed by at least two more acts of great love. While much is forgiven to those whose love is great, much is expected from those (such as bishops) to whom much is given, and just as Our Lord asked Peter three times if he loved Him, I think Christ is in the same process of thrice repeating to the once shaky Jenky the same question. This sermon was Jenky's first answer, and an excellent one it was. But in his now famous homily, Jenky not only took a specific swipe at "the entrenched corruption and sheer incompetence of our Illinois state government, but at the politicians who "pretend to be Catholics...but like Judas Iscariot, betray Jesus Christ [and] vote to cooperate with intrinsic evil." This part particularly frosted the notoriously pro-death senator Dick Durbin, who sneered that the Obama/Hitler/Stalin comparison was "truly unfortunate" and went "way too far." In addition, in response to the "Judas" reference — as well as to a previous time when Jenky labeled Durbin a "cafeteria Catholic" — the defiant Democrat challenged the battling bishop's shepherding skills by replying that, "the cafeteria is crowded with Catholics like me who have profound differences of opinion with the Church." To which Jenky must now reply, "and since your scandalous example is at least partially responsible for this fact, Senator Durbin, I advise you to stay in the cafeteria, because unless you repent you will no longer be served Holy Communion if you enter my Church."
Finally, to be fully forgiven, Jenky must make amends for his past failure as both bishop and University Board member to stand up against Jenkins' Obama invitation. Recently, the underground orthodox Notre Dame student newspaper
The Irish Rover
(just the fact that the
orthodox
newspaper, rather than the liberal Jenkins/Obama shill
The Observer
is underground at ND speaks volumes) noted that "although Bishop Jenky authored a letter reiterating the Catholic Church's teaching on the sanctity of all human life at that time...he offered no public comments on the University's decision to invite and honor Barack Obama at the 2009 Commencement," standing neither with the 82 U.S. bishops who opposed it, nor the ten courageous CSC priests who condemned it.
In the wake of "the Talk" that infuriated so many left-wing ND academics, it's time for Jenky to further wake up the echoes by adding, "although at the time I went along with Father Jenkins and my fellow Board members, thinking a Notre Dame commencement speech by President Obama could be used as a 'teachable moment' by the University, I now realize, not only in light of the USCCB's prophetic teaching "Catholics in Public Life," but in retrospect by how the president played us as fools by promising then that he would give Catholics a conscience exemption for the contraception/abortifacient portions of the mandate, that I was wrong. Furthermore, due to his many gravely flawed policies regarding the sanctity of all human life, I now move that the University of Notre Dame immediately revoke the honorary degree it erroneously bestowed on the president that day, a degree not to be restored to him unless his pro-choice policies truly change."
In this way, the sermon that became national by accident will be proved by God to be no accident after all. For in Jenky's words, when we act as though "we have nothing to fear, but a world to win," "Christ [always] wins"; and recommending the revoking of Obama's honorary Notre Dame degree would be no exception. Sure, the liberal ND Board would have a fit, but to fire the country's only CSC bishop from the country's flagship (and CSC run) Catholic university for being
Catholic
would cause such an uproar among the loyal sons and daughters of Notre Dame that the remaining Board members' own careers would be finished. On the other hand, if they actually
did
rescind Obama's ND degree, it would be a major, irreversible step to Our Lady's University once again becoming truly Catholic. If
that's
not the perfect Catholic "win-win" situation, I don't know what is...unless of course it's both Peoria and the Congregation of the Holy Cross being granted a second saint.
© Tom O'Toole
---
The views expressed by RenewAmerica columnists are their own and do not necessarily reflect the position of RenewAmerica or its affiliates.
---