Tom O'Toole
Holy (Saint) Toledo! Praying for Super Tuesday

By
Tom O'Toole
March 6, 2012
However great the horror of death, it can be overcome by the power of love in imitation of that love by which he, who is our life, willed to suffer death for our sakes. — St. Julian of Toledo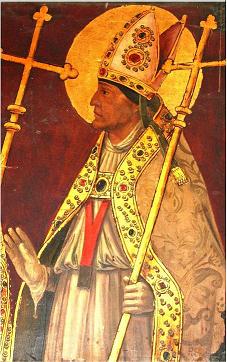 With Super Tuesday but a day away, Elizabeth Santorum (Rick's daughter) asked the faithful to "work the beads," and rest assured we here at Fighting Irish Thomas will. We'll pray not only that Tuesday's voters can "cut through the crap" (the half truths/lies of the Romney and Paul attack ads), but also, after Romney's thugs first tried to steal the Iowa election from Rick, then did manage to steal two delegates away from Santorum
after
the Michigan election was over, that the primaries are on the up and up. In that regard, I've decided to feature one of tomorrow's saints as well. Indeed, if I had time, I would write about all of Tuesday's featured saints, including Colette of Corbie, Agnes of Bohemia, and Chrodegang of Metz. But since I am at the 11th hour, and since Ohio is deemed the most important state for Rick, I'm appealing to the bishop who shares a town Ohioans know well, St. Julian of Toledo.
Julian was born in 642, and was baptized in the Italian city of Toledo where he later became bishop. Julian originally tried to lead a quiet monastic life, but his talents inevitably thrust him into the limelight when the Visagothic king Wamba appointed him to the bishopric (no pun intended). Felix's (Julian's biographer) description of his subject, "a prudent and prayerful man, well-informed, generous, approachable, and concerned with the weaker members of society," could also be applied to Santorum, and the fact Julian not only fought the religious heresy of the day; Monotheism (a forerunner to Mormonism?) but political heresy against the (I'm not kidding!) "traitor Duke Paul" makes Julian an especially apropos saint for Rick. Julian was also a prolific writer, and although Rick has written only one book, Julian's writing, like Rick's, "is shot through with a personal faith and conviction that makes it rewarding reading even now." Or, as we should say in the case of Santorum's book,
It Takes a Family
, especially now.
St. Julian of Toledo, pray for us ... and Rick Santorum too!
© Tom O'Toole
---
The views expressed by RenewAmerica columnists are their own and do not necessarily reflect the position of RenewAmerica or its affiliates.
---