Tom O'Toole
The Santorum forum pt II: Wendy Jensen, volunteer angel

By
Tom O'Toole
December 28, 2011
"How sweet can a person be? She had a little body, but the heart of a lion." -Rick Santorum, on the death of Wendy Jensen, his most dedicated volunteer

"Clearly, God needed some help in heaven, and brought one of his angels home to help Him reach as many hearts as possible during the Christmas season." -from the Iowa GOP website, commenting on Jensen's passing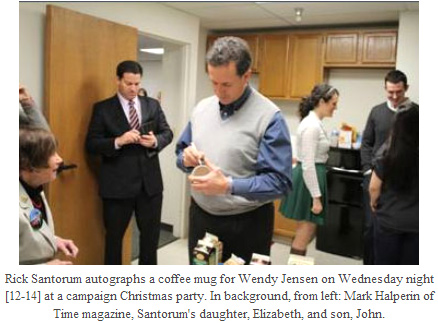 Clearly, to both the unbeliever and mainstream media, things have not exactly gone smoothly for the "Rick Santorum for President" campaign. Mired in Iowa with little money, few key endorsements, and puny poll numbers, all those who secretly giggle about his Google "problem" chant Santorum doesn't stand a chance. Even when he does get a big endorsement (especially that of The Family Leader's Bob Vander Plaats) the MSM tries to shroud it in controversy to kill the little momentum Rick had. But speaking of the death of "The Little Momentum," the unexpected passing of 4'9" Wendy Jensen, Santorum's both sweetest and hardest-working volunteer, would appear to sound the death knell for Santorum's Iowa campaign. But if that is so, then why, when I pray for Santorum, do I keep hearing the sound of the piano?
By all accounts, Wendy Ellen Jensen was a tiny but mighty bundle of energy for all sorts of Christian charity. Besides her work at Bethesda Lutheran Church, the life-long Iowan also volunteered at the local hospitals, and recently found her calling as phone bank caller for Iowa's GOP candidates. Working up to ten-hour shifts and making up to 1,000 calls a day, Jensen, whose motto was "just one more call," had the knack of being insistent but "with a voice so soft and tender people wouldn't hang up on her." After volunteering for McCain in 2008, Jensen got on a bit of a local (and winning) roll, calling to get out the vote for Rep. Thomas Latham and Gov. Terry Branstad. But when the 2012 presidential campaign came around, Jensen, after originally volunteering for early arriving and departing candidate Tim Pawlenty, made what would be her last (if most heartfelt) choice when she became a member of the Santorum "family."
Still, this match made in heaven originally seemed anything but. At first, the old-school Lutheran seemed a bit headstrong for the traditional Catholic, as Jensen told Santorum he needed to keep his phone office open later if he expected to contend. In fact, Wendy's support seemed less for Santorum than for his special-needs daughter, as her morning greeting was always "How's Bella?" or "Tell Bella I'm praying for her!" rather than anything to do with the candidate himself. But clearly the diminutive Jensen related to Santorum's disabled daughter as few can, and rather than be scandalized by Bella's campaign presence (appearances that often included Santorum's wife and six other children) Wendy instinctively knew that the littlest Santorum was the key to his candidacy...and victory.
Finally, after nearly a year of tireless telephoning, Santorum recently got Jensen (despite her protest that she had made less than 500 calls that day) to quit early, and honored Wendy with the award of the rare "Santorum for President" coffee mug at the campaign's Christmas party. Glowing, the single Jensen gushed about how she wanted Santorum to meet the other man in her life, her pastor, the Rev. Randy Gehring. Ironically, the two Christian men would meet but a few days later — on the occasion of Miss Jensen's funeral.
Although Santorum was the only politician to speak at Jensen's funeral after she was found dead in her apartment (her death thus far attributed to natural causes) at the age of 55, he insisted he would be introduced only as her friend. "Here is the little vessel," spoke Santorum"...[that] so much goodness and greatness emitted from," while Gehring recalled Jensen as both "caring and kind, selfless and generous." "She was such an inspiration," added Dane Nealson, director of the Ames GOP victory office in 2010; "There were times she [said] she couldn't wait to see Jesus' face and see the angels. Although my heart grieves, knowing she's in a better place also makes me smile." And that "better place" (along with her sense of humor) may just be the key to a Santorum victory in 2012.
While it is a Catholic rather than Lutheran doctrine that declares saints in heaven pray and "do good" for those on earth, knowing the tireless nature of the "Angel" Jensen (as the Iowa GOP now refers to her) I believe she would not want to leave any unfinished business in Iowa, especially that concerning her long shot Catholic. Not only does her heavenly "phone bank" now include all the angels and saints, but heaven might prove a great place for her pointed piano playing. You see, back on earth our serious phone volunteer also had a mischievous habit of playing her piano; LOUD, when her not-so-Christian upstairs neighbor was doing something she didn't approve of. So if angels begin to descend and the saints start to march on Iowa, and the talking heads against Santorum are suddenly drowned out by an invisible piano, I'd say that's a good sign "Saint" Wendy has one more trick (and victory) up her sleeve.
© Tom O'Toole
---
The views expressed by RenewAmerica columnists are their own and do not necessarily reflect the position of RenewAmerica or its affiliates.
---