Tom O'Toole
Rick Santorum: champion of faith (and family)

By
Tom O'Toole
December 24, 2011
"Family is the bedrock of society. Unless we protect it with the institution of marriage, our country will fall." -Senator Rick Santorum

"Many voters like him but are unwilling to support him because...nobody else is." -from the blog The American Catholic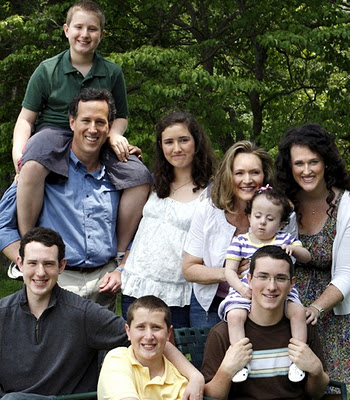 Ten years ago, when I published my book
Champions of Faith: Catholic Sports Heroes Tell Their Stories
, the worry was that I wouldn't find enough devout Catholic athletes to write a book, or that the ones I chose would not remain...faithful. Now, ten years later, I honestly can say that my list, with the possible exception of Sammy Sosa (even Jesus' list included a Judas!) held up well. But if finding faithful athletes (Tim Tebow notwithstanding) is hard, finding Christian politicians is hell — or at least hard-er. But the 2012 GOP Iowa Caucus is upon us, and unless we are looking forward to the End Times, most conservative Christians realize we must elect someone other than Barack Obama if we want to get our country back on track. In this vein, while we are fortunate to have several men — and woman — of good faith vying for the Republican nomination, we know from (Saint) Paul and politics that only one can win. Thus, Fighting Irish Thomas endorses the one man who sees himself first and foremost a champion of faith — and family, Rick Santorum.
In the spirit of full disclosure, I must admit that, despite what the polls say, the issues of life (abortion, euthanasia, traditional marriage) matter more to me than the economy — or all of the other issues combined. You see, I believe our founding fathers listed our "inalienable rights" in the order of "life, liberty, and the pursuit of happiness," for a
reason,
for without first protecting the right to life, none of the others would be possible. While all of the Republican candidates maintain a certain respect for life and family, not only does the degree to which they support these values vary, but I would also argue that the conviction with which they hold the social issues carries over to their convictions on
all
issues. And this makes the choice much clearer.
While there might have been a time, given the choice between him and Barack Obama, that I could have supported the so-called Republican known as Ron Paul, after the latest debate I now know that time has come and gone. Forget for a second that his frightful foreign policy makes Woodrow Wilson look like a warmonger. Paul has become so obsessed by the federal deficit that he has forgotten his commitment to the unborn, babbling that "all the Supreme Court justices are good...and bad," failing to commend any of our current justices at a time when support for a pro-life judge (after Obama's two liberal nominees) is critical. Once nicknamed "Dr. No," the James Bond villain that the pitiful Paul now most closely resembles, is "Goldfinger," as the gold standard is now even more important to him than God.
Nothing
would make Obama chuckle more than a Paul win in Iowa.
Speaking of baffling Iowa front-runners, a Newt triumph in Iowa would only be slightly less disastrous than a Ron win. With almost as much baggage as Imelda Marcos has shoes, the thrice-married Gingrich can hardly be considered a serious flag bearer for family values. And if his profiteering from Fannie Mae and Freddie Mac wasn't bad enough, his global warming collaboration with Nancy Pelosi should make Iowa conservatives shiver. Mr. Gingrich has many good ideas, but if anyone would burn in Obama's "hell's kitchen," it's him.
But before we discuss the man whose camp coined that phrase, it's best to dismiss the lesser of the GOP's dueling Mormons, Jon Huntsman, Jr. While the moderate former governor of Utah is trying to remake his image by recently agreeing to back a Right-to-Life Constitutional Amendment, the last-place-in-the-Iowa-race Huntsman has recently presented a more liberal religious profile, saying that although he is a Mormon, "I'm not overly religious," adding that with one daughter married to an Episcopalian, another attending a Catholic school, and a third adopted from India with a Hindu background, "I get satisfaction from many different types of religions and philosophies." This wishy-washy religious statement no doubt explains how he can support both anti-abortion and pro-gay couples (supporting state benefits for gay partners) legislation, if not his low poll numbers.
This brings us to the man most "prominent" Republicans back as the moderate most likely to beat Obama, the seemingly perennial presidential candidate, Willard "Mitt" Romney. Unlike Huntsman, Mitt
says
he bears his Mormonism proudly, but at the same time echoed the liberal JFK by proclaiming, "I will put no [church] doctrine above the plain duties of the office, or sovereign authority of the law." Of course, this statement is a contradiction of terms if one is truly pro-life and is fighting to outlaw abortion. And, while I'd like to think this unflappable flip-flopper is sincere in his conservative conversion, Romney strikes me as the Manchurian candidate (actually, at age 64, the Manchurian candidate with a dye job) programmed to say whatever will maintain the support of the powers that be. And this suspicion is supported precisely by the fact the man who once converted two hundred Frenchmen on mission and served for years as a bishop says
nothing
publicly about his religion and refuses to release his tax returns. While Bachmann, Santorum, and even Perry talk openly about their faith, Mitt's secretiveness about his religion leads one to suspect that non-Christian tenants such as the Trinity is not true, and Jesus is Satan's brother, are only the tip of the cultish Latter-Day-Saints iceberg. Currently, Romney is not only on the "Right" edge, but right on the edge of being someone I could support against Obama, and I pray I don't have to make this choice.
While Rick Perry
is
a conservative Christian I could support, there are some chinks in his armor that make this Rick not my first pick. While his fumbling, bumbling debate style is not what I feel is a deciding factor, it should be a consideration when you know he will eventually be opposed by the silky-smooth debater Obama. But an even bigger flaw in Perry's repertoire is how any Christian conservative could sign an executive order making the HPV vaccine (which prevents a sexually transmitted disease) mandatory for every girl in Texas — sexually active or not. Also, as a Catholic who believes the death penalty should only be used in the
most
extreme circumstances, I am also not in line with Texas' execution rate. Still, it is Perry's public health policies, while not as much of an abomination as Obamacare, that should give all Christians pause.
And this, as they say on
American Idol,
brings us to our final two. Michele Bachmann, mother of five children and twenty-three foster children (not all at the same time) is a true conservative who has not only professed and legislated Christian family values but has also lived them. The problem with Bachmann is that she has either misspoke (proclaiming our founding fathers worked to end slavery, and stating NATO air strikes killed up to 30,000 Libyans, are but two of her worst gaffes) or uttered un-truths about Obama or her fellow Republicans so many times on the campaign trail it becomes difficult to fathom. Even if mistakenly saying John Wayne (did she mean John Wayne Gacy?) was born in Waterloo shouldn't be her
personal
Waterloo, it makes even her stalwart supporters cringe when they realize what the president's men will do with so many bloopers. Especially when you consider that, while Perry usually apologizes for his major mistakes (including the HPV fiasco) Bachmann rarely does.
Also, a widespread, if largely unspoken (in fear of political correctness, if not a frying pan to the head) conviction among fundamentalist Christians is the conservative biblical belief that "[w]ives should be submissive to their husbands as to the Lord" (Ephesians 5:22; see also Col 3:18), meaning that if husbands should run the household, men certainly should run the country as well. To this I can only add that
if
in dire circumstances (such as absence or death of a husband) a woman
must
run the household, in dire times (and what is the election of 2012 if not dire?) she also may run for president — when there are no strong Christian men to do so.
But that is clearly not the case as long as Rick Santorum is a candidate. After four productive years as representative and twelve as senator in Pennsylvania, Santorum (whose conservative Catholicism was subject to perhaps the greatest left-wing political attack in history, a smear so severe it included making Rick's name slang for a gay term, and then put that slur on Google) thought he was done with politics forever. But after watching how the president rammed through Obamacare, a law so evil Santorum declared it "will cost America its soul" and (taken to its "death panel" extreme) could cost his daughter Bella (who was born with the genetic disorder Trisomy 18) her life, he decided to run again, this time for the office where faith and family could make the ultimate difference. Once a leader in the war on terror as a member of the Senate Armed Forces Committee, the father of seven now would be a leader on the war on the family, the only candidate for president against all abortions
and
all artificial birth control. Once one of the few senators with the guts to oppose the majority of the Congress on popular but flawed economic legislation such as the recently re-passed tax holiday (correctly noting it was being funded straight out of Social Security) Rick is now the only conservative criticizing the Supreme Court both for its legalization of abortion
and
its overturn of sodomy laws, showing how this court decision paved the way for the legalization of gay marriage.
While this is not the proper place to detail all of Santorum's pro-life, family-friendly Senate initiatives (including the right to teach "intelligent design" in public schools, and the fight to save Terri Schiavo) it is the right time to wonder why Rick does not currently have more conservative support, especially in Iowa. True, since Tuesday, when Santorum garnered the coveted endorsement of Bob Vander Plaats, president and CEO of The Family Leader (as well as that of Bob Hurley, head of Iowa Family Policy) Rick's Iowa numbers have doubled from five to ten percent, but he'll need a bigger bump than that to win here. As Vander Plaats notes, unlike in 2008, when he could rally all of Iowa's Christian conservatives around one candidate (Governor Mike Huckabee), this year the vote is split among (at least) three. But even more to the point is The American Catholic blogger's assertion that many complacent Catholics, after seeing Santorum's small (if rising) numbers and believing the polls and pundits, forsake their first (and often second) choice and vote for the usual suspect, Romney, instead.
Well, my fellow Catholics, if Huckabee's Iowa win (but subsequent national loss to McCain) was on Evangelicals, Santorum's success (or lack of it) is on us. If you have any money or time in the next two weeks, send it to or spend it on the "San Man's" Iowa campaign. And Iowa Catholics; you are the ones who must not only rise up and caucus, but convince your Protestant neighbors that on January the third, the day we celebrate The Holy Name of Jesus, it is Rick Santorum, whose name has been defiled on the Internet but originally (from the Latin "sancta sanctorum") meant "the holy of holies," who will make America holy once again.
© Tom O'Toole
---
The views expressed by RenewAmerica columnists are their own and do not necessarily reflect the position of RenewAmerica or its affiliates.
---