Tom O'Toole
WWKD (What would Knute do?) "Upon this Rockne" revisited

By
Tom O'Toole
April 2, 2011
Reprinted on
Spero News
.
Can he [the patriot] hate it enough to change it, and yet love it enough to think it worth changing? Can he look up at its colossal good without once feeling acquiescence? Can he look up at its colossal evil without once feeling despair? Can he, in short, be at once not only a pessimist and an optimist, but a fanatical pessimist and a fanatical optimist? — G.K. Chesterton, during a speech at Notre Dame

It is a shame you are affiliated (alumni) of a school who welcomed the most pro-choice, anti-life President to give their commencement address several years back. You are in no position whatsoever to be spouting off your "advice" to Father Corapi...it is frankly none of your business...and anyone who purports to be an alumni of Notre Dame leaves a lot to be desired. Why don't you take some of your own advice, spend some time in confession and before the Blessed Sacrament, and disassociate yourself from the trash heap Notre Dame, a once great Catholic institution, now run by liberal coward "Catholics." — Jim Gorski, Missouri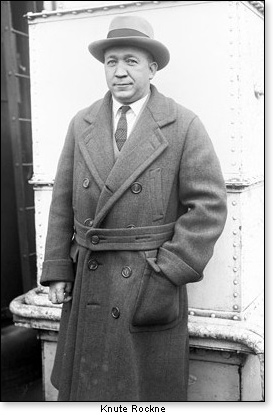 As I once again
return to the life of the great Knute Rockne
on the anniversary of his death, I ponder what words of wisdom the famous Fighting Irish football coach would have for us now. I cannot top (at least according to my wife, who after four years, claims that column still brings a tear to her eye) the basic bio I did on "the Rock," and past FIT articles have already detailed the profound impact Rockne had had on everyone from
presidents
to
pre-teens
, so it would be redundant to cover that admittedly fertile ground again. Still, anyone whose life (and death) had such a wide-ranging effect eighty years ago must bear some relevancy on the faith issues of today, including the two above listed views on Notre Dame and the Catholic Church at large. And it doesn't take an expert in either faith or football to show that Knute would favor the philosophy of "G.K." over "J.G."
While it is true as Michael R. Steele notes in his book,
The Fighting Irish Football Encyclopedia
, that "Horatio Alger could not have created a more interesting fictional life [than Rockne's real one]...he loved Notre Dame. He never left the place...to this day," Knute indeed had a love-hate relationship with much of the school's administration, and like St John Vianney and his beloved Ars,
tried
to leave it several times — to no avail. For example, it took several years (at least until his Irish National Championship in 1920) for the majority of the Holy Cross fathers to forgive Rock for choosing the job of football coach over that of chemistry professor. After all, Notre Dame's prestigious research labs had just discovered synthetic rubber, while football, despite the team's big win over Army when Rockne was a player, was still thought of as mainly an intramural diversion — and an overly rough one at that. But Rockne, whom the priests assumed was wasting his magna cum laude Notre Dame education, showed there was more than one way to become a saint, and his innovative, indeed,
Catholic
way of playing sports caught the imagination of a nation, both immortalizing Rockne and at the same time putting little underdog Notre Dame on the map.
But Rockne's fight was not over. Notre Dame was on the map alright, but many from the administration, still touting research over athletics (some things never change) didn't want to be on the map like
that
. They tried to reign in the irascible Rockne, banning bowl games after the Notre Dame's stunning Rose Bowl victory over Stanford (a decision that would not be reversed for 45 years) and fought him on most everything, including his idea of tearing down their rickety old 9,000-seat stadium and building a modern 60,000-seat one to invite the Irish's thousands of new fans to see the game...and take in Notre Dame's beautiful and sacred campus. But despite the fact the Irish would routinely sell 120,000 tickets when they played "home" games at Chicago's Soldier Field, the administration still refused. Finally, not unlike Jim Gorski and the thousands of alumni and subway alumni who abandoned Our Lady's school after Fr. Jenkins' heretical decision to award Barack "the abortion president" Obama at graduation, a frustrated Rockne left Notre Dame, signing a three-year, 25K-per-season deal (Rockne was making 10K a year to coach and be the athletic director at Notre Dame) with Ivy League upstart Columbia. Or so he thought.
In the end, Rockne realized that his unselfish, fight-to-the-death way of playing (and winning) which had inspired so many American Catholics to take pride in Our Lady's university, wouldn't work away from Her watchful eye atop the campus. He got out of his Columbia contract on a technicality, converted to Catholicism, and never seriously thought of leaving his home under the dome until Our Lord took Knute to his heavenly home on 3-31-31. For soon after the Columbia escapade, Rockne, when playing on the road, was surprised to see his team arise in the pre-dawn dark to walk a good mile to a New York cathedral to attend a morning Mass. Rockne suddenly realized that, despite the flaws in the way some leaders lived out their faith, Our Lady,
Notre Dame,
was always true. Thus, if Rockne is relevant today, it is because this revelation of his is as timely as ever.
For if sport is perhaps the best analogy for life, Notre Dame remains perhaps the best symbol for what is good (and bad) in the American Catholic Church as a whole. Rockne's ND detractors, who claimed that sport was unimportant to, or even detracted from, the Catholic faith may seem minor in comparison to the modern-day Modernists who seem to suggest that the Church's stance on abortion is optional, but as Chesterton pointed out, when you cease believing in any part of the faith, you cease believing in the whole. Conversely, when the believer sees wrong in the Church, or Notre Dame, or both (as in fighting for the victims of Thomas Euteneuer, Notre Dame Class of '84) turning your back on the evil (according to Rockne or Chesterton) is not an option. Despite fierce opposition from the administration, that for some even included jail, the Obama protests of the faithful Irish students and alumni has led to a stronger (though not strong enough) pro-life witness by the Notre Dame administration, and the protests of Euteneuer's abuse have led to official statements (although not complete enough) by those involved, admitting to many of his errors and the need to correct them.
Rockne (whose new stadium, by the way, was finally approved and opened in 1930, the last season before his death), it could be said, joined the Catholic Church because its belief that, "Upon this Rock I will build my Church, and the gates of Hell shall not prevail against it" (Matt 16:18), was in essence identical to the motto of Our Lady at the Grotto, "What though the odds be great or small, old Notre Dame will win over all." And as long as those rocks at the grotto still stand, I believe Rockne's vision of Notre Dame (and the faith) will be worth fighting for.
© Tom O'Toole
---
The views expressed by RenewAmerica columnists are their own and do not necessarily reflect the position of RenewAmerica or its affiliates.
---