Tom O'Toole
The "alma" (still) "matters": Declan, Notre Dame defeat USC 20-16

By
Tom O'Toole
December 1, 2010
One month ago, when Notre Dame undergrad
Declan Sullivan
fell to his death filming a football practice when a fierce wind flung his youthful frame from the far-too-flimsy crane, it seemed to many (especially after the terrible loss to Tulsa in a game that was supposedly dedicated to Declan) that the once-great Fighting Irish football program had died for good with him. But if Notre Dame's three straight wins, including Saturday's stunner (their first over the Trojans in nearly a decade) have brought the program back from the brink, this revival could only be due to Declan himself; with a little help from his Mother...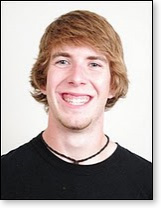 Going back to the Tulsa game (which I had the dubious pleasure of witnessing in person) the official Notre Dame Sullivan Tribute had all the makings of a made-for-TV movie. Of course, all the players wore Declan decals on their helmets, but former lawyer-turned-athletic-director, Jack "there was a sudden gust of wind" Swarbrick, was still not admitting University culpability, and Notre Dame president Reverend John Jenkins' pre-game prayer for Sullivan could easily have been said by a Unitarian minister, as he not only did not say the name of Christ, but avoided the mention of Mary as if She was the plague. And, ironically, the team they were playing was nicknamed "The Golden Hurricane."
Despite losing starting quarterback Dayne Crist for the season on the second series of the game, as well as some horrendous Irish special teams play that included a fumbled punt, a blocked extra point, and a punt the Golden Hurricane returned for a touchdown, Notre Dame's shaky-but-gutsy back-up QB freshman, Tommy Rees, still had Notre Dame in position for victory, having led the Irish on a final drive down to the Tulsa nineteen with forty seconds to play, needing only a field goal to win one for Sullivan. But despite the fact Notre Dame was only down by one point, not to mention the equally pertinent stat that Notre Dame's kicker, David Ruffer, had not missed a field goal in his entire collegiate career, Irish coach Brian Kelly's confidence suddenly revealed itself as arrogance when he forsook the sure kick and went for the TD, ordering the beleaguered Rees to throw a glitzy-but-difficult fade pass against the wind into the end zone. The pass ended up being Tommy's third interception and ended the game, as Kelly let Declan down a second time by a score of 27-28.
Just as Kelly justifies his pro-choice stance as somehow smarter (and more Catholic) than the traditional pro-life position of the Church, the popes and the saints, I supposed he feels he is wiser than the run-of-the-mill college coach and thus felt he could ignore conventional coaching wisdom in this situation. But if the loss to a team Lou Holtz said was too weak for Notre Dame to even schedule wasn't bad enough, the "tribute" to Sullivan really turned ugly when the Tulsa band started blasting their fight song over the Irish band's traditional post-game playing of the "Alma Mater," not realizing "Notre Dame Our Mother" was not just a college song but a prayer, and thus their action was not only one of disrespect, but desecration. And yet, how were they to know the tune was really a hymn, when Kelly himself seemed to think its playing was a time for the players to salute not Our Lady, but the Irish students and fans, and many of the Irish fans, by now both shocked AND drunk, were now booing Kelly's new "religion" during the song too.
Flash forward two weeks to the Utah game, and, in a 180-degree turnaround, not only did the Fighting Irish stun the 15th-ranked Utes in the rain at Notre Dame Stadium 28-3, but the student body stormed the field after the Irish victory. In doing so, they sang the hymn side-by-side their football classmates, leaving Our Lady as the only person the song was being dedicated to. Meanwhile, Notre Dame's victory the following week over a so-so Army team (by a nearly identical score of 27-3) was not nearly as dramatic, and the Irish return to Yankee Stadium, the site of their famous "win-one-for-the-Gipper" game over a once great West Point squad, was a bit over-hyped (especially by NBC). However, it did leave the Irish bowl-eligible, and made the subsequent Coliseum contest against their bitter arch rivals a bit more consequential...
When Notre Dame took a 13-3 lead on USC late in the second quarter, thanks largely to birthday-boy Michael Floyd's (who celebrated his 21st b-day with 11 catches) receiving heroics, the home crowd became extremely quiet, fearing their 8-game win streak against the Irish was surely history. Sadly, still-green Irish QB Tommy Rees then gave it all back, as three Rees INTs and one Tommy fumble (on the Notre Dame two) now found Notre Dame not only in trouble, but lucky to be trailing by only three.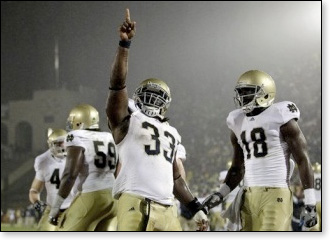 But then something strange (strange to
recent
Notre Dame fans that is) happened. Not only did Rees lead the Irish on a 77-yard scoring drive to take back the lead, but the drive was accomplished not with the flash and dazzle that Kelly was known for, but with old-school smash-mouth football (capped by Robert Hughes literally bowling over Trojan defenders from five yards out) that the Fighting Irish had all but abandoned in their life with Brian. And to top it off, with one seventeen left and USC threatening to score themselves, sure-handed (and wide open) SC receiver Ronald Johnson, perhaps not used to the sudden California rain (after all, it never rains in southern California!) slipped and dropped a sure touchdown pass, leaving Irish safety Harrison Smith to intercept the next Trojan throw and seal the unlikely Irish victory.
"We know that if a talented receiver like that drops a pass like that in a situation like that, it's definitely our night," said leading Irish tackler Manti Te'o. "Things like that don't happen without a reason. It's a huge night for this program and our lives." While there's little doubt that the Mormon T'eo is not just a better football player but more spiritual than most of the Catholics currently on the Irish squad, there's something else that has to happen to the program for Manti's prophecy to prove true. First, Coach Kelly has to stop saying the Irish are playing only for their fans and for themselves, but use one of his press conferences to say that they are trying to honor Our Lady with their play as well. With that said, he could also thank the kid the coaches helped to kill for his help in pulling off the last three victories. Declan Sullivan might not have been in heaven yet for the botched Tulsa affair, but one would think a lad who was practically martyred for this now Modernist sports program, was up there seated alongside Rockne, the Gipper, and the other fallen Notre Dame legends who died far too young, in time for the Utah game, pulling for Our Lady's team to BE Our Lady's team again.
Of course, I've heard that while Jenkins himself laughs at such traditional Notre Dame theology, at least one thing at Notre Dame
has
changed. After the 400,000 online protests and massive on-campus demonstrations that occurred in response to his honoring of Obama, Fr. Jenkins no longer has the guts to snicker about Orthodoxy in public. And so, if this is to be the Decade of Declan at Notre Dame instead of a time of further theological dilution and gridiron dissolution, we can't wait for the coach or University president to act. If the Tea Partiers can take back the Congress and the country, surely we can take back the Fighting Irish and Notre Dame. They have the Founding Fathers, but we now have
St. Andre Bessette
and Declan Sullivan to aid the "Gipper" and the "Rock," not to mention Our Lady on the Dome; not merely a symbol of Liberty but a living example of steadfast Love.
Now lemme
hear
ya! A one, a two — "
Notre Dame, Our Mother
..."
© Tom O'Toole
---
The views expressed by RenewAmerica columnists are their own and do not necessarily reflect the position of RenewAmerica or its affiliates.
---