Tom O'Toole
"Theophilos": Michael O'Brien's latest novel ... and miracle

By
Tom O'Toole
July 2, 2010
"Many well-grounded complaints have been made about religious literature on the score that it tends to minimize the importance and dignity of life here and now in favor of life in the next world or miraculous manifestations of grace...The Catholic writer, insofar as he has the mind of the Church, will feel life from the standpoint of the central Christian mystery; that it has, for all its horror, been found by God to be worth dying for" — Flannery O'Connor.
"My dear Loukas, if what you have written happened as described...it will overturn the world" — Theophilos, from the Michael O'Brien novel of the same name.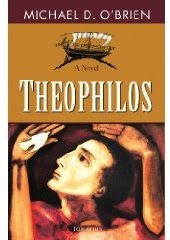 Theophilos
(Copyright 2010, Ignatius Press, San Francisco), the latest novel by the great Catholic fiction writer Michael D. O'Brien, does something that incomparable "dignity of life here and now" author Flannery O'Connor can (from heaven) only marvel at. For while O'Connor refused to bail her realistic if quirky characters out with miracles on their flawed and seemingly futile seach for salvation, O'Brien (who admittedly in this historical novel centered on the life of Christ and the early Christians cannot avoid the subjects of miracles or the afterlife) works such wonders into his tale seamlessly, making the supernatural appear natural. But lest you think this task easy or this novel unexceptional, O'Connor would be the first to tell you that creating a holy yet inspiring Catholic novel in these evil times is a miracle in itself.
Although there is much speculation by historians as to the true identity of the "most excellent Theophilos," to whom St. Luke addresses both his Gospel as well as the "Acts of the Apostles," O'Brien's book sets him as the loving but agnostic uncle of St. Luke (here Loukas, as the novel uses all the Greek equivalents). After discovering that both of Loukas' parents have died tragically in a plague, Theophilos recues his forsaken nephew and nurses him (Theophilos' profession is that of a physician) back to health. Theophilos and wife Paeonia raise him as their son, and Loukas soon begins to regard his uncle as "father," adopting not only Theophilos' trade but his love for Greek literature and philosophy. But after Loukas leaves the village as a young man, forsaking the security of his uncle's buisness (not to mention the promise of a happy marriage) to join what appears to be a dangerous Jewish sect, Theophilos himself sets out on a journey to bring his beloved adopted son back. Meanwhile, Loukas, by now an evangelist if not a saint, of course has other ideas.
Since Theophilos has elevated the Greek ideals of wisdom and reason to that of gods in his life, Loukas quickly realizes his uncle will not accept his secondhand stories as articles of faith, so he urges his learned father to conduct his own eyewitness interviews and (hopefully) see for himself. Theophilos reluctantly agrees, but only on the condition that he is allowed to talk to everyone, not only the followers of "Yeshua." Thus follows some fascinating encounters, not only with the likes of Ezar Bar Hiram (the groom from Cana who benefited from Yeshua's first miracle) and Eleazar Ben Efrayim (a.k.a. Lazarus) but also Barak "the false prophet" and "the pharisee" who relished the chance to denounce Jesus yet refused to give his own name.
Theophilos was to uncover far more believers than detractors, and found far less guile (and far more joy) in the likes of those who said, "I am a small man, and ignorant, but to make water into wine...is the greatest thing I have seen in my life" (pg.224) or "And then...I died. I am sorry if I startled you...but I was four days [dead] in a tomb when he...called me forth from it and I returned to life" (pg.261) than the ones who claimed "when we were five he said 'you also shall be a prophet,' and as a sign...formed from the dirt a shape like a turtle...and it began to move" (pg.214) or snarled "Yes, I saw some of his wonder-workings with my own eyes. But I was not fooled for an instant...magicians can perform such deeds with the power of the devil" (pg. 267). Still, Theophilos remained unconvinced, finally returning home with neither faith nor Loukas. But finally, after a bout with both a serious fever and "the diabolos" showed him that "my dignity, my costly robes, my superior mind, and my status" meant nothing (pg. 428), a little boy, "like no other boy I had ever seen," appeared in the room and spoke an invitation "with [more] authority than I have heard in my life..."
When Flannery O'Connor confided to a friend shortly before her untimely death from Lupus at the age of 39 that she would like to attempt something more comprehensive than her tragically humorous (yet always Catholic!) short stories, but "no longer had the energy," one wonders if she had something like O'Brien's novels in mind. As Peter Kreeft, the fine Professor of Philosophy from Boston College notes,
Theophilos
is "an arresting work, totally credible both historically and psychologically," yet it is something more. It is the work of a man who knows his talent comes from God, an author who prays in front of the Blessed Sacrament until his imagination literally goes
inside
the New Testament, bringing the Bible to life while never adding to or subtracting from the Church's interpretation of it. Indeed, at the conclusion of
Theophilos
, O'Brien states his goal for the novel as "It is my earnest hope that the reader will [now] return to the luminous living word of sacred scripture with refreshed eyes and that he will thirst for the One who is the eternal word." Well, O'Brien has accomplished that, and perhaps something even greater; he has written a Catholic novel — with miracles! — that even the skeptical O'Connor would be proud of.
© Tom O'Toole
---
The views expressed by RenewAmerica columnists are their own and do not necessarily reflect the position of RenewAmerica or its affiliates.
---