Tom O'Toole
Defeating the Modernists: my pro-life letter to the Vatican

By
Tom O'Toole
March 7, 2010
Pro-life leader, Randall Terry, in conjunction with the group
Vanguard of St. Catherine of Sienna,
is heading to Rome, March 10, for a week of meetings with a number of key Vatican officials as a follow-up to their successful 2009 summit which demonstrated the reluctance of many US bishops to implement Pope Benedict's edict to deny Catholic pro-abortion politicians Holy Communion — and the need for the Vatican officials to speak out in support of Benedict's ban. Terry asked me (along with several other pro-life journalists) if I would like to write a short letter that they could personally deliver to these bishops and cardinals in support of their mission, and I was delighted to do so. The following is a copy of my letter:
"Wherefore we may no longer be silent...[as] the partisans of error are not only among the Church's open enemies...[but] they lie hid in her very bosom and heart." — Pope St. Pius X, "Pascendi Dominici Gregis"


Your Eminence,
I am an orthodox Irish Catholic journalist from Chicago whose name you might recognize from
Champions of Faith,
my book on Catholic athletes that I am told John Paul II placed in the "sports section" of the Vatican's bookshelves. But while sports is a great way to promote the faith among today's youth, today I am writing to promote something even more primary, the promise of life for those whose existence on earth has barely begun.
If Mother Teresa is correct in saying that abortion is the greatest evil in America today, then certainly the promotion of abortion by "Catholic" politicians (and the failure of most American bishops to censure them) is its greatest scandal. And yet as dire as the situation seems, the winning strategy in this life and death struggle for souls is really quite simple. In dioceses where the cardinal or bishop enforces Ratzinger's 2004 "
Worthiness to Receive Holy Communion
" decree to withhold Communion from pro-choice politicians, such as Bishop Tobin's denial of Rep. Patrick Kennedy, not only are the uninformed warned and the faithful encouraged, but in RI's case, Kennedy's not even running for re-election. On the other hand, in the sees of the likes of Pelosi, Biden and Kerry where the bishop's stand is lax, opposition to the Gospel of Life grows, and Catholic support for pro-choice politicians, including abortion's greatest champion, Barack Obama, strengthens.
Your task is clear; demand (or as we like to say at my alma mater, "Shake down the thunder!") that our US bishops act on the Pope's pro-choice Catholic pols' Communion ban — and if they don't, advocate that they be replaced with bishops who will. For if Pius X was correct in calling Modernism "the synthesis of all heresies," certainly abortion is the foulest of its fruits, a sign that the Modernists' "destruction not only of our religion, but of all religions" that Pius predicted is well on its way to fruition.
God's grace and Mary's prayers,
Tom O'Toole
Tacotoole@comcast.net
If you are interested in the
Vanguard of Catherine of Sienna
personally delivering or faxing your letter to the Vatican, please go to
http://ahumbleplea.com/FaxRome.htm
.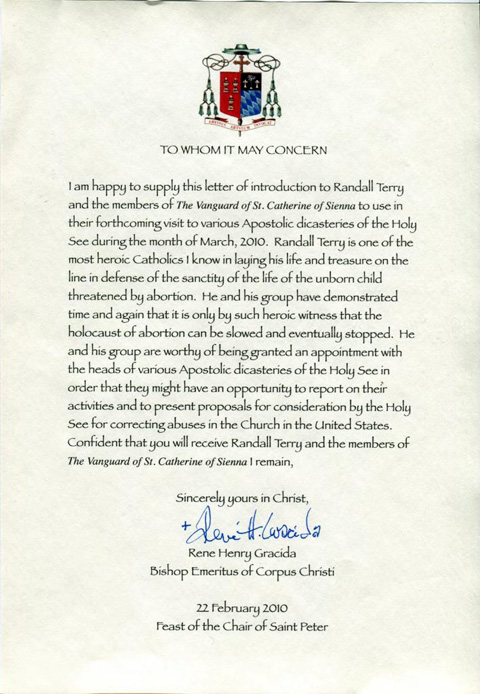 © Tom O'Toole
---
The views expressed by RenewAmerica columnists are their own and do not necessarily reflect the position of RenewAmerica or its affiliates.
---