Tom O'Toole
The Terry pro-life divide? Amidst controversy and criticism, Randall to the "rescue"

By
Tom O'Toole
March 1, 2010
Although I suppose I've come to expect a certain backlash whenever I write about the very visible (as opposed to "virtual") prolific antics of pro-life activist Randall Terry, even I was surprised at the extent of the volume and venom sent in response to my recent Renew America article. While one reader claimed Terry was "excommunicated from Protestantism" (all 30,000 denominations! call Guinness!), even stalwart Catholic RA feature writer, Matt Abbott, in his article on RT, not only used an insinuating parenthetical against Randall, but also implied he was a source of disunity for the pro-life movement. To his credit, Abbott dropped the perplexing parenthetical from his article after my wife protested its implications, but the larger question remains. Is Randall right for the Right to Life movement, or is Terry too tainted by past trials (figuratively and literally) to still be a Christian pro-life leader? Indeed, in the end a fair examination of the facts surely shows that the dual charges of his accusers, that Terry was unfaithful to the movement and his marriage, are the stuff of dishonest capitalists or ill-informed cyber-souls.
While we must acknowledge that many Internet readers do not seek to verify the veracity of their favorite sites and blogs, if they did they couldn't help but see the irony that many (if not most) of the accusations that Terry abandoned the pro-life movement come from those who stole the name of Randall's pro-life organization, Operation Rescue. Alternately claiming Terry was either physically unable or too emotionally unstable to lead OR into the 21st century, an opportunist named Troy Newman (after a trip to the U.S. Patent Office) announced that Terry was toast and proclaimed that he was now legally (if not morally) Operation Rescue's new president. Admittedly, after someone "borrowed without permission" the name of my book,
Champions of Faith
, for their DVD series (not to mention when Obama nearly ruined the "Renew America" name for me when he called his liberal volunteer organization "Renew America Together" until I pointed out that "we" were "RA!" and "they" were "RAT"), I am probably more sensitive to title theft than most. Still, one has to wonder, as long-time pro-life businessman Joseph Costello pointed out, "why they just didn't use their own name to fight against abortion. The answer," according to Costello, "is obvious: money. Mr. Terry branded the Operation Rescue name, and with [it] these men are profiting."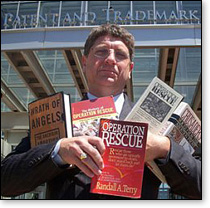 True, Joe Costello knows Terry, whereas Matt Abbott admits he doesn't, but if Abbott
and
Costello both knew him, Matt would have to admit that (like himself) Randall is, in the words of Terry's spiritual mentor Fr. John Mikalajanas, a devout "Catholic Christian in full communion with the Church." This being said, it is thus more important that Terry's pro-life stances are in union with the pope's than those of other pro-life leaders. It is also interesting to note that, in addition to dissing Terry over his divorce, Mr. Newman then attempted to discredit Terry by claiming Randall's faith was unsteady because he was a member of four different denominations before he became a Roman Catholic. Actually, Terry was only a Pentecostal, not a Baptist or an Episcopalian as Newman falsely claimed, before he entered the Catholic Church, but since Protestantism by it's very nature encourages a variety of opinions (if not denominations) one wonders if Newman is subversively slamming the Catholic Church (and Catholic marriage in general) with this strange attack.
Of course, while
statements by Terry's long-time Christian colleagues
can go a long way to counter character assassinations (and a simple timeline can disprove Internet fallacies like, "Terry got his secretary pregnant before he was divorced") it is much harder to prove that
every
aspect of Terry's divorce and re-marriage was done with Christian charity. Undaunted, Terry vowed to do so, but the fact that it was "still too painful, and other projects needed immediate attention," forced Randall to put off his public confession for the time being.
"What projects are those?" I wondered.
"First, we received funding for an online broadcast show, 'Live from DC: Promoting Life and God's Truth with Randall Terry!' Secondly, we are forming a new online community where pro-lifers can come together to share ideas and strategies for pro-life action. But I want to stress these things are not an end in themselves, but a call for action, to get people to leave the cyber ghetto and go out and witness in the real world. Increasingly, people are fooled into believing that sitting at their computers and responding to pro-life blogs and Web sites is actually accomplishing something. For example, I was personally offended when a big pro-life organization encouraged readers to sign up for a 'virtual life march.' What a waste of time!"
"How so?"
"Because it doesn't change a thing. Do you think Martin Luther King would have won civil rights for blacks if he led his followers on 'virtual marches'?"
"Probably not."
"And if you were starving, and I sent you a 'virtual meal,' wouldn't you still die of hunger?"
"Good point," I conceded.
"So while the Internet is great for education and mobilization, it can never be a substitute for getting out to the abortion mills, the town hall meetings..."
"Another bad thing about the Internet is that it caused many of the newspapers and magizines I used to write for to fold, and very few online sites pay anything for publication."
Busy though he was, Terry paused to consider my vocational dilemma. "Because most of the big print and network media were run by the Left, I initially considered their demise a good thing," Terry conceded. "But there was a positive side to their power. I remember when I walked up to Dan Rather to hand him an aborted baby. 'You turned the opinions of the American people against Vietnam by showing them pictures of the war. Now change history by showing them images of what abortion is really like!' I pleaded. Rather never did, and we missed a great chance, because while my online show might be seen by thousands, his was seen by millions. Also, without strong newspaper writers, not only is there no investigative journalism, but online authors don't even bother to check the facts, and lies such as my infidelity are repeated so much that people think they are the truth."
After adding my agreement, we ended our conversation with a mutual pledge of prayers, and returned to our respective real lives, which in my case at the moment was none too pleasant.
"Our online sites aren't making any money!" my wife Jeanette said in a voice both forlorn and foreboding, speaking of a financial situation that needed a solution today, if not sooner.
"I got it!" I exclaimed mischieviously. "We'll change the name of both my blog and your site to 'Operation Rescue'! Then they'll make
lots
of money."
"You really
do
need prayers," she said, shaking her head, while seizing the computer from me just to be safe.
© Tom O'Toole
---
The views expressed by RenewAmerica columnists are their own and do not necessarily reflect the position of RenewAmerica or its affiliates.
---