Jake Jacobs
Democrats support criminal, illegal aliens

By
Jake Jacobs
April 16, 2018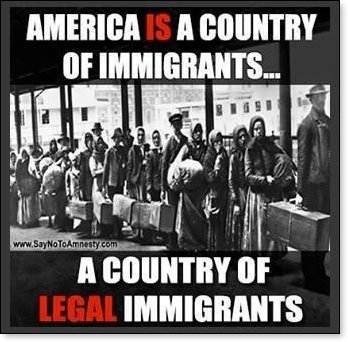 Emma Lazarus gave America the iconic phrase, "Give me your tired, your poor, your huddled masses yearning to breathe free." This line from her sonnet, "New Colossus," are cast on a bronze plaque below the feet of Lady Liberty. These words reflect the greatness and the goodness of the heart of the United States of America to millions and millions of legal immigrants who for centuries have sought life, liberty and prosperity at American shores.
Unfortunately, there has been for far too long a significant number of illegal aliens who have violated American law by invading the republic and bringing their criminal activity along. When President Donald Trump pointed out the murderous and raping activity of the "savage MS-13 gang" in his first State of the Union address, MSNBC's Joy Reid, Chris Matthews, and Rachel Maddow, among others, attacked the president as a fool on the open
border issue
.
According to the Center for Immigration Studies, "this resurgence of [MS-13] represents a very serious threat to public safety." The crimes committed are not nuisance crimes, as 207 MS-13 members were charged with murder and more than 100 have been accused of drug trafficking, sexual assaults, attempted murder and
extortion
."
Looking specifically at the border state of Arizona, the Crime Prevention Research Center concludes "Undocumented immigrants are at least 142% more likely to be convicted of a crime than other Arizonans. They also tend to commit more serious crimes and are more likely to be classified as dangerous, and 45% more likely to be gang members than U.S.
citizens
. The
Washington Times
reported on a study which found that in Arizona, illegals commit crimes at
double
the rate of native-born, with the crimes being overall more serious.
Tim Foley of the
Arizona Border Recon
reported that on their patrols of the border, they have come across thousands of illegal aliens consisting of drug cartel scouts and mules, sexual predators and many others involved in deplorable criminal activity in
Arizona
.
Sadly, studies have shown that the overwhelming majority of illegal aliens
vote illegally Democratic
, as that is the party that promises them free stuff.
Americans should be thankful to have President Trump sending the National Guard to the Southern border to protect American citizens from criminal, illegal aliens.
© Jake Jacobs
---
The views expressed by RenewAmerica columnists are their own and do not necessarily reflect the position of RenewAmerica or its affiliates.
---