Jake Jacobs
Our Founding Fathers' limited government vision versus the elite media's worldview

By
Jake Jacobs
June 11, 2014
OK, I will admit it, I watch MSNBC, CBS, ABC, NBC, & CNN. I do so because my job as a teacher, writer, speaker and citizen requires that I understand the worldview and mindset of the Elite Lefty Media that so profoundly feeds the minds of millions with lies, damn lies and statistics that distort the reality of an egregious Federal government on steroids destroying the Liberties of millions of Americans. Sometimes the inversion and perversion of the truth is propagated so badly and vociferously by the Elites that righteous indignation cries out of me in frustration knowing that far too many Americans are being duped by the Goebbels like lies.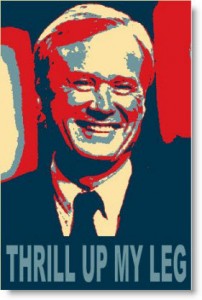 In the past few months MSNBC has been running "Lean Forward" commercials with Chris Matthews and others pontificating on the relationship between our Founders and BIG Progressive-Liberal Government. They bank on the ignorance and lack of historical knowledge of our Republic's founding by their viewers so as to persuade them that the United States was created as something it wasn't and was never meant to be. Chris Matthews during his 30 second clips opines on how Thomas Paine and Thomas Jefferson advocated "progressive" ideas about a "New World and a New Government" and having "it in our power to begin the world over." In these slick adds you are left to believe that our Founders' worldview was Progressive and Liberal in the modern understanding of those terms that calls for a large bureaucratic administrative State that circumvents the Constitution. Nothing could be further from the truth.
Historically liberal or liberty in 1776 was defined in relationship to independency FROM government not dependency on government or being controlled by government. Today Chris Matthews and the Elite Media's liberalism and progressivism is about more government, more dependency, more rules, more regulations and more control BY government in our lives and in our land. The Elite Media and Matthews's worldview is in sharp contrast to the limited government republicanism of our founders in 1776 & 1787.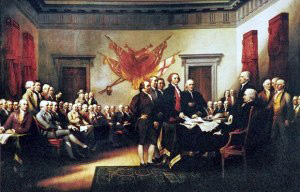 How did it get this way that journalists and the Elite Media representatives have distorted historical context and implemented Orwellian language in their scripts and reporting?
I believe it's the textbooks!
The story is too long to tell here (you could read my book Mobocracy for more historical details) but starting in the late 1880Œs a slow "long Marxist march" in our educational institutions took this nation on a trip with a hard turn to Left that is driving out our Judeo-Christian heritage and distorting the republican-limited worldview of our Founding Fathers. This wonderful heritage is rarely if ever being taught in our government schools today as professors from the educated in the 1960Œs and 1970Œs have indoctrinated our teachers K-12 and at the College level with Left Wing Lies. A classic example of this is one time SDS President and professor from Columbia University Todd Gitlin who declared:
"My generation of the New Left – a generation that grew as the [Vietnam] war went on – relinquished any title to patriotism without much sense of loss. All that was left to the Left was to unearth righteous traditions and cultivate them in universities. The much-mocked political correctness of the next academic generations was a consolation prize. We lost – we squandered the politics – but won the textbooks."
Gitlin being the cultural Marxist that he is knew that education was the key to revolution from within. Those teachers and politically correct textbooks have shaped the cultural and political worldview and mindset of powerful people today like Barach Obama, Hillary Clinton, Harry Reid, Nancy Peloshi, many in Congress and 90% of the Elite Media and academia. This is why the Hard Lefty propagandist Chris Matthews is an admirer of Hillary Clinton and Barack Obama's favorite Marxist teacher Saul Alinsky who dedicated his book Rules for Radicals to Lucifer. On Matthews MSNBC program Hardball he declared: "to reach back to one of our heroes from the past, from the '60Œs, Saul Alinsky once said that even though both sides have flaws in their arguments and you can always find something nuanced about your own side you don't like and it's never perfect, you have to act in the end like there's simple black and white clarity between your side and the other side or you don't get anything done." Matthews concluded as he spoke on the topic of Obamacare with democratic socialist Senator Bernie Sanders "I always try to remind myself of Saul Alinsky when I get confused."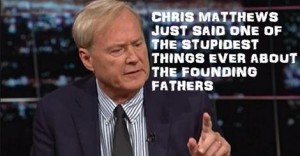 To those of us who love our Republic under God and limited government let us not get confused about the Elite Media's secular and BIG government agenda! Chris Matthews and the progressive-liberal BIG government advocates are right about one-thing: It is about "Black and White." There is right and wrong in the universe. The universal self-evident truth of our Founders worldview is a profound belief and trust in the creator of the universe YAHWEH-God, the God of Abraham, Isaac and Jacob and He is the Sovereign source of Life and Liberty throughout the world, NOT progressive-liberal government. It is to that presupposition we must always be faithful.
© Jake Jacobs
---
The views expressed by RenewAmerica columnists are their own and do not necessarily reflect the position of RenewAmerica or its affiliates.
---