Jake Jacobs
Patriots, conservatives & Young Americans for Freedom dedicated to keeping our republic

By
Jake Jacobs
May 6, 2013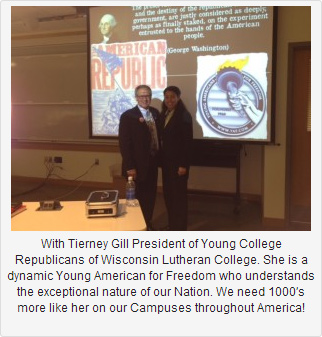 On May 2nd after teaching Government and History at The Academy in Oshkosh, Wisconsin I drove to Milwaukee, Wisconsin to address a group of dedicated Patriots both young and "older" on The Cultural War & Political War to Destroy our Republic under God.
They listened well and asked very thought provoking and thinking questions about America's Founding past and her precarious future with Big Government Progressives who ignore and despise our Constitution, explode the Debt and expand Federal control of our lives. While we know the Battles in this War looks bleak we must remember that America has had it back up against the Wall before and came out Victorious! From Valley Forge and Pearl Harbor to Battle of the Bulge and 9/11 we have and must prevail!
This War is of a different nature. It is IN the culture, it is deeply intrenched in our institutions, our Churches, our Congress, our Courts and it is especially in our Schools and our Textbooks. That is WHY it is imperative we reach and teach Young Americans who love Liberty, for in their hands and hearts lie the future of The Nation.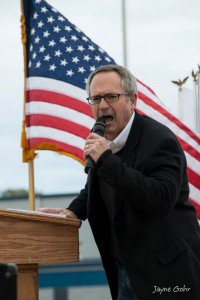 My fellow Americans those of you who come from the Baby Boom Generation and after we need to encourage our youth and enthusiastically enlighten them on the wonder and glory of our Great Republic and join hand in hand with them as we raise the Falling Flag of our Republic. Let do this for all of those who did so in generations gone by and lets do it for generations yet to be born!
Semper Fi to God and The Republic!
FYI: I'll be speaking on The Life & Character of Ronald Reagan on May Tuesday 21st in Depere, WI for the NewPatriots, Thursday, May 28 for the WinnebagoCounty GOP & The Reagan Ranch Center in Santa Barbara, CA June 21st.
For more details contact me through my website. I'm sorry I have not kept up the web-site schedule but with FT work at The Academy, PT work at The College and speeches all over WI & the US...well this one man band needs another player:)
© Jake Jacobs
---
The views expressed by RenewAmerica columnists are their own and do not necessarily reflect the position of RenewAmerica or its affiliates.
---