Rev. Mark H. Creech
Honesty and a politician's choice

By
Rev. Mark H. Creech
September 25, 2016
There has always been a deficit in the trust factor between the American people and politicians. According to recent
Gallup
polling, however, trust in political leaders is at its lowest point since 2004 – down 20 percentage points.
In polling provided by
Gallup
as late as Friday, September 23rd, "Both Hillary Clinton and Donald Trump continue to struggle to overcome Americans' perceptions of their lack of honesty. Only "[a]bout a third of U.S. voters are willing to say that the terms 'honest and trustworthy' apply to either Clinton or to Trump."
Dan Seaborn has eloquently written, "[W]e pay a high price when we hold things in, particularly when we know we've been dishonest on some level. We don't need ulcers and all kinds of other problems that result from a disturbed conscience. We certainly don't need to 'tell all,' especially if it would be unkind to do so, but dishonesty is never right."
Indeed, it isn't right. Dishonesty has serious consequences. It breaks down relationships. It ruins lives, destroys businesses, causes divorces and breaks up the home. It splits churches. Lying has caused the greatest disasters in human history. Lying can even be spiritually fatal.
All of this reminds me of a great parable I once read, which is most pertinent during an election year, and certainly demonstrates that dishonesty is toxic to the human soul.
It reads as follows:
A senator's soul arrived in heaven and was met by St. Peter at the entrance. "Welcome to heaven," said St. Peter. "Before you settle in, it seems there is a problem. We seldom see a high official around these parts, you see, so we're not sure what to do with you."

"No problem, just let me in," said the senator. "We'll I'd like to, but I have orders from higher up. What we'll do is have you spend one day in hell and one day in heaven. Then you can choose where to spend eternity," said St. Peter. "Really, I've already made up my mind. I want to be in heaven," said the senator. "I'm sorry, but we have our rules," St. Peter insisted. And with that, St. Peter escorted him to the elevator and he went down, down, down, down to hell.

When the doors to the elevator opened, however, the senator found himself in the middle of a beautiful green golf course. In the distance was a clubhouse and standing in front of it were all his friends and politicians who had worked with him. Everyone was very happy and in formal attire.

They all rushed to greet him, shook his hand, and reminisced about the good ol'days they had shared together, often at the expense of the people they were supposed to serve. They played a friendly game of golf and then dined on lobster, caviar, and champagne.

Also present was Lucifer, the devil himself, who really was an incredibly likeable fellow that was the life of the party. Everyone was having such a good time that before the senator realized it; the moment had come for him to leave.

Everyone gave him a hearty farewell and waved while the elevator rose. It went up, up, up, and the door reopened in heaven where St. Peter was found waiting. "Now it's time to visit heaven," said St. Peter. So, twenty-four hours passed with the senator joining a group of contented souls, praising God, singing hymns, with fellowship of the deepest and purest kind. The experience was truly meaningful and, before he realized it, the twenty-four hours had gone by and St. Peter returned.

"Well, now, you've spent a day in hell and another in heaven. Now choose your eternity," instructed St. Peter. The senator reflected for a moment, then answered, "You know, I would have never believed that I would have said this before, heaven has been nice, but I think I would really be better off in hell."

So St. Peter escorted him to the elevator and he went down, down, down to hell. The doors of the elevator opened and he found himself in the middle of a barren land with a dark, ominous and foreboding sky. The heat was exceedingly oppressive. He saw all his friends dressed in rags, some naked and unclean, many pulling around the chains of their former vices in life.

The devil came over to the man and put his arm around his shoulder. "I don't...I don't...I don't understand," stammered the senator. "Only yesterday I was here and there was a golf course and a clubhouse, and we ate lobster caviar, and drank champagne. It was tremendous. We were living the high life. Now there's just this wasteland, wasted lives, and miserable associations. What happened!?"

The devil looked at him, smiled, and said, "Yesterday we were campaigning. Today you voted."

I'm not saying Hillary Clinton, Donald Trump, or most politicians are going to end up in hell. I don't know. But what I am saying is what the Bible admonishes everyone of us about. Revelation chapter 21 and verse 8 says that people who are given to lying in life shall "have their part in the lake which burneth with fire and brimstone: which is the second death." Proverbs 19:9 warns, "A false witness will not go unpunished, and he who breathes out lies will perish."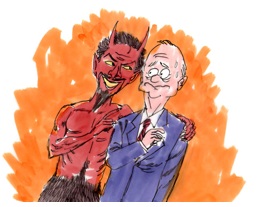 The irony of hell is that it is the culmination of everything we ever actually wanted and the just deserts of our actions. It is the harvest we sowed on earth. The message of judgment is that none of us ever gets away with anything. If we live by lies, then we shall die by them. If we spread lies, then our lying will betray us in the end.
God wants us to be lovers of the truth. Can you imagine how wonderful our personal lives would be, how remarkably delightful our national life, if truth characterized the behavior of our leaders and its people?
"On the one hand is the beautiful kingdom of righteousness and truth and light and life. On the other, the kingdom of evil, lies, darkness, and death," Pastor John Bisagno once wrote. "The choice is yours. Only the Lordship of Jesus Christ in your life can bring you into the kingdom of truth."
How will you choose? Vote Christ! He is "the way and the truth and the life" (John 14:6). Decide for Him! Follow Him. You won't regret it.
The editorial above is a revised version of an article written by Dr. Mark Creech. The parable was adapted from a collection of humor from "The Greatest Joke Book Ever" by Mel Greene.
© Rev. Mark H. Creech
---
The views expressed by RenewAmerica columnists are their own and do not necessarily reflect the position of RenewAmerica or its affiliates.
---