Rev. Mark H. Creech
Miss California: an authentic demonstration of faith

By
Rev. Mark H. Creech
April 26, 2009
In
Becoming a Contagious Christian,
Bill Hybels and Mark Mittleberg tell the story of a newly promoted colonel who moved into a makeshift office during the Gulf War. While getting unpacked, the colonel noticed out of the corner of his eye a private coming his way with a toolbox.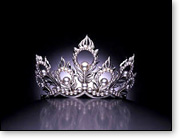 Wanting to seem important, he grabbed the phone. "Yes, General Schwatrzkophf, I think that's an excellent plan." He continued, "You've got my support on it. Thanks for checking with me. Let's touch base again soon, Norm. Goodbye." "And now what can I do for you?" the colonel asked the private.
"Ahhh, I'm just here to hook up your phone sir," came the sheepish reply.
Fewer matters of life are more important than being authentic. When someone is authentic it's contagious, when not it's a major turn-off.
Miss California, Carrie Prejean's response during the Miss USA Pageant to a question asked about gay marriage on Sunday night was a demonstration of authentic Christianity. When openly gay judge Perez Hilton asked the beauty queen if every state should approve gay marriage as had Vermont and three other states, she replied: "I think it's great that Americans are able to choose one or the other. But in my country, and in my family, I think that I believe that marriage should be between a man and a woman. No offense to anybody out there, but that's how I was raised."
That answer incensed Hilton and he later railed against her on his video blog as a "dumb b@*!." Hilton said that Prejean had only "half a brain" and had she won the crown he would have run up on stage and snatched it off her head and run away with it.
Prejean has stated she believes her answer cost the crown and many agree with her assessment. But whether she lost the crown because of it or not is irrelevant to the point that no matter how she answered, she was going to be severely criticized if she were authentic. She could pander to the audience and the judges or she could be real.
In an interview with Matt Lauer on the
Today
show, Prejean, a dedicated Christian, stated that she didn't regret her answer and that she had spoken honestly from her heart, from her beliefs and for her God. "It's not about being politically correct," she argued. "For me, it's about being biblically correct."
Renowned Scottish Christian commentator William Barclay once stated that Jesus had not come to make life easy, but to make men great.
In this day of easy Christianity, it's hard for many to understand how the first Christians suffered for their authenticity. Christians often found their faith in conflict with their work, their social lives, and their families. Barclay notes that if a man were a stone mason, he might have to choose between his job or building a temple to a heathen god. A tailor might have to choose between a lucrative position of making robes for the priests of idols and his loyalty to Jesus Christ. Christians often had to cut themselves off from social gatherings where the meat and wine were dedicated to the gods rather than by their presence give approval to such things. Becoming a Christian would often mean being ostracized from one's family members. Worst still, because they esteemed Christ as Lord and not Caesar, some were thrown to the lions, burned at the stake, and suffered unspeakable tortures at the hands of their persecutors.
But there is no greater honor in life than to suffer — to be marginalized — to be diminished in importance by others — to suffer loss for an authentic expression of faith. It is the highest crown a believer can wear. It is to walk the same road as the prophets and the great saints of yesteryear trod. Jesus admonished: "Blessed are those who are persecuted for righteousness' sake for theirs is the kingdom of heaven. Blessed are you when men revile you and utter all kinds of evil against you falsely on my account. Rejoice and be glad for your reward is great in heaven..." (Matthew 5:10-12).
Barclay rightly notes that there is always a price to pay for the closest companionship with Christ. "It is inevitable because the Church, when it really is the Church, is bound to be the conscience of the nation and the conscience of society. Where there is good the church must praise; where there is evil the Church must condemn — and inevitably men will try to silence the troublesome voice of conscience."
Yet it is that voice of conscience that is the hope of the nation.
In a day when Christians seem to be more concerned with being "cool" than with being genuine, Prejean's stand for righteousness is a reminder of the words of John Henry Jowett: "The multitude is not sick of Jesus; it is only sick of his feeble and bloodless representatives. When once again a great church appears, a church with the Lord's name in her forehead, a church with fine muscular limbs, and a face seamed with the marks of sacrifice, the multitude will turn their feet to the way of God's commandments."
In the Tar Heel State, there is considerable pride that Miss North Carolina is now the new Miss USA. But also, for many in this State who seek to faithfully follow Jesus Christ, there is rapturous joy in Miss California's authentic demonstration of Christianity.
© Rev. Mark H. Creech
---
The views expressed by RenewAmerica columnists are their own and do not necessarily reflect the position of RenewAmerica or its affiliates.
---