Alan Caruba
The Arab armies

By
Alan Caruba
February 9, 2015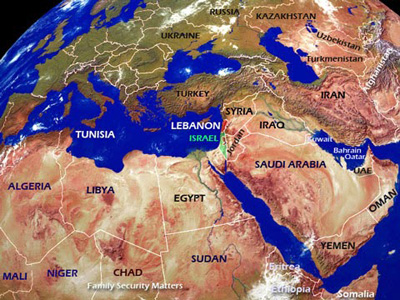 The ongoing Syrian conflict, the fall of the Yemeni government, the burning of the Jordanian pilot, and other events make one wonder why even those Arab nations with significant military capabilities tend not to use them against a common enemy.
The attacks on ISIS by the Jordanian air force have been a dramatic example of what could be done to eliminate this threat to the entire region if the other military forces would join in a united effort.
This raises the question of why the armies of various Middle Eastern nations do not seem to be engaged in destroying the Islamic State (ISIS). The answer may be found in a casual look at recent history; these armies have not been successful on the field of battle. Most recently what passed for the Iraqi army fled when ISIS took over much of northern Iraq.
Since 1948 the Arab nations that attacked Israel were repeatedly defeated. The Iraq-Iran war conducted by Saddam Hussein finally stalemated after eight years. Later it took the leadership of the U.S. to drive Saddam's Iraq out of Kuwait.
In October 2014, the
Business Insider
published a useful ranking of Middle Eastern militaries put together by Armin Rosen, Jeremy Bender, and Amanda Macias. Ranked number one should surprise no one. It was Israel which has a $15 billion defense budget, 176,000 active frontline personnel, 680 aircraft, and 3,870 tanks.
Unlike previous administrations dating back to Truman, while the U.S. is technically still an ally of Israel, in reality the Obama administration has demonstrated animosity toward the only democratic nation in the region. Indeed, the U.S. has been engaged in lengthy negotiations with Iran that would ultimately permit it to become a nuclear power. There isn't a single Middle Eastern nation that wants this to occur and it has greatly harmed U.S. relations with them.
Ranked second militarily is the Turkish Armed Forces with an $18.1 billion defense budget, 410,000 active frontline personnel, 3,675 tanks and 989 aircraft. This nation has shifted heavily toward being an Islamist state as opposed to the secular one it had been since the end of the Ottoman Empire in the last century. Its military hasn't been involved in a conflict since the Turkish invasion of Cyprus in 1974. It is a NATO-allied military but that doesn't mean it will support NATO in a future conflict. It was used against the Kurdish separatist movement in the 1980s, but these days the Kurdish Peshmerga, between 80,000 and 100,000 strong is now ranked as "one of the most formidable fighting forces in the Middle East" and it is likely the Kurds will carve their own nation out of an Iraq which barely exists these days.
Number three among the Middle East militaries is Saudi Arabia with a $56.7 billion defense budget, 233,500 active frontline personnel, 1,095 tanks, and 652 aircraft. It has been closely allied with the U.S. for decades, but the Obama Iranian nuclear negotiations have negatively affected that relationship. One can assume the same from its other allies, Kuwait, Bahrain, and the United Arab Emirates. Saudi Arabia has also provided "substantial assistance" to post-coup Egypt.
The rankings put the United Arab Emirates a #4, Iran at #5, Egypt at #6, Syria at #7, Jordan at #8, Oman at #9, Kuwait at #10, Qatar at #11, Bahrain at #12, Iraq at #13, Lebanon at #14, and Yemen at #15. The Business Insider article noted that "The balance of power in the Middle East is in disarray" and that's putting it mildly.
Debka File
, an Israeli news agency, reported on February 5 that "The group of nations U.S. President Barack Obama assembled last September for an air offence against ISIS inroads in Iraq and Syria is fraying."
It deemed the participation of the UAE, Jordan, Saudi Arabia, Iraq and Bahrain as "more symbolic than active" noting that Iraq has no air force to speak of and an army in name only while the Saudis "allotted a trifling number of planes to the effort" and Bahrain has no air force at all. The UAE has the biggest and most modern air force and it has reportedly joined with Jordan to attack ISIS strongholds.
Debka reported that the coalition is "adamantly opposed to Obama's policy...and loath to lend their air strength for its support" and that is very good news for ISIS, but not for the rest of the Middle East.
In October, Commentary magazine published an analysis by Ofir Haivry, vice president of the Herzl Institute in Jerusalem, about the
"Shifting Alliances in the Middle East."
It began with the observation that "The old Middle Eastern order has collapsed" as "the ongoing Arab uprisings that begin in late 2010 have unseated or threaten to unseat every Muslim government in the region."
Postulating 'five broad, cross-regional, and loosely ideological confederations," Haivry concluded that "Perhaps our biggest challenge is not a new Middle East, but a new United States in paralysis. Under the Obama administration, America's historic aspiration to shape events in the region has given way to confusion and drift."
It should not come as that much of a surprise that Israel has been developing intelligence and security relations with several Arab nations, including what the Middle East Monitor described as "growing secret cooperation between Israel and Saudi Arabia." That sounds like very bad news for Iran and very good news for the rest of us.
© Alan Caruba
---
The views expressed by RenewAmerica columnists are their own and do not necessarily reflect the position of RenewAmerica or its affiliates.
---