Alan Caruba
Challenging Obama's alleged powers

By
Alan Caruba
January 7, 2015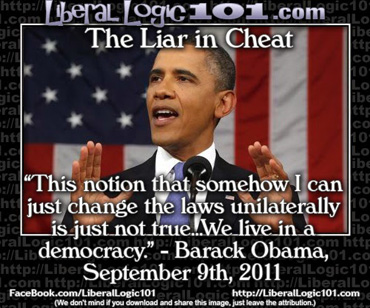 The good news as 2015 debuts is that President Obama has managed to very nearly decimate the Democratic Party, leaving it weaker in Congress and throughout the nation than it has been in memory. The bad news is that he has weakened the nation in the eyes of the world. He is not trusted by world leaders and his next two years in office will only encourage our enemies.
"Checking Obama's misuse of his foreign-affairs powers should be a top priority for the new Republican majorities in Congress," urged John R. Bolton and John Yoo in the final issue of the
National Review
for 2014. Together they authored
"Advice on 'Advice and Consent.'"
Bolton is a former U.S. ambassador and Yoo a law professor at the University of California, Berkeley. Both are affiliated with the American Enterprise Institute.
At home Obama's popularity, generally remaining between 45% and 50%, has got to be one of the great polling mysteries, but in all polls 30% of those responding are unregenerate liberals so the reality of his job approval ratings is likely far lower than reported. At the same time, though, Congress has even lower approval ratings and the huge shift in power that occurred in the midterm elections suggests that the voters want to see some real action taken to curb Obama.
As Bolton and Yoo point out "These assertions of unilateral executive power raise constitutional conflicts of the first order. Congress must first ask whether any of Obama's agreements include obligations sufficiently grave to amount to a treaty under the Constitution – or, alternatively, whether these potential deals flow from the President's legitimate constitutional authority in foreign affairs, and thus need not be embodied in treaties.'
This is not the kind of thing the average person thinks about, let alone has the knowledge of Constitutional issues to understand. What we do know, however, is that Obama has little regard for the Congress and even less for the Constitution. That's why the issues Bolton and Yoo address are important.
For example, "there are some reports...the administration has pledged not to use military force against Iran in exchange for a halt to its nuclear-weapons program." The negotiations with Iran have met with such resistance from Iran that the U.S. and others participating in them have twice agreed to extend them. Iran has never demonstrated any other objective than to have its own nuclear weapons.
Bolton and Yoo say "Republicans and Democrats should agree on one thing when it comes to military force: An international agreement's renunciation of the use of American force manifestly limits U.S. sovereignty, with enormous effects on national security. Obama's move on Iran may well violate Article II of the Constitution." Senate approval by a two-thirds supermajority would be needed for any such agreement with Iran. "White House claims that an Iran deal does not amount to a treaty ring false."
The claims by the White House are universally false. That is something that Americans have learned the hard way over the past six years. While Presidents have long made 'sole executive agreements,' treaties require the Senate's advice and consent and Obama knows he's not likely to get that.
It's one thing for Obama to make a "climate change" deal with China – and a bad one at that – agreeing to cut U.S. "greenhouse gas" emissions, the fact remains that "The President cannot commit the nation to environmental standards on his own, because only Congress has the constitutional power to control interstate and international commerce (under which heading the federal government regulations the environment.)"
The new Congress is not going to go along with Obama's deal with China because Obama lacks the authority to enact it. "At the very least," say Bolton and Yoo, "the China climate deal should be approved by majorities in both houses of Congress, if not by two-thirds of the Senate."
"Congress should use the tools that the Constitution provides to protect its political influence in foreign affairs," say Bolton and Yoo, adding that "Congress can make clear that any agreement made by Obama alone binds only him."
Other than his power as President to veto legislation sent to him, Obama lacks any real power to effect his foreign affairs initiatives and, domestically, he is not going to achieve anything other than by mean of executive orders and the use of federal government agencies to produce regulations. Congress has oversight and it can restrain and overturn the actions of agencies if they are particularly egregious and it is beginning at least to use it more frequently.
We are hoping that the new Congress is going to act on the voter's expectation that it will restrain Obama's efforts to push through programs that harm the best interests of the nation. In the long history of the nation, Congress has never encountered a President whose agenda is to do as much harm as possible.
The next two years will likely see many Democratic members of Congress voting with Republicans. They will do so because Obama has wreaked so much damage to the Party and because they are looking at the national elections coming in 2016 and positioning themselves for them if they must run for office.
Obama is not just the enemy of the Democrats and Republicans in Congress. He is the enemy of the people.
© Alan Caruba
---
The views expressed by RenewAmerica columnists are their own and do not necessarily reflect the position of RenewAmerica or its affiliates.
---