Alan Caruba
Iran will negotiate until it becomes a nuclear power

By
Alan Caruba
November 24, 2014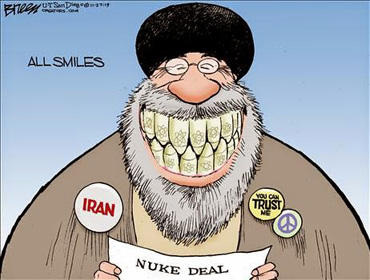 Monday, November 24, is the deadline for the negotiations between Iran and the United States, Britain, France, Germany, Russia and China regarding its program to build its own nuclear weapons to conclude. At this writing, whether the negotiations will be extended or not is unknown, but it seems unlikely.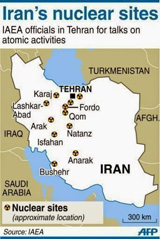 President Obama has been obsessed with Iran, seeking to change its hostility by finding an answer to the problem its nuclear weapon program represents. That is typical of his "magical thinking" whereby something he wants is automatically assumed to be accessible. In the case of Iran, it has been hostile to the U.S. since its revolution in 1979 and remains so today.
Iran has cause. As Marin Katusa, a leading energy investor, explains in his book, "The Colder War," the U.S. was instrumental in overthrowing Mohammad Mosaddegh, an Iranian prime minister who set about nationalizing its oil industry. The U.S. stagied a coup in 1953 and reinstated the pro-U.S. shah. "Post-coup, the shah grew increasingly authoritarian and, in 1979, the Iranian revolution forced him to flee."
Katusa reports what followed: "The U.S. government judged it futile to try to reinstate a pro-Western regime. So it turned its back on the shah and encouraged an invasion of Iran by Iraq. Saddam Hussein, the secular Iraqi dictator, went to war against his neighbor, supported by money and weapons courtesy of the United States." The war last eight futile years and cost both nations hundreds of thousands of lives. No need to wonder why Iran hates and distrusts the U.S.
The essential problem of a nuclear Iran is that it has been an extremely aggressive nation since 1979. Iran is widely regarded as the primary supporter of terror in the Middle East. It sponsors two Palestinian organizations, Hezbollah in Lebanon and Hamas in Gaza. Iran's support for bombings and other acts of terror would fill a book.
Even if the current negotiations come to an end, Iran still has friends. Two of the nations involved in the negotiations are an example. Iran is allied with Russia in supporting the civil war to overthrow Syria's Assad regime. China is a major customer for Iran's oil.
"Though Iran may be isolated from the United States and Western Europe," says Katusa, "Tehran still has allies. Venezuela has advanced $4 billion for joint projects, including a bank. India has pledged to continue buying Iran oil...Greece opposed the European Union sanctions because Iran was one of very few suppliers willing to sell oil to the bankrupt Greeks on credit...South Korea and Japan are pleading with the United States for exemptions (to the sanctions) because of their reliance on Iranian oil."
"Economic ties between Russia and Iran have gotten stronger every year since Putin became president in 1999," notes Katusa. "Finally, there's China. Iran's energy resources are a matter of national security for China, as Iran supplies 15 percent of China's oil and natural gas."
Writing in The Washington Times on November 19, Clifford D. May, president of the Foundation for Defense of Democracies, took note of the November 24 conclusion date for the negotiations and asked, "What are the odds they will end with Iran's rulers agreeing to verifiably dismantle their illicit nuclear weapons program? I'd wager 100 to one against that outcome, but I doubt I'd find a bookie willing to take my bet."
May suggested that there may be "a 'framework agreement,' a statement of principles that will be the subject of another round of talks. Such a deal could include another sweetener, e.g., billions of dollars of additional sanctions relief for Iran."
If the U.S. and co-negotiators arrive at a deal that allows Iran to become a nuclear power it will lose the trust of important Middle Eastern nations such as Saudi Arabia and the United Arab Emirates who already feel threatened by Iran.
Ultimately it does not matter how long the negotiations continue or not. Only one man in Iran will decide how they end and that is the Supreme Leader, Ayatollah Ali Khamenei, and there is no indication he wants anything less than Iran's ability to manufacture its own nuclear weapons to put on its missiles or as bombs. Among Iran's neighbors are Russia, China, India and Pakistan, all of whom have nuclear weapons. Israel too.
The Iranians have been negotiating a very long time and a recent statement by an Iranian official sums up what they have been saying for years. "We need more time to resolve technical issues and don't forget that the time frame for lifting sanctions is still a huge dispute." The longer they negotiate, the closer they get to having the nuclear weapons they want.
If the negotiations continue, it will be because the negotiators have once again caved into Iran and there will be no surprise about that. The real surprise will be the announcement that Iran has tested a nuclear weapon and, in the end, that should not be a surprise.
© Alan Caruba
---
The views expressed by RenewAmerica columnists are their own and do not necessarily reflect the position of RenewAmerica or its affiliates.
---