Alan Caruba
The two Ukraines

By
Alan Caruba
November 19, 2014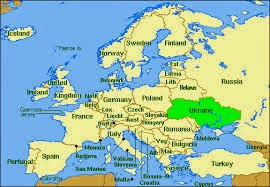 "Obama is just not up to the task – a geopolitical lightweight who was easily outmaneuvered in Syria and Iran."
That's Marin Katusa, writing in his new book, "The Colder War: How the Global Energy Trade Slipped from America's Grasp" ($29.95, John Wiley and Sons, and Casey Research). Katusa is no fan of President Obama, but one might wonder who is these days other than the 48% of Americans who think he's doing a great job. Calling them stupid as the now famed Jonathan Gruber of ObamaCare fame has done is not far from the mark.
Katusa is a successful fund manager with a specialty of investing in the energy sector and helping to create energy companies. Along the way he has been to many nations around the world to see firsthand how their governments impact the energy companies working domestically and beyond. This is particularly true of Russia's Vladimir Putin who took the collapsed Soviet Union and brought Russia back to life as the Russian Federation. At the core of the revival were and are his energy strategies.
That is what is at work these days in the Ukraine, divided between those who want it to join the European Union and NATO, and those who want to ally with Russia. Katusa reminds us that "At one time, Ukraine was Russia. Kievan Rus, the first East Slavic state, was established by the Varangians in the ninth century."
"At the end of the eighteenth century, Ukraine was partitioned, with a small slice going to Austria/Hungary and the rest to the Russian Empire. The second decade of the twentieth century was as chaotic for Ukraine as it was for the rest of Europe. Civil War raged from 1917 to 1921, with a host of factions vying for control of the government of the newly proclaimed Ukrainian Republic. Their sovereign state proved to be short-lived."
"By 1922, the Ukrainian army was overpowered and the nation became the Ukrainian Soviet Socialist Republic." World War Two was a horror for Ukraine. One out of every six Ukrainians died during the war, many of whom sided with Nazi Germany against Russia. It was recaptured in 1944 by the USSR.
Why is it important to Putin and Russia in 2014?
He wants to ensure that Ukraine, via pipelines, accommodates Russia's natural gas production to buyers in Europe. "Half of Russia's gas exports to the European Union (which cover 25 percent of the EU's consumption) pass through Ukraine."
Putin also needs to ensure that the Russian Navy has a secure port at Sebastopol on the Crimean Peninsula for to access to the Black Sea. Moreover, having Ukraine in its sphere of influence provides what the former USSR satellite nations did, a buffer that keeps NATO at a distance. Russia annexed Crimea shortly after Ukraine had political problems in March 2014.
Finally, Putin wants Moscow to be seen as the protector of all Russian people, including the eight million, 18% of Ukraine's population, who live in the eastern part of the nation.
"For 15 million Ukrainians, about one-third of the population, Russian is the first language," notes Katusa, "They are concentrated in the eastern parts of the country, and in some areas, including Crimea, they are a majority."
In a very real sense, the Ukraine is actually two nations, a western leaning one and an eastern leaning one. When "an independent Ukraine emerged in 1991 after the collapse of the Soviet Union" it was, as Katusa notes, a country that was plagued by corruption and political intrigue from day one. For Russia, pre-and-post collapse, it has always been a real pain, often stealing gas from the pipelines passing through it or defaulting on payment for its use.
I will pass on the politics of Ukraine that got us all to this point, but suffice to say that Putin's efforts to bring at least the eastern portion under Russian influence or control has not gone down well with European nations, virtually all of whom are highly dependent on the gas and oil they purchase from Russia. The U.S. has put sanctions on Russia and Canada's Prime Minister, Stephen Harper, bluntly told Putin to get out of the Ukraine at the recent G-20 conference in Australia.
The fear is that, if Putin is successful in breaking away the eastern half of Ukraine, he would not only want the other half but set his eyes on former Soviet Union satellite nations in Eastern Europe.
Speaking in Australia after the G-20 conference, Germany's Chancellor
Angela Merkel
warned that Putin was practicing a foreign policy reminiscent of the Cold War. "This isn't just about Ukraine" she said in a question-and-answer session. "This is about Moldova, this is about Georgia, and if this continues then one will have to ask about Serbia and one will have to ask about the countries of the Western Balkans."
"What happens next in Ukraine," writes Katusa, "is anyone's guess. But it's not likely to be pretty." Putin has said he will not intervene militarily, but adds that he would act to protect the Russian population in its eastern half if he thought they were being threatened.
I personally believe Putin is far too canny to engage in an active overt military takeover of Ukraine. He is more likely to fund and arm the eastern half to a point where they can declare themselves a separate nation. It is doubtful that either the EU or NATO would intervene. Russia has already demonstrated that it would turn off the gas if they did. That would essentially shut down Europe.
A new, Colder War is developing says Katusa. "Its weapons would be oil wells, gas fields, uranium mines, energy processing plants, pipelines, and ports. Again, Europe would be the primary zone of engagement even though the United States would be the primary opponent."
Now consider this. Prior to and during the past six years of the Obama administration, the environmental movement in the U.S. has thrown up all manner of obstacles to the development of any of the U.S. reserves of coal, oil, and natural gas. The refusal to approve a Canadian oil pipeline to our Gulf coast is just one dramatic example, the failure to be able to tap the huge energy reserves in Alaska is another, and the slowness of issuing permits to seek oil on federal lands and offshore is another.
For two decades the U.S. has tied its own hands despite being the Saudi Arabia of coal and having more oil than any other nation. The size of our natural gas reserves is huge. And we need to be building more nuclear facilities to generate electricity. Instead, the EPA is forcing coal-fired plants out of business. Our electrical grid is in need of repair and expansion. Et cetera!
Putin must look at Obama and the U.S. and wonder just how stupid we are.
© Alan Caruba
---
The views expressed by RenewAmerica columnists are their own and do not necessarily reflect the position of RenewAmerica or its affiliates.
---