Alan Caruba
The Syrian Rubics cube

By
Alan Caruba
September 30, 2014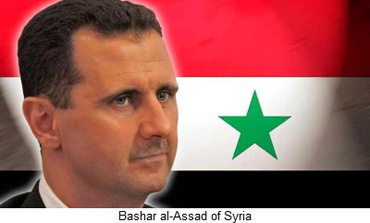 One has to have some sympathy for those in the CIA or the White House folks charged with telling the President what has been going on in Syria since 2011 when the opposition to Bashar al-Assad's dictatorship turned into a fighting war. It must have looked and felt like playing with a Rubics cube where the competing groups and militias kept changing all the time.
In his book, "Inside Syria," Reese Erlich, a Peabody Award-winning journalist and author of four books on foreign policy, has a chapter devoted to the way the Syrian revolt took shape. "The antigovernment demonstrations began in the southern city of Daraa in March 2011."
Erlich reports that they began after police arrested several pre-teen school children for writing anti-regime graffiti on the walls of a school. Being Syria, they were beaten and tortured. More than 600 protesters confronted the local governor demanding the injured children be let free. Security forces attacked the group and killed two of the protesters. This is in keeping with the Middle Eastern mentality and culture, something Americans, accustomed to having peaceful demonstrations, have difficulty comprehending.
"By mid-March demonstrations broke out in Damascus and other parts of the country" because the Arab Spring had let loose a vast feeling of discontent and opposition in a number of nations and the Assad regime was, to put it mildly, unpopular. It didn't help that "Assad cracked down mercilessly on peaceful protesters" opening fire with live ammunition. Security forces arrested and tortured anyone suspected of participating in the protest.
It is necessary to understand that it is difficult to organize Syrians or other Middle Easterners under the best or worst of conditions and that explains why Americans following events can be forgiven for trying to figure out who was doing what. That includes our intelligence community.
"Local Coordinating Committees developed spontaneously in many cities as mostly young activists created grassroots groups unaffiliated with the traditional opposition. They were united on the need to overthrow Assad, hold free elections, and establish a parliamentary system with civil liberties."
It only took from March 2011 to July for defectors from Assad's army to announce formation of the Free Syrian Army (FSA), followed on both sides by targeted assassinations.
For many years the Muslim Brotherhood seemed to be the most influential opposition group, but it was led by an older generation that was surprised by the events led by young Syrians. "Brotherhood leaders had cultivated extensive ties internationally, particularly with the Islamist government of Turkey. Those leaders became major players in the formation of yet another group, the Syrian National Council, (SNC) based in Istanbul. Suffice to say that there are many secular, non-religious, Muslims in the Middle East and those in Syria were not inclined to believe anything the Brotherhood's SNC had to say.
The Obama administration had a problem figuring out who to support in the developing civil war. They opted for the Free Syrian Army, as did Turkey, Saudi Arabia, and Qatar, but it was reluctant to provide arms with which to wage a war against Assad. By the spring of 2012, the FSA was asking for shoulder-fired missiles capable of bringing down aircraft and our CIA said no, fearing they would fall into the wrong hands which in Syria's case could be virtually any other group.
Another group was Jaysh al-Islam (Army of Islam), "formed from the September 2013 merger of dozens of smaller militias, mostly in the Damascus area." They were Islamists preferring Sharia law and they flew the black flag of jihad. By the end of 2013 they helped form the Islamic Front. To make things more confusing there was another group, Ahrar al-Sham, one of the largest militias in Syria and their aim was a Sunni Islamic state.
In November 2013, al-Sham joined with other conservative groups and they opposed the Syrian Free Army and the Syrian Military Council, along with the al Qaeda affiliated groups of al-Nusra and the Islamic State of Iraq and al-Sham. Confused? Who wouldn't be?
Suffice to say al-Nusra was devoted to creating an Islamic state ruled by the Koran. In December 2012, the U.S. State Department put al-Nusra on its list of terrorist organizations because of its ties to al Qaeda, but it turned out that an even more extreme group existed, calling itself the Islamic State of Iraq and al-Sham (ISIS). It was this group that announced it would lead an Islamic State in the area seized from Syria and Iraq.
ISIS is so extreme that in February 2014 Ayman al-Zawahri, the al Qaeda successor to bin Laden, cut ties to ISIS.
The U.S. and a handful of coalition partners are currently bombing ISIS in Syria and Iraq. In time the U.S. will have to put ground troops into the area to root out and kill ISIS.
Barack Obama has become a war President thanks to the chaos he created by removing U.S. troops from Iraq in 2011 and to the Arab Spring that swept over nations whose populations wanted to be rid of dictators like Bashar Assad.
This will not likely end soon.
© Alan Caruba
---
The views expressed by RenewAmerica columnists are their own and do not necessarily reflect the position of RenewAmerica or its affiliates.
---