Alan Caruba
There is no global warming and will be none for decades

By
Alan Caruba
February 10, 2014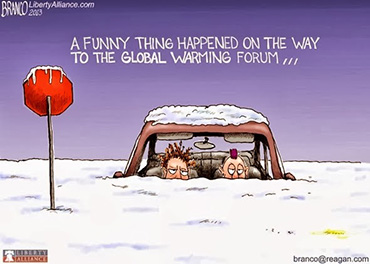 I recently received an unsigned email about my
Sierra Club commentary
in which I pointed out that it opposes traditional forms of energy and made a passing reference to Obama's lie that "climate change," the new name for global warming, was now "settled science."
Global warming was never based on real science. It was conjured up using dubious computer models and we were supposed to believe that the Intergovernmental Panel on Climate Change could actually predict what the climate would be twenty, fifty, or a hundred years from now.
The writer of the email disagreed with me. "lol you are a f**king idiot. you don't believe there is global warming going on? you need to let your prejudices go and stop basing your views on what your political stance is...do you research you f**king faggot."
Now, not everyone who believes in global warming is as rude as this individual and certainly not as ignorant, but his message suggests that those who do not believe in it do so as the result of "a political stance" when, in fact, our views are based on science.
Anyone familiar with my writings knows that a lot of research is involved. In my case, it dates back to the late 1980s when the global warming hoax began to be embraced by politicians like Al Gore who made millions selling worthless "carbon credits" while warning that "Earth has a fever."
A small army of scientists lined their pockets with government grants to produce data that supported the utterly baseless charge that carbon dioxide was causing the Earth to warm. They castigated other scientists or people like myself as "deniers" while we proffered to call ourselves sceptics. They were joined by most of the media that ignored the real science. And the curriculums in our schools were likewise corrupted with the hoax.
Then, about 17 years ago the Earth began to cool. It had nothing to do with carbon dioxide – which the Environmental Protection Agency deems a "pollutant" despite the fact that all life on Earth would die without it – and everything to do with the SUN.
A few days after the email arrived, two-thirds of the contiguous U.S.A. was covered by snow. As this is being written, Lake Superior is 92% frozen, setting a new record. As of February 5, the entire Great Lakes system was, according to the Great Lakes Environmental Research Laboratory, 77% covered with ice.
On February 1st, NOAA and NASA held a joint press conference in which they released data about 2013's global surface temperature. They made reference to a "pause" in the temperature that began in 1997. Dr. David Whitehouse, science editor for the BBC, noted that "When asked for an explanation for the 'pause' by reporters, Dr. Gavin Schmidt of NASA and Dr. Thomas Karl of NOAA spoke of contributions from volcanoes, pollution, a quiet Sun, and natural variability. In other words, they don't know."
Both of these government agencies, along with others like the EPA and the Department of the Interior are staffed by people who understand that their employers are deeply committed to the global warming hoax. One should assume that almost anything they have to say about the "pause" is based entirely on politics, not science.
Then, too, despite the many measuring stations from which data is extracted to determine the Earth's climate, there is a paucity of such stations in COLD places like Siberia. Stations here in the U.S. are often placed in "heat islands" otherwise known as cities. If you put enough of them close to sources of heat, you get thermometer readings that produce, well, heat.
People in the U.S., England, Europe and other areas of the world who do not possess Ph.ds in meteorology, climatology, geology, astronomy, and chemistry have begun to suspect that everything they have been told about global warming is false. Between 1300 and 1850 the northern hemisphere went through a mini-ice age. After that it began to warm up again. So, yes, there was global warming, but it was a natural cycle, not something caused by human beings.
Nature doesn't care what we do. It is far more powerful than most of us can comprehend.
This brings us back to the Sun which determines, depending on where you are on planet Earth, how warm or cold you feel. The Sun, too, goes through cycles, generally about eleven years long. When it is generating a lot of heat, its surface is filled with sunspots, magnetic storms.
When there are few sunspots, solar radiation diminishes and we get cold. Scientists who study the Sun believe it may encounter another "Maunder minimum," named after astronomer Edward Maunder, in which the last "Little Ice Age," between 1645 and 1715, occurred. The Thames in England froze over as did the canals of Holland froze solid.
There is no global warming and scientists like Henrik Svensmark, the director of the Center for Sun-Climate Research at Denmark's National Space Institute, believes that "World temperatures may end up a lot cooler than now for 50 years or more." I agree.
© Alan Caruba
---
The views expressed by RenewAmerica columnists are their own and do not necessarily reflect the position of RenewAmerica or its affiliates.
---