Alan Caruba
Be afraid. Be very afraid.

By
Alan Caruba
May 23, 2013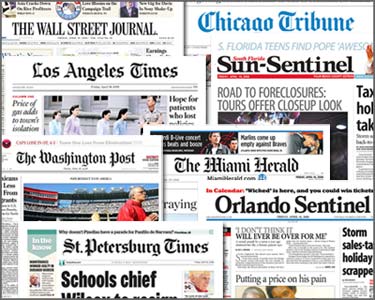 From its earliest days, even before the Revolution, Americans valued their newspapers and understood they played a crucial role in the issues and events of the times in which they lived. It would take a while, however, before newspapers evolved from highly partisan advocates of the early political factions to their role as watchdogs of government.
A literate population depended on them for news that revealed the increasing futility of dealing with a British monarchy and parliament that found new ways to tax the essentially independent colonies. Newspapers became the glue of the new nation, eagerly read in every state, providing news of Congress and the presidency.
By contrast, authoritarian governments understood the need to keep a tight control over the news and none more than the Third Reich of the Nazi Party and in the Soviet Union.
On May 21st,
Kirsten Powers
, writing in the Daily Beast.com, borrowed from words of pastor Martin Niemoller, a German who witnessed their rise to power and who framed the manner in which the Nazis targeted, jailed and killed all those they deemed enemies of the state.
His poem,
"First they came"
was echoed by Powers who wrote "First they came for Fox News, and they did not speak out – because they were not Fox News. Then they came for government whistleblowers, and they did not speak out – because they were not government whistleblowers. Then they came for the maker of a YouTube video, and – okay we know how this story ends. But how did we get here?" The "we" to whom she referred are the nation's journalists.
"Turns out," said Powers, "it's a fairly swift sojourn from a president pushing to 'delegitimize' a news organization to threatening criminal prosecution for journalistic activity by a Fox News reporter, James Rosen, to spying on Associated Press reporters."
"Where were the media when all this began happening?" asked Powers. "With a few exceptions, they were acting as quiet enablers."
This is what I and many other conservative observers and analysts of the President and his administration have been saying since 2009 and earlier. "These series of 'warnings' to the Fourth Estate," said Powers, "were what you might expect to hear from some third-rate dictator, not from the senior staff of Hope and Change, Inc."
In his book,
Mein Kampf
(My Struggle), Hitler demonstrated his contempt for the public. "The receptivity of the great masses is very limited, their intelligence is small, but their power of forgetting is enormous. In consequence of these facts, all effective propaganda must be limited to a very few points and must harp on these slogans until the last member of the public understands what you want him to understand by your slogan." Obama's 2008 slogan was "hope and change." He was vague about the change he had in mind, but we have been learning about it since his election.
Hitler and his minister of Popular Enlightenment and Propaganda, Joseph Goebbels, set up a department that dealt solely with newspapers. An instructive history of the press in the Third Reich can be found on the website of the
United States Holocaust Memorial Museum
.
"When Adolf Hitler took power in 1933, the Nazis controlled less than three percent of Germany's 4,700 newspapers." The elimination of the German multi-party political system ended hundreds of newspapers that would offer any opposition to the Nazi Party. What followed in the first weeks of 1933 was the systematic use of radio, press, and newsreels to stoke fears of a pending "Communist uprising." This occurred in a pre-television and, of course, pre-Internet era, but it was effective when backed up by the thuggish behavior of Hitler's paramilitary units that were used to "brutalize or arrest political opponents and incarcerate them in hastily established detention centers and concentration camps."
Not unlike the popularity and influence of Fox News, the well-known Berlin daily, the
Vossische Zeitung
, was targeted, along with the Berlin
Tageblat
t. The former employed 10,000 people, but in 1933, its owners, the Ullstein family, were forced to resign and, a year later, sell the company assets. The latter newspaper was owned by the Mosse family that published a number of major liberal papers "much hated by the Nazis." When Hitler took power, the family fled Germany.
This is not to suggest that Fox News or the Associated Press will suffer a similar fate, but it is no accident that their reporters are being intimidated by an administration that has seized telephone records as a message to their owners and editors to curb any criticism, any investigation of what they are doing.
Asserting that James Rosen, a Fox reporter, engaged in criminal behavior for doing what any reporter would do, seek out information about the government, has outraged many in the press, but whether they will stand firm or buckle under remains the real question. In Germany, the press became an arm of the Nazi regime.
If history is any guide, we have real cause to fear the intent of the Obama administration – one now distinguished by its leadership for having no memory of any steps they have undertaken to oppress organizations that oppose its agenda, mobilizing the IRS and Department of Justice.
We are looking into a tyrannical abyss and it is time to be afraid, be very afraid.
© Alan Caruba
---
The views expressed by RenewAmerica columnists are their own and do not necessarily reflect the position of RenewAmerica or its affiliates.
---