Alan Caruba
The Middle East minefield

By
Alan Caruba
November 29, 2012
I often wonder whether Americans really care about the outcome of events as regards Israel. I know that a segment of American Jews are concerned and that evangelical Christians may care even more.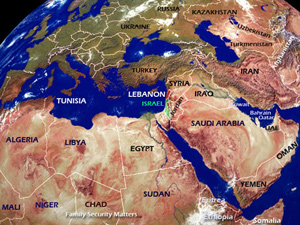 I can't escape the feeling, though, that other than the horror of an Iranian nuclear missile blowing up Israel and killing its citizens (both Jewish and Muslim), that most Americans are not that committed to its survival. I suspect that most Europeans are even less committed.
I cite Israel because of the hostility of all others in the Middle East, but they may
not
be as hostile as things appear. Israel is a major deterrent to Iran's ambitions.
Things are never what they seem in the Middle East.
A recent article in CanadaFreePress.com by
Doug Hagmann
suggests that the Benghazi affair that the Obama administration is trying to get passed actually masks a major arms movement from Libya to the Syrian rebels in order to overthrow its dictator, Bashar Assad. Hagmann asserts that it was a CIA operation, not a diplomatic one, and what was attacked was not a consulate, but rather a site for the storage and transmittal of weapons. The attack was an effort to disrupt it by those seeking to keep Assad in power, both Russia and Iran.
The major actors in this are the U.S., Turkey, and Egypt. The main benefactor would be Saudi Arabia whose oil fields are within the range of Iranian missiles. The Russians are part of the picture because they do not want to lose a key Syrian port for its naval ships, but Russia, too, is a major oil producer and anything that might harm its interests is seen as a bonus.
After 9/11 when the Twin Towers and the Pentagon were attacked Americans supported an energetic response, but after George W. Bush committed troops to Afghanistan and Iraq it wasn't long before Americans decided it was a bad idea. Too many memories of Vietnam along with too much cost in blood and treasure took the edge off of the reprisal in Afghanistan or the deposing of Iraq's Saddam Hussein. Iraq is an oil producer as well, but is now allied with the Iranians where its president found sanctuary during Saddam Hussein's reign of terror.
Leon Trotsky, an associate of Stalin, once said, "You might not be interested in war, but war may be interested in you." Wars occur in various ways, deliberate and accidental, but it is the latter that would seem the case these days in a Middle East where Hamas engaged in a lengthy barrage of rockets and then acted surprised that Israel responded, killing a number of their top people and inflicting a lot of damage in Gaza.
Hamas was acting under the orders from Iran. The president of Egypt, Mohamed Morsi, a leader of the Muslim Brotherhood, brokered a cease fire deal, but also decided he wants to be the next dictator of Egypt. Who saw that coming? The Egyptians had risked life and limb in Cairo's Tahrir Square to depose Hosni Mubarack and then turned around and voted Morsi into office.
What were they thinking? Why didn't they embrace a more secular leader? The answer is that Islam is everything in the Middle East. Muslims cannot change and it is foolish to think they will. If you loved the seventh century, you will love the Middle East.
Egypt is important to the U.S. What happens there determines much of the direction the Middle East takes. That explains why the Obama administration wants to forgive a billion in debt and to throw another billion or more at Morsi by way of enlisting him to act as a counter weight to Hamas. On Nov 24 Iranian president Mahmud Ahmadinejad was on the phone to Hamas's Ismail Haniya and with Jihad Islami leaders to assure them they would be receiving munitions to refill their arsenals.
Reportedly, Obama has agreed to send U.S. troops to Egypt's Sinai to interdict the arms smuggling routes through the desert to Gaza. Indeed, it was this offer that is said to have gotten Israel's Prime Minister Netanyahu to back off a ground invasion, but in this three dimensional game of chess, Israel, Egypt, and Turkey are all working with the U.S.
The U.S. Navy has been busy throughout the brief conflict and earlier. For years it has taken up permanent residency off the coast of Iran and in the Persian Gulf. Other elements are presently positioned off the coast of Syria where their Russian counterparts can also be found.
Bashar Assad has made Turkey very nervous. Moscow, Tehran, and Damascus want to keep him alive. Turkey borders Syria, Iraq, and Iran, and is in proximity of Russia, bordering Georgia. It has its hands full just tending to the thousands of Syrians that have fled there. The U.S. is providing Turkey with Patriot missiles and AWACs, manned by U.S. military, and that could become yet another flashpoint.
None of the nations involved want a really big war to break out.
The wild card is Israel whose very existence is threatened by Iran. The U.S. is doing what it can to avoid that. So far the cooperation is working. If Iran announces it has nuclear weapons or Israeli intelligence determines that's the case, all bets are off.
The major beneficiary of all of this is Saudi Arabia and, as the leader of the majority Sunni Muslims worldwide, it has no love for Shiite Iran. In effect the U.S. intelligence capabilities and its military have become its mercenary army, eliminating Saddam Hussein, standing aside when Mubarack and Gaddafi fell and now working to eliminate Bashar Assad.
The U.S. doesn't mind working with dictators, so long as they are "our" dictators, friendly to our interests.
© Alan Caruba
---
The views expressed by RenewAmerica columnists are their own and do not necessarily reflect the position of RenewAmerica or its affiliates.
---