Alan Caruba
The naked communism of Earth Day

By
Alan Caruba
April 21, 2010
It is no accident that April 22, Earth Day, is also the birth date of Vladimir Lenin, an acolyte of Karl Marx, the lunatic who invented communism as an alternative to capitalism.
Earth Day is naked communism.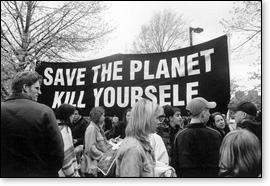 To begin, it substitutes a worship of the Earth, Gaia, for the worship of God, creator of the universe and the instructor of moral behavior for mankind.
The Earth does not demand a moral code of personal behavior. Indeed, the lesson it teaches is "the survival of the fittest "and an indifference to suffering. The "natural events" mankind fears most all involve the potential for significant loss of life and for injury.
The Earth is a beautiful place, but it is utterly merciless. Man has learned to adapt to it and, by adapt, I mean to use its resources to build shelter and protection from it, to plant and harvest crops from it, and to domesticate some of its species while hunting and fishing for others for food.
Earth Day postulates that man is the cause of harm to Earth by virtue of his cities, his highways, his use of its sources of energy, and even the garbage that results from the normal course of maintaining life. For centuries mankind routinely burned and buried garbage. Now we are told we must separate and recycle it. We are told that everything plastic is bad even though it is one of the great inventions of modern times.
Communism reached its zenith in the last century. Its imposition in the former Soviet Union, in China, and elsewhere is a litany of murder and oppression. In the 20th century, a minimum 110 million people died as a result. It enslaves mankind wherever it can.
Environmentalism has been built on the foundation laid by communism because both exist to control everyone's life. They are opposite sides of the same coin, both are opposed to the ownership of private property and both regard man as state property to be drained of his earnings through taxation.
Environmentalism's preferred method is coercion and the mechanism for this is government.
While America was established to ensure "life, liberty and the pursuit of happiness," environmentalism exists to exert more and more control over our lives by limiting our choices, our liberty. Environmentalism redefines happiness as doing without the advances of science and commerce that protects and prolongs our lives.
There is nothing voluntary about environmentalism.
There is nothing voluntary about having to recycle. There is nothing voluntary about having to fill your tank with a mixture of gasoline and ethanol. There is nothing voluntary about the imposition of mileage standards for cars. There is nothing voluntary about losing access to beneficial chemicals that control countless insect and rodent pests that spread disease and destroy property.
While the vast majority of Americans clamor for the government to permit access to our nation's vast natural resources of coal, oil, and natural gas it stands in the way, claiming always that drilling and mining pose a threat to the environment. At the same time it acquires more and more of the nation's landmass to deter access and economic growth.
In the name of the environment, the U.S. government is set to impose a Cap-and-Trade law on Americans that has no basis whatever in science and is, in fact, based on the greatest hoax of the modern era, "global warming."
Cap-and-Trade will tax energy use and directly control how much energy individual Americans can use to heat or cool their homes through "smart grid" technology controlled by the utilities, not the consumer.
Environmentalism is the reason the U.S. has not had a single new refinery or nuclear plant built since the 1970s. Think about that every time you drive your car or turn on the lights.
The spread of endless environmental propaganda has been taken up by the nation's mainstream media and has infiltrated the nation's schools through its textbooks and other means of instruction. Earth Day will be the occasion for an orgy of media coverage.
Just as communism failed the former Soviet Union and just as Red China abandoned communism as the model for its economy, environmentalism continues its relentless quest to deter economic growth and security in America. It is the infrastructure of a New World Order.
Do not celebrate Earth Day. Denounce it.
© Alan Caruba
---
The views expressed by RenewAmerica columnists are their own and do not necessarily reflect the position of RenewAmerica or its affiliates.
---