Rev. Mark H. Creech
Why I won't vote for a Democrat this election

By
Rev. Mark H. Creech
October 28, 2022
By the time most people have read this article, there will be less than ten days before the mid-term elections. Early voting started in North Carolina on Thursday, October 20. And, while news reports are saying early voting turnout nationally continues to climb past the midterm turnout at this same time in 2018, the North Carolina State Board of Elections says the count is down here for the same period. Such news is disturbing, especially when carefully considering our country's trajectory.
This election is not so much about the candidates running for office as it is about the political Party that nominated them. There was a time in America when one could hardly tell the difference between a Republican and a Democrat, but this is no longer the case. The two political Parties represent stark differences in their vision for America.
Now among many Christians today, it isn't vogue to express even a hint of political partisanship. It's asserted that to be this way is divisive within the Body of Christ. Nevertheless, truth should never be sacrificed on the altar of unity. Truth should never be suppressed, neglected, or silenced for the sake of agreement. Jesus Christ, the personification of truth, was once crucified and buried away in a tomb, partly at the hands of religionists. Yet God insisted the truth be loosed, liberated, and lifted up in Christ's resurrection. So, I'm afraid I have to disagree with my fellow Christians who argue political discussions should always be avoided at church. Moreover, I can't entirely agree that any remarks perceived as politically partisan must be scrupulously shunned within religious company.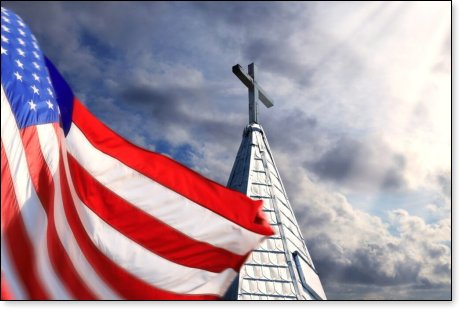 No arena of life, including politics, is exempt from God's plumb line. Politics must also be measured by his Holy Word, and accepted or rejected accordingly. There may be some minor differences upon which Christians may differ and agree to disagree. Still, the concerns of our day are of such moral gravity, and by nature, black and white, right and wrong, that there should be very few, if any, differences with each other on most political and social issues.
Having said this, I want to share why I cannot and will not vote for any Democrat in this election. I do not speak for the Board of the Christian Action League, nor do I speak for any church or donor who supports the League. I speak for myself.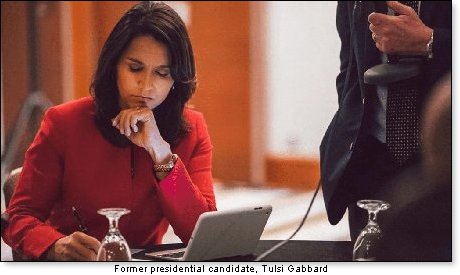 Recently, former Presidential candidate, Tulsi Gabbard, announced she was leaving the Democratic Party. Gabbard's explanation for leaving was jaw-dropping. Gabbard said:
"I can no longer remain in today's Democratic Party that is now under the complete control of an elitist cabal of warmongers driven by cowardly wokeness, who divide us by racializing every issue, and stoke anti-white racism, actively work to undermine our God-given freedoms, are hostile to people of faith & spirituality, demonize the police & protect criminals at the expense of law-abiding Americans, believe in open borders, weaponize the national security state to go after political opponents, and above all, dragging us ever closer to nuclear war. I believe in a government that is of, by, and for the people. Unfortunately, today's Democratic Party does not. Instead, it stands for a government of, by, and for the powerful elite. I'm calling on my fellow common sense, independent-minded Democrats to join me in leaving the Democratic Party. If you can no longer stomach the direction that so-called woke Democratic Party ideologues are taking our country, I invite you to join me."
I am quite sure that I would differ significantly from Gabbard on questions like abortion and LGBTQ. But I must say it's incredibly refreshing to witness such political integrity as Gabbard showed by denouncing the Democratic Party. Would that we might see the same integrity from certain Republicans who, figuratively speaking, ought also to leave the Democratic Party.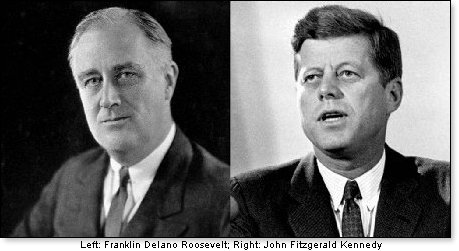 Are we aware of the significance of what Gabbard said about the Party she left? The Democratic Party of today is not the Party of FDR or JFK – far from it! The Democratic Party has essentially gone off the rails. Left in their hands, the work of liberty here and abroad will most certainly flounder and die.
Although some Republican officeholders have sorely disappointed conservative Christians on issues of ethical importance, the Party is still intact and generally in agreement with biblical values.
Drawing from comparisons by Wayne Grudem in his remarkable book, Politics: According to the Bible, allow me to share some significant differences between today's Democrats and Republicans.
Big Government v. Smaller Government
The Democratic Party wants more government control of our lives. The Republican Party believes in smaller government, allowing more for individual differences and freedom, except where those differences work to infringe upon the God-given rights of others.
Pro-choice v. Pro-life
The Democratic Party is a strong supporter of pro-choice abortion rights. Abortion is fundamentally opposed to the Scripture's teachings on the value of the pre-born child.
The Republican Party remains opposed to abortion and is pro-life. Most Republicans have worked to restore a culture of life in America.
Sexual Perversion v. Traditional Sexual Ethics
The Democratic Party has been largely supportive of every perversion of sexual mores and promoted them – LGBTQ – same-sex marriage – Transgenderism – Drag Queen Story Time for children – pornified books in school and public libraries made accessible to kids.
Republicans have generally resisted these trends and supported a more traditional sexual ethic. However, it's only fair to say we've seen slippage by some Republicans in this area, which is troubling for many conservative evangelicals.
'The Devil Made Me Do It' v. Personal Responsibility and Accountability
The worldview of Democrats, as a whole, is that the evil things people do are primarily the result of forces outside of the individual. In other words, people shoot and murder people because of the availability of guns. People rob and steal because of poverty. If we take away guns and equalize wealth, people will be better – people will be good.
Republicans generally reject the 'The Devil Made Me Do It' approach to evil. Instead, they believe sin is inherent to human nature, and, therefore, they emphasize the importance of taking personal responsibility and being personally accountable for one's own actions.
These differences translate into the way we view the role of law enforcement, criminal laws, and the military. Those who do evil cannot always be counseled or negotiated out of socially negative behaviors. Those who live wickedly still live wickedly, even in the best of conditions.
The fact is, more often than not, evil must be met with force and appropriate punishment. The Scripture teaches the primary purpose of government is to suppress evil and judge evildoers. (Romans 13:4-5). Rehabilitation and conversion are the responsibilities of the church.
Materialistic Evolution v. God's Good Creation
People who hold to materialistic evolution as their explanation for all of life mostly believe that since random processes created life, unanticipated events or careless acts by humans in developing the earth's resources can destroy the planet and all of life. Therefore, people who share this outlook on the world are drawn to the Democratic Party and agree with its foolish environmental policies, like the Green New Deal, which will work to seriously impoverish the nation.
Generally speaking, however, Republicans typically trust their religious backgrounds, which come from the Bible: God created a very resourceful and resilient earth, is in control, and has commanded us to use and develop the resources of this earth wisely. God has made a covenant with the earth, plants, animal, and human life, to protect and preserve this planet from complete destruction (Genesis 1:28; Genesis 8:21-22).
Although some Republicans may not have a religious point of view about the earth, by observation and common sense, they deduce that humanity is a superior species and should wisely develop and master the earth's resources for the benefit of humankind.
Moral Relativism v. Moral Absolutes
If people believe that there is no right and wrong other than what's determined by social convention, then these same people tend to think those who believe in moral absolutes should not be allowed to influence public policy. For instance, Christians with strong religious convictions are considered the people most dangerous to the country. They are like the Taliban and smeared with misleading titles such as Christian nationalists. To quote Grudem:
"Taking this reasoning one step further, if there is no absolute right and wrong, then the people who can have the most beneficial influence on society (according to what they think is 'good' for society) are simply those who have the most power…Therefore, the Democratic Party tends to attract to itself people from whom gaining power through the government and then increasing the power is the best way to do something 'good'… (as they understand what is 'good'). That is why Democrats seek to continually increase government power over individual lives."
In other words, it's the primary means for determining what is good for everyone. Good is determined by what they decide – by social convention. There is no standard of truth, right or wrong, any higher than themselves. The power of government decides what is good and what people's rights ought to be.
"Republicans, by contrast, have many more people who believe that there are absolute moral standards (as found in the Bible, or for some conservatives in traditional Jewish teaching, or the Bible plus Roman Catholic tradition, or the book of Mormon and so forth). These people also tend to think they will be held accountable for their actions to a personal God who will judge them one day. This means that they believe there are absolute moral standards and that attaining power is not the ultimate goal but rather being obedient to the moral code God has given us. They [Republicans] will tend to resist increased government power, thinking God has given the government a limited role," concludes Grudem.
Such beliefs profoundly impact religious liberty issues and the practice of religion in the public square.
God's moral code is what gives us our inalienable rights, not the government. God's Word precedes all other standards of truth or powers. The government's responsibility is to protect and preserve the rights God has bestowed on every one of every race and station. Liberty can only be sustained by self-government according to God's commandments, not concentrations of government powers.
One system of thought believes man is the measure of all things, while the other believes that humanity and government must bow to the sovereignty of God if liberty is to be preserved.
"Wherever the Spirit of the Lord is, there is freedom" (2 Corinthians 3:17).
An Authoritative and Infallible Bible v. Atheism and Progressive Christianity
Finally, Democrats and Republicans mostly have glaring differences in religious beliefs. "Conservative evangelicals, who tend to believe that the Bible is God's Word in its entirety, have tended to align with Republican principles…But people who have no religious beliefs at all, or do not believe that we can know what God has told us with regard to moral standards, tend to be moral relativists, and this aligns more with the Democratic Party and its emphasis on allowing people to choose abortion or homosexual marriage and so forth," says Grudem.
The Democratic Party, as Gabbard said, has become fundamentally "hostile to people of faith and spirituality." More specifically, the Democrats, as a whole, reject Christians who see the Bible as authoritative, relevant, infallible, and without error, while embracing Progressive forms of Christianity that have abandoned the Bible's authority, sound Christian doctrine, and are apostate
I would not say that a Christian who votes for a Democrat is not a Christian. That assertion would not be valid! Nor do I mean for my words to be a personal attack against my Democrat friends.
Nevertheless, just as a physician can look at a patient's tongue and determine a great deal about their overall health, it is possible to tell a lot about a person's spiritual health by the politics they support. It says everything about how they see life, whether this world's values should direct our lives or whether we should live by the Word of God. Whether one believes a nation should be thoroughly secularistic or whether one accepts a country cannot survive without the favor of God. It can't be cut both ways.
Therefore, with the same courage, Tulsi Gabbard, who served in Congress as a Democratic representative for the state of Hawaii, said she no longer could support the Democratic Party; I say, as a minister of the Gospel of Jesus Christ to evangelicals across the Tarheel State and beyond, regardless of accusations and condemnations of political partisanship from within my own ranks, I declare that I will not vote for a Democrat this election! Furthermore, I charge to be faithful to God and country; I don't believe any serious follower of Jesus Christ should either.
In this day and hour, Political Party matters. It matters greatly because the two Parties represent two very different moral systems of thought.
Public policy does not operate in a moral vacuum, nor does the politics behind it. Lawmaking is always the imposition of someone's morality or lack thereof on each of us, whether we like it or not.
Early voting is already underway. If you don't make it to early voting, make sure you vote on Tuesday, November 8. Take nothing for granted. Do your civic duty. Do your Christian duty by going to the polls and casting your vote consistent with biblical teaching.
© Rev. Mark H. Creech
---
The views expressed by RenewAmerica columnists are their own and do not necessarily reflect the position of RenewAmerica or its affiliates.
---