Rev. Mark H. Creech
The calloused response of North Carolina leadership

By
Rev. Mark H. Creech
February 11, 2022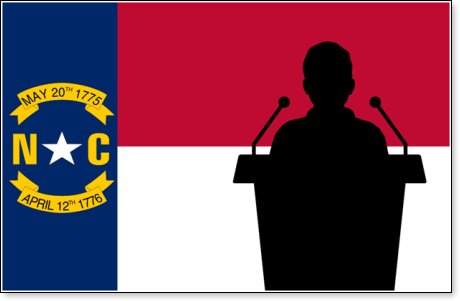 One may often wonder what happened to deprive this country of distinguished leadership. Finding a great leader now seems as hopeless as Diogenes the Cynic's search for an honest man through the streets of Athens. It's more than disheartening for those who possess a passionate love of country from a Christian worldview.
It was like a dagger to the heart of many Christian North Carolinas when Republican Majority Whip Sen. Jim Perry (Lenoir) introduced a bill during the 2021 session of the General Assembly to legalize sports gambling in the Tar Heel state. The bill (SB 688-Sports Wagering), which has already passed the Senate, will probably be taken up by the House during the short session in the Spring, if not before.
For decades, North Carolinians were quite uncomfortable with the gambling enterprise, and rightly so. There were no Casinos in the state until the federal government forced the question on Governor Jim Hunt during the late 1990s to accept them on the Cherokee reservation. Video Poker machines, which had sunk their poisonous fangs into many, were outlawed in 2006. Sweepstakes gaming, which popped up to take Video Poker's place, was later prohibited in 2010, and withstood a legal challenge before the State Supreme Court. In some places, County Law Enforcement and District Attorneys have egregiously failed to enforce the law, but sweepstakes parlors are still illegal. The Lottery was kept out of this state for nearly 35 years, and when it was finally approved as a means of raising funds for education, it passed by only one vote in the Senate. Until 2005 when the Lottery was approved, generally speaking, native North Carolinians didn't have the stomach for widespread gambling, and its leadership was mainly opposed.
However, the mantra by many state leaders now is the same as what Governor Roy Cooper recently told Luke DeCock on the ACC Now Podcast. Cooper backed the legalization of sports gambling and said it was time for the state "to step up and do it."
What was the Governor's rationale for the legalization of online sports betting? He said:
It's here whether we like it or not…The issue is will North Carolina try to be on the cutting edge for the technology jobs and other employment that it will create and plus be able to get state taxpayers their cut, or are we just going to let it happen all around us?
At least the Governor gave the nod to gambling-related harms, adding:
Clearly, there are people that get addicted, and it causes significant harm to families, but I think that's probably already happening. And we need to make sure people can get the treatment they need. I think it's time for North Carolina to step up and do this.
How calloused a response by the Governor! Or anyone else, legislator or citizen, that speaks of the issue in such terms. How willing we seem to trade the lives of tens of thousands of our fellow citizens for the so-called freedom to line our pockets with ill-gotten gain. Moreover, the harms are not already happening to the degree they will be happening once sports betting is legalized in the Old North State.
John Warren Kindt, Professor of Business and Legal Policy at the University of Illinois at Urbana-Champaign, told Congress in 2018:
Internet sports gambling places the most addictive form of gambling – real-time gambling – at every school desk, at every work desk, and in every living room – making it easy to 'click your phone, lose your home' or 'click your mouse, lose your house.'
According to Ryan Hockensmith, in an article posted on ESPN, titled Inside the Life of a Gambling Helpline Worker, since the Supreme Court struck down a federal ban on sports gaming in 2018, sports betting has exploded and the current evidence shows the effects are exceedingly painful. He writes:
The U.S. is already deep in a gambling boom that the helplines and councils aren't equipped to deal with yet. The National Council for Problem Gambling cites studies showing that about 2.2% of American adults – nearly 6 million people – are susceptible to problem gambling, and that number doubles for people who regularly bet.
Writing about what is now happening in the state of Connecticut, where sports gaming is legal, Hockensmith says the CCPG Helpline "is in the middle of a giant spike in both the volume of calls and the number of callers who specifically mention sports gambling as a part of their problem."
He adds this means Connecticut's very few "CCPG employees are dealing with a population of 58,000 problem gamblers, with as many as 500,000 friends and loved ones in the direct path of those struggling addicts."
"Calls to the helpline have quadrupled since sports betting became legal, and the number of online chat requests went from 13,344 in 2021 to 13,143 in January 2022 alone," said Hockensmith.
One CCPG counselor, Kaitlin Brown, said Connecticut was experiencing "a crushing surge" on their helpline, and, "she thinks the guardrails for problem gambling are about 40 years behind other addictions." Brown said, "I thought it would be three, four, five years till we were seeing this level of people looking for help. But it took about six to eight weeks."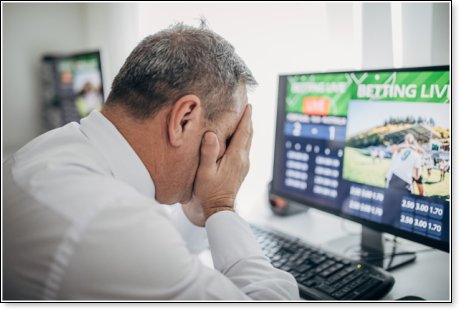 "Gambling might seem different than substance abuse. But it has a very similar effect on the brain for those 20 million-plus Americans believed to be struggling with addiction. The American Psychiatric Association announced in 2013 that problem gambling belongs under the same umbrella of disorders as opiate or alcohol abuse," writes Hockensmith. "Experts stress that it's too soon to make broad declarations on the impact of legalized sports betting across the country, but early signs – especially the enormous spike in helpline calls – show that gambling addiction may be every bit the public health danger as opiates or alcohol because of the stunning speed of its destructive path. The bottom often comes fast, with far-reaching consequences for family members."
Our nation's first President, George Washington said, "Gambling is the child of avarice, the brother of iniquity, and the father of mischief."
Now that's leadership, and not what Governor Cooper said, which to paraphrase was:
We need to legalize one of the most harmful forms of gambling in our state because it will create technology jobs and other employment opportunities. It will garner more revenue for the state. Everybody else around us is doing it, and we don't want to be left behind. It's too bad some people and their families will be destroyed in the process. It's collateral damage for all the money we'll be making. But will throw a measly million dollars from our takings, which is what the bill calls for, toward helping those poor fools who get caught in the snare. So, let's get on with it.
This is not leadership. This isn't even the real meaning of freedom. It's just the opposite. Gambling, more specifically sports gambling, is commerce in something addictive and destructive that undermines the liberty of a significant segment of the citizenry! It undermines their free will! It subjugates them for another's gain!
Indeed, "when the wicked beareth rule, the people mourn" (Proverbs 29:2).
© Rev. Mark H. Creech
---
The views expressed by RenewAmerica columnists are their own and do not necessarily reflect the position of RenewAmerica or its affiliates.
---